Main content
Words First: Are you the next spoken word star?
29 May 2020
BBC Radio 1Xtra, BBC Asian Network and BBC Contains Strong Language are again working together to find the best emerging spoken word talent in the UK. Whether you are influenced by poetry, lyricism, rap or hip hop – we want to hear from you! We are looking for people with a real passion for spoken word (in any form) that are keen to develop their skills.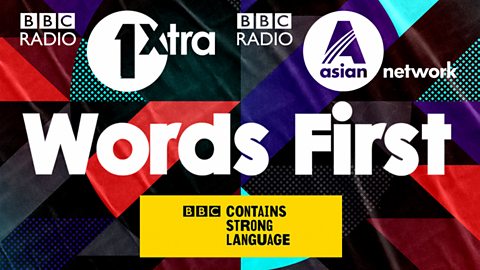 A BBC 1Xtra, BBC Asian Network and BBC Contains Strong Language collaboration.
What is Words First?
Words First is a talent development scheme that will run throughout 2020. Selected artists will be given the chance to attend digital workshops in July and August 2020, where they will work with established artists and mentors to develop their work, and be given a platform to perform their own work at digital showcases.
Never has it been more important to write, listen and share stories via the powerful human art form of poetry, rap, spoken word. I'm excited to be involved, I'm buzzing to hear some real bars and I genuinely cannot wait for the live finale performances.

Hussain Manawer
Hussain Manawer, one of the most recognisable British Asian spoken word artists, has been appointed as an ambassador for Words First 2020. He will provide guidance and mentoring for the finalists throughout the scheme.
The UK Underground star Avelino has also been appointed as ambassador for Words First 2020. Known for his Fire In The Booth with Wretch 32, he will work with the 12 selected writers in a digital workshop.
There will be a Summer showcase performance at the Contains Strong Language Festival 2020 in Cumbria, where shortlisted artists from the digital workshops will be invited to perform (further details on nature of performance i.e. remotely or in person to be confirmed in due course). The finale of the scheme will be broadcast on BBC Radio 1Xtra at the end of the year.
Additionally, throughout the scheme selected artists will be mentored and supported by the BBC and a fantastic network of regional poetry organisations including Young Identity, Apples & Snakes and Neu! Reekie!.
1Xtra previously ran the Words First scheme in 2015 - 2017 with support from George The Poet and Kojey Radical, and the finalists included Isaiah Hull, Amina Jama, Solomon O.B., Reuben Field, Liam McCormick and Asma Elbadawi. They all performed at The Roundhouse in 2016 and at the Contains Strong Language Festival in 2017, and Isaiah went on to perform at Radio 1's Big Weekend in 2016.
To take part this time, simply upload a short performance video using the link below. Entries open 29 May 2020, and videos should be no more than 1 minute long. As this is a spoken word talent search, videos with a backing track or other music will not be accepted, so please perform on silence. Your video application must be submitted before entries close at 23:59, 19 June 2020.
Follow the links to the entry form and Terms and Conditions below, but please read the FAQs underneath before you enter.
Hussain Manawer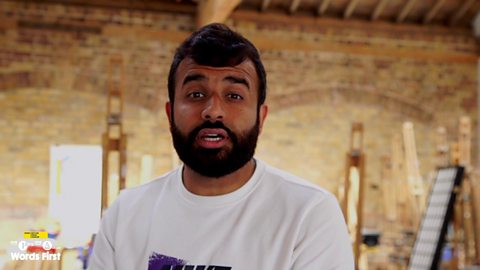 Spoken word artist Hussain Manawer calls for entries to Words First 2020.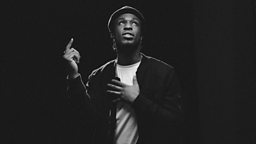 Avelino, Words First 2020 ambassador
Words First on film
Inspirational poetry and performance from the finalists in the Words First 2019 talent development scheme.
FAQs
WORKSHOPS
How long will the workshop(s) take?
The workshops will take place over four weeks.
The available slots are: Mondays 13:00 – 16:00, Tuesdays 13:00 – 16:00, Wednesdays 10:30 – 12:30, Wednesdays 16:00 – 19:00, Thursdays 13:00 – 16:00, and Thursdays 13:00 – 15:00.
If selected, your chosen poetry organisation will be in touch, providing you with the relevant workshop details.
Who will be running the workshop(s)?
Workshops will be conducted by a variety of tutors where you will explore writing, performing, editing and developing an authentic voice. Each tutor shall have experience in performing and facilitating such workshops.
How much does the workshop cost?
The workshops are free of charge for selected participants to attend. You do, however, need a laptop or device which can connect to the internet. If you have a specific need, please provide us with details.


PARTICIPATING IN WORDS FIRST
What if I've never performed in public before?
The workshops are for amateur spoken word artists of all levels, whether you're just starting out or you've been performing for years.

What do you mean by spoken word?
'Spoken word' is a tricky one to define but you can check out BBC Radio 1Xtra's Spoken Word Explained for more information.
Ultimately, Words First is an open call for spoken word artists, rappers, MC's, poets and performers – so if you create work in any of these forms, we want to hear from you.
What quality does my video need to be?
You can record it on your mobile phone, a webcam or whatever you like – as long as it's a clear recording and we're able to hear and see you clearly.
How do I record and upload a video of myself?
You don't have to use professional equipment to make your recording – the quality of video will not be judged. You could simply use a webcam on your laptop or on a computer at a local library, or use the video feature on your phone or a camera (or maybe ask a friend if you don't have access to a camera that records).
If you need help on recording your video, there are lots of guides and tutorials on 'how to record a video of yourself' available on the internet. Once you've recorded your video, you can upload it here.
What if my video is over 1 minute long?
It's fine to submit a video longer than 1 minute, but we will only watch the FIRST minute.
Who will be shortlisting applications?
You will be shortlisted by the Words First Partners, as well as team members at BBC Radio 1Xtra and the BBC editorial team. They aren't looking for polished performances, just artists who can show their passion, originality and personality.
How will you be contacting the successful participants to join the workshops?
We'll be in touch with each selected candidate by 26th June 2020. If we don't hear from you straight away, we'll send you an email - so be sure to include your contact details in your application.
You will only have 24 hours in which to get back to us – if we can't get hold of you during this period we will offer that place to another participant, so be sure to get back to us if we leave you a message.
Due to the volume of entries, unsuccessful candidates will not be contacted. Please note the workshops are only open to people aged between 18 to 30 years old.

RECORDINGS OF YOUR WORK
What will happen to the recording I make of my work that I submit as part of the application process?
Whilst you retain the copyright for your work, the BBC will have a license to publish, broadcast and release your video online, or on any other platforms.

Please read the Terms and Conditions for more information. Video submissions cannot be returned, so please remember to retain a copy.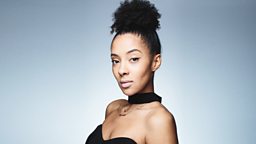 Yasmin Evans of 1Xtra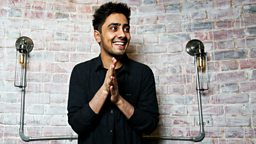 Yasser of Asian Network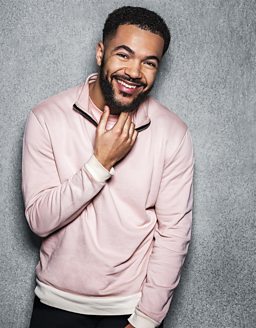 Reese Parkinson of 1Xtra