Main content
Memories of 1989
When we asked for people's strongest memories from the first 30 years, by far the most were about that extraordinary year – 1989. The competition brought Dmitri Hvorostovsky and Bryn Terfel worldwide recognition for the first time as they took part in the 'Battle of the Baritones' that year.
They quickly became arguably the two greatest low voice singers in the world and retain their supremacy still, twenty-four years after Dmitri won the overall competition and Bryn won the Lieder Prize.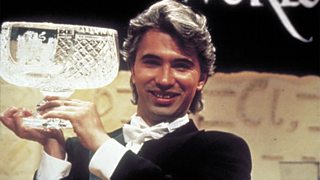 Here are a few recollections from 1989.
Margaret Lewis, Cardiff
I have been following the Cardiff Singer competition since its beginning, although have not often attended live sessions. My fondest memory is the 'Battle of the Baritones' final in 1989.
Not only was it a wonderful and exciting night musically, but it holds happy personal memories for me as it was a special opportunity for me to be in St David's Hall. Little did I know at the time that I would be attending on such a prestigious, and what has become historic, occasion.
Having two young children and with limited cash it was difficult to get to events at that time. Much to my surprise I was informed almost at the last minute that I had won two tickets for this final in a Western Mail competition. The quiz had been a mixture of geographic and musical questions, which covered my greatest interests and knowledge! No Internet then through which to chase the answers.
On that Saturday we were on a church outing. As my husband was the organiser it was a compulsory and full day for us, with our children. Thus we were away from Cardiff, and returned home to find our tickets waiting. We just had barely enough time to quickly change our clothes, open the door to the babysitter and get to the Hall. We had excellent (and free!) seats for what was truly a night to remember.
Further finals were attended and enjoyed through the former live relays in a marquee at Cardiff Castle and also the Coal Exchange. For the first time in 2011 I was able to have a full season ticket and thoroughly enjoyed the sessions, final, master classes and talks. My involvement with Cardiff Singer has thus evolved with my family and working life, not to mention financial considerations, over the last 30 years.
Martin Furber, Cardiff
Having attended every competition since its inception, personal highlights have been many. The names of the great winners readily spring to mind of course, but there have been other singers, sometimes of lesser musical ability, who nonetheless managed to set St David's Hall ablaze by sheer strength of personality.
The black American tenor Damon Evans, whose Strauss and Massenet in 1989 was (maybe) pretty dire, but who followed with a totally over-the-top rendition of 'There's a boat dat's leaving for New York', from Porgy and Bess. The house positively erupted. But this was in 1989, the year of a certain two baritones, so who remembers Mr Evans' performance now?
Jackie Dench, via email
An outstanding memory for me is the Russian baritone Dmitri Hvorostovsky's face when he won the top prize (so deservedly) in 1989 and witnessed the entire audience in St David's Hall rise to sing Hen Wlad Fy Nhadau.
Welsh voices in chorus bring tingles to the spine at the best of times - Dmitri had obviously never heard anything like it. Fantastic.
Trudy and Bob van den Akker, Schiedam, the Netherlands
1989 was the first year we could receive British television in the Netherlands and, being opera-lovers, we watched Cardiff Singer of the World. We had never heard about it but what a wonderful competion.
And there he was: Dmitri Hvorostovsky. After a few seconds we said: HE is going to win, what a voice, what an air; and of course he did! Two months later he sang in the Concertgebouw in Amsterdam and when he went down the stairs to the stairs he got an standing ovation.
After that we watched every competition and since 2007 we have been coming to Cardiff, to the hall, to hear all those wonderful singers, to see friends, to hear all the gossip and to sing the beautiful Welsh anthem at the end of the Final.