Main content
Finding a fortune! — the highest ever Antiques Road Trip profit
A rare antique camera, bought for just £60 by Antique Road Trip's Paul Laidlaw, sold for an extraordinary £20,000, smashing all records.
Paul made the incredible find while shopping for curios and collectables in Margate, Kent. He inspected a boxed optical instrument closely, which led him to believe it was a primitive sub-miniature camera.
Photographic experts confirmed Paul's 19th century find was one of Auguste Bertsch's extremely rare Chambre Automatique cameras — essentially a camera combined with microscope.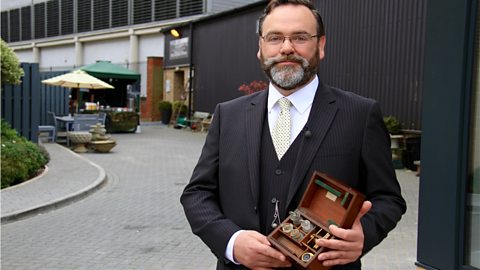 Paul Laidlaw found a rare primitive camera in a Kent antique shop.
Road Trip rival Kate Bliss joined Paul in Suffolk for the Bury St Edmunds auction.
Both were left stunned as the auctioneer accepted bids in £1,000 increments — a Road Trip first.
A frenetic series of bids from within the sale room, five phone bidders and interest online, all ended when the gavel finally came down at £20,000, selling to a private collector in Switzerland.
For 15 series, Road Trip experts had been scouring the country looking for antiques that could make a big profit at auction. Paul's profit of £19,940 may take some beating, but his discovery goes to prove that those objects are still there to be found.
Paul's record profit smashed the previous best: a Tibetan bronze deity bought for £50 by Anita Manning, selling for £3,800 in 2016.
All profits from the series go to Children in Need.
Auguste Bertsch's extremely rare 19th century Chambre Automatique