Main content
How Beatrix Potter is helping to save Britain's hedgehogs
26 July 2016
Her anthropomorphic tales of Peter Rabbit, Jemima Puddle Duck and Squirrel Nutkin have made Beatrix Potter one of Britain's best-loved authors, for children and adults alike. But it is one spiky animal in particular which perhaps owes most to the writer who this month would have celebrated her 150th birthday.
One of her most famous books features a very prickly character, Mrs Tiggy-Winkle the hedgehog washerwoman but as well as being staple bedtime reading, the story also changed our attitude to the garden visitor. Ecologist and author HUGH WARWICK explains more.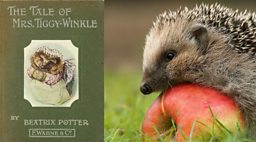 Today we take for granted our concern for the hedgehog. Everyone loves hedgehogs and most of us are worried at the massive decline in numbers we are seeing. For example, there are nearly 40,000 people signed up to Hedgehog Street, the campaign to open up gardens for their benefit.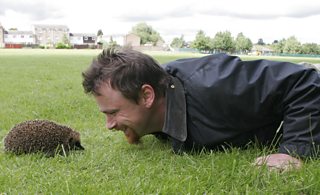 Hugh Warwick
During the reign of Elizabeth I there was a bounty introduced for each hedgehog killed
But our relationship with this wonderful animal was not always so warm-hearted. During the reign of Elizabeth I there was a bounty introduced for each hedgehog killed and they were often considered a creature portent in stories. The Brothers' Grimm had seriously adult themes attached to the hedgehog and some folklore associated them with doom and disaster.
All this changed in 1905 – and from that moment on, pretty much all stories have the hedgehog as at least benign, if not the loveable feature. I have two shelves on my bookcase dedicated just to hedgehog stories and not one of them has a bad word to say about them.
And what happened in 1905? The publication of a book about a hedgehog, now so well know: Mrs Tiggy-Winkle.
If it were not for the staggeringly discriminatory times in which she lived, it is possible that Beatrix Potter would have never written this, and the other 22 tales for which she is so famous. A brilliant observer of nature, artist and scientist, this woman could have been recognised as a thinker in the league of Charles Darwin had she been born a man.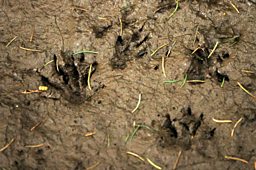 Hegdehog tracks
And if we had not had that change in our view of the hedgehog, launched by the unlikely washerwoman, would there now be such a clamour to get something done to stop them slipping into the world of memory? I do not know. The PR job she did for hedgehogs was magnificent.
Beatrix Potter managed to sprinkle some magic over the hedgehog, transforming it into the irresistible companion of our gardens
It is a sad comment on society that we tend to only seek to protect that with which we are immediately connected. We are seduced into thinking we have a connection with pandas and great whales because of the amazing publicity they get from campaign organisations. If we were to deconstruct the hedgehog – smelly, anti-social, nocturnal, spine-covered and reputed to be (though not actually) flea-ridden it would be considered an animal hard to love. But Beatrix Potter managed to sprinkle some magic over the hedgehog, transforming it into the irresistible companion of our gardens.
So as we celebrate the 150th birthday of this remarkable woman, take a moment to think of what she has managed to achieve above and beyond making millions of people around the world happy with her beautiful books. She has helped shift our perception of the hedgehog, make it now the charismatic icon of the country, and catalyse a conservation movement that helps not just the hedgehog but so much more garden wildlife besides.
Hugh Warwick is an ecologist and author with a particular fondness for hedgehogs. www.urchin.info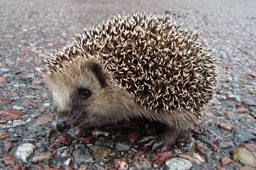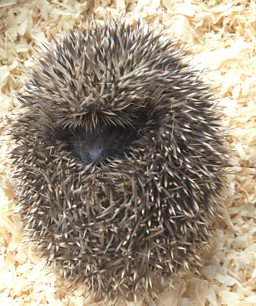 Photo by Sue Hall
Other famous animals in literature
War Horse Michael Morpurgo's story of Joey, a horse purchased by the army for service in World War One, is a powerful tale of the horrors of war, courage and friendship. His inspiration for the story came from talking to several veterans of the war in his local pub and hearing their first-hand accounts, including one man who had first-hand experience of horses during the war.

Fantastic Mr Fox Farmers Boggis and Bunce and Bean hate the cunning Mr Fox and plot to end his chicken-stealing ways. But Mr Fox is always one step ahead. Roald Dahl used to tell his children that Mr Fox and his family lived beneath a large, 150-year-old beach tree, known locally as "the witches tree", that was on the lane near the Dahl home.
Wind in the Willows Kenneth Grahame's tale of messing about in boats features Rat, Mole, Badger and Mr Toad and their tale of friendship and misadventure. This children's classic started life as a series of letters and bedtime stories from Grahame to his son.
Watership Down The 1978 film adaptation might have given a generation of children nightmares but the novel by Richard Adams originally started out as tales that he told his daughters on car journeys. The story follows a group of rabbits escaping the destruction of their warren and undertaking a perilous journey to find a safe home.
Charlotte's Web This children's classic tells the story of Wilbur, a little pig who becomes famous thanks to Charlotte, the wise spider that lives in his barn. A story of friendship and loyalty, E B White researched the book on his own farm in Maine and Charlotte was based on his observations of a big, grey spider at work in his barn.
Countryfile
Matt Baker looks at the places which inspired the work of Beatrix Potter, marking the 150th anniversary of the writer's birth
BBC Schools Radio
Two popular tales by Beatrix Potter, read by Sally Hawkins and Alison Steadman
Puppets are the stars of Where is Peter Rabbit? a new play which has opened in the Lake District
More from Love to Read
The illustrator discusses his working relationship with the renowned author