Main content
Online Booking: Step by Step
*** Tickets for BBC Radio 1's Big Weekend in Middlesbrough on Saturday 25 and Sunday 26 May have now all SOLD OUT ***
We had 32,000 tickets available for each day, but, as expected, demand massively exceeded supply. We're sorry if you missed out – it is possible some tickets may be offered for resale by people no longer able to attend the event via Ticketmaster's Fan to Fan site. We will post more details of how this process works shortly.
The following information was available before tickets went on-sale and is being kept online for information purposes:



The booking process will be handled by Ticketmaster, working on behalf of Radio 1 and the BBC; however you will only be able to access the relevant pages via the Radio 1 website. There is no need to register any of your details in advance, but those who are successful in obtaining tickets will be required to set up an account with Ticketmaster as part of the process. Time will be allowed for you to do this, but you can also set up an account before booking opens if you would like to do so.
Please note, if you later find you are unable to attend the event, you will be able to sell your tickets at face value via Ticketmaster's Fan to Fan resale function. With these exceptions, tickets may not be sold, traded, or offered for sale
We will post regular updates via Radio 1's Facebook page https://www.facebook.com/bbcradio1 and our Twitter feed @BBCR1 to alert you when tickets sell out for any particular area or day.
We strongly recommend booking online if possible – our online system is able to handle far more simultaneous transactions. For those without internet access, tickets will be available over the phone; however we expect lines to be exceptionally busy and you may find lines constantly engaged. The number is 0844 453 9012. Calls will cost 7p per minute, plus your phone company's access charge. These charges vary and can be significantly higher for mobiles. Calls are expected to last around 5 minutes.
If all operators are busy, a limited number of people will be placed in a queue, with the rest hearing an engaged tone. Call charges will still apply whilst on hold. In times of highest demand, phone operators and / or networks may be unable to connect your call due to line congestion and may play you a recorded message telling you this – again a charge may apply for this.
Before purchasing, please find time to read the Rules and Regulations on the main ticketing page and the Terms & Conditions (T&Cs).
Tickets are charged at £18 plus £4.50 booking fee.
Tickets can be purchased in batches of 1 or 2 tickets per application; and you can only apply for one day at a time.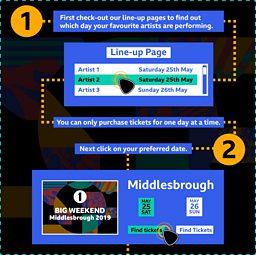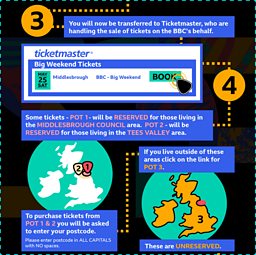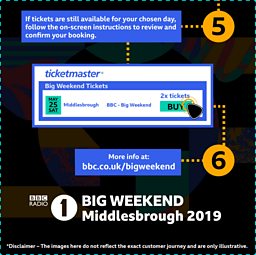 How to Book: Detailed Guide
Step 1
First check-out our line-up for Friday.
Step 2
Click on the link which will appear on the ticket information page.
Step 3
You will now be transferred to Ticketmaster, who are handling the sale of tickets on behalf of the BBC.
We expect demand for tickets will be very high, especially when booking first opens, so some people are likely to be placed into a virtual queue.
You will see the below screens if this is the case.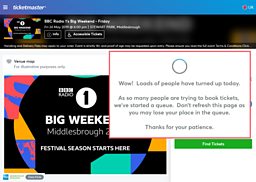 Please note that the sheer weight of internet traffic can occasionally cause local technical issues outside our control for some users. Unfortunately we are not able to help those who miss out on the chance to obtain tickets as a result of such issues.
If your connection does appear to have been lost, you could try opening a new window and re-starting the process. Please note however, refreshing the 'queue' page itself will result in you losing your spot in the queue.
Step 4
You will be asked which 'Pot' of tickets you would like to apply for.
A number of tickets (Pot 1) will initially be reserved for residents of the Middlesbrough Council area and rest of the areas of the Tees Valley Combined Authority: Darlington, Hartlepool, Redcar & Cleveland and Stockton-on-Tees Borough Councils.
The remainder of tickets (Pot 2) are unreserved.
If you apply for tickets from Pot 1, you will be asked for your postcode.
Select which 'Pot' of tickets you would like to apply for, from the CHOOSE YOUR TICKETS section of Ticketmaster's page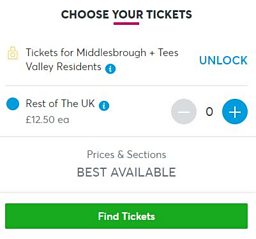 If you want to order tickets for Pot 1 you will need to click or tap on the word UNLOCK to enter your Postcode.
In the box which will appear, please enter the postcode without any gaps, taking care as you type, especially if it contains a 0 or O.
Now click or tap on SUBMIT
If unsuccessful, the message will be clear:
Please, check your offer code/password and try again
If you live outside of the Tees Valley area click on the link for POT 2 tickets. These are unreserved.

Step 5
If tickets are still available, follow the on-screen instructions to review and confirm your booking.
Note, if you are applying for tickets from Pot 2, you do not need to enter a postcode – just go to the CHOOSE YOUR TICKETS box and select Pot 2 – Rest of the UK in the menu.
Select the number of tickets you would like; you can apply for up to two at a time and a maximum of four.
Please note:
Each ticket admits one person only
Step 6
If tickets are available, you will be shown the Best Available Selection.
At this stage simply click GET TICKETS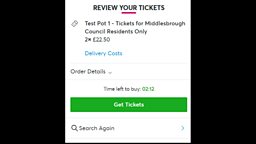 You will next be taken to a page where you can review your order and continue on to select your method of delivery.
The good news is you can now relax a little – so long as your internet connection holds, you will have a short period of time in order to complete each of the following pages – a countdown clock will appear on the page showing exactly how long you have.
Your tickets will be reserved for you during this period, assuming you do not get cut off.
Step 7
You will now be asked to log into your Ticketmaster account and asked for your credit or debit card details.
If you don't already have a Ticketmaster account, you will be asked to create one. You will be given additional time to do this. Note, you can create an account in advance via Ticketmaster's website should you wish to do so, but it is perfectly OK to wait until the day if preferred.
Please take care to ensure all your details are correct, especially your email address – this may sound obvious, but we regularly get people misspelling addresses and then worrying when the emails don't turn up!
Please read the full Terms and Conditions before proceeding with your booking.
Step 8
Once finished, you should see a reference number on screen. Please write this down. Your confirmation email will be sent to the email address registered on your Ticketmaster Account.
Please note, tickets are strictly limited to a maximum of 4 tickets per person, all subject to availability. Checks on credit and debit card use will be made and any bookings over this limit will be cancelled, without return of fees.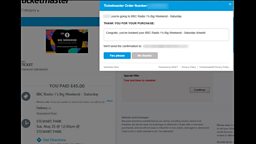 ** Disclaimer – The images here do not reflect the exact customer journey and are only illustrative **
Big Weekend 2019: Event and Ticket Information