Main content
Mackintosh Library to be restored: A lost opportunity?
13 March 2015
After almost a year of impassioned debate, the Glasgow School of Art's Director has announced that its Library will be restored to its original state.
The fire at the GSA in May 2014 left everyone with a love of Charles Rennie Mackintosh's most famous building with a heavy heart. An architectural glory recognised around the world, the loss of the Library in particular had rendered many bereft. The response was passionate and discussion of its reconstruction provokes equally strong feelings.
When it emerged that the Library had been almost completely lost, discussions began about what should happen in the space. In September 2014, as an archaeological survey of the fire damage continued, the Charles Rennie Mackintosh Society held a debate on whether the Library should be restored in situ or a newly designed landmark Library built - fit for purpose (previously students could only use the old library half a day per week).
So intense was the debate that in October 2014 the discussion was the subject of an international symposium at the Venice Biennale, to be followed by a final symposium in the Reid Auditorium at the GSA on 17 April 2015.
Such speculation on the form the rebuild would take has now been superseded by a report in The Herald newspaper (paywall) stating that Professor Tom Inns, Director of Glasgow School of Art, said the institution would be looking to "build it as closely as possible to Mackintosh's design."
He also sought to address any discussion of the Library being fit for purpose by stating, "there may be 21st century technology integrated into that design" and reinforced the idea that they were "looking for the return of the Mackintosh library."
The comment came in advance of an announcement, due at the end of March, in which one of five architectural practices will be chosen to take that work forward. Those firms are in the process of detailing their plans to meet a brief which would "pursue detailed reconstruction, or a more creative response" - the latter option suggesting a more lateral approach.
The archaeological and forensic removal of the fire-damaged debris is complete, but the empty space that remains continues to engender debate.
In response to Professor Inns' statement, Professor of Architecture Alan Dunlop asserts below that Mackintosh himself sought new forms in architecture and that there are architects capable of designing a new Library to live within his original masterpiece.
And Michael Davis, an architectural writer, explains why he believes that restitution of the original Mackintosh scheme is the only credible approach for the world famous Library.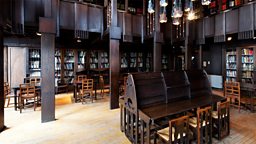 GSA Library | Courtesy of Glasgow School of Art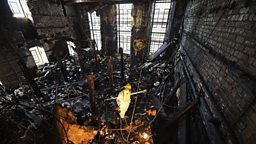 GSA Library | Forensic archaeologists begin work | © Getty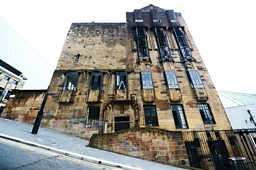 The fire-damaged exterior of the west wing of Glasgow School of Art, where the Library is situated | © Getty
GSA Library | Courtesy of Glasgow School of Art
Alan Dunlop: Create anew
The Glasgow School of Art is the most important building in Scotland of the last hundred years. Charles Rennie Mackintosh's design is credited with heralding the Modern Movement in architecture. In 1936, art historian Sir Nikolaus Pevsner included it in his landmark publication "The Pioneers of the Modern Movement."
Mackintosh was both innovator and true modernist and worked at the limit of building construction, using new technologies that included state of the art electric lighting, heating, and air control systems.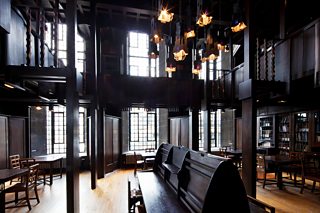 GSA Library before the fire
This is an opportunity lost, and makes a mockery of the architectural competition for new ideas. I have no doubt too, that Mackintosh would reject this approach
He incorporated elements of Scottish Baronial architecture in some of his work and was clearly influenced by the Vienna Secession, Cubism, and the oriental art of Japan but his search was for a new, non-historical form. He was not a traditionalist.
Mackintosh won the competition for the new art school in 1897, aged 28 and a draughtsman for architects Honeyman and Keppie. He attended the school part time and his talent was recognised by the school's influential and forward thinking Director Francis Newbery, who commissioned the competition.
Mackintosh is rightly credited for the design but the building could not have happened without Newbery. He was a polymath and in his ten years at the School of Art came to understand what fellow artists' needs were.
His studios were designed for painting and remain so today. Mackintosh's building was completed over twelve years, during which time he developed his design skill and matured as an architect. The west wing in particular is exemplary and the whole building has stood the test of time.
Still a functioning Art School, the building is also visited by thousands of tourists. For Seona Reid, its previous Director, getting the balance right presented a challenge. The Chair of the Board of Governors, Muriel Gray has stated that the school of art "will die if it becomes a museum".
The Mackintosh Library, an extraordinary set piece in the west wing, had arguably long since become a museum. The influence of Japan on Mackintosh was most apparent in its design which was a beautiful and inspirational space. Gutted by fire in May 2014, its mezzanine, carved balusters, columns, wood and motifs were destroyed.
Tom Inns, the school's Director, has announced that the library will be rebuilt to the original design but will incorporate features that will bring it up to date and make it more usable as a modern student facility. This is an opportunity lost, and makes a mockery of the architectural competition for new ideas.
I have no doubt too, that Mackintosh would reject this approach. He was driven by a life-long search for new forms in architecture and technology and was never a copyist.
It's a pity that Inns has taken the path of least resistance and has been less forward thinking than Newbery. He should have been brave and held out against the calls for replication aiming instead for innovation and a creative response to the needs of his students. This would have been appropriate testimony to Mackintosh's genius.
Mackintosh held that "creative imagination is the most important. The artist cannot attain to mastery in his art unless he is endowed in the highest degree with the faculty of invention."
More than any other small country Scotland has produced great architects, perhaps none as gifted as Mackintosh. However, I believe that there are still architects alive today who are capable of designing a modern library to live within his original masterpiece.
Alan Dunlop is an architect and Fellow of the Royal Incorporation of Architects in Scotland. He is Professor of Architecture at the Scott Sutherland School of Architecture, Robert Gordon University and the University of Liverpool. He is listed by the Glasgow School of Art as a Famous Alumnus.
Michael Davis: Restore
Michael Davis, an architectural writer, explains why he believes that Glasgow School of Art's decision to reinstate the original Mackintosh scheme is the only credible approach for the world famous Library at Glasgow School of Art.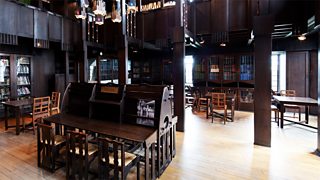 GSA Library before the fire
We have lost much, but in the end we will have won back everything Mackintosh intended
How do you like your great architecture? In the pages of books, in archives and on digital screens? Or do you prefer buildings which you can explore, live with and experience? That is the essential issue here.
Charles Rennie Mackintosh's GSA represents architecture of real appeal and significance, and the Library at its core was one of the world's great interiors. By reconstructing it, people – students and visitors – will again be in that room, experience its spatial effects and see and feel exactly what its architect intended.
The very real tragedy about lost architecture which remains lost is that you no longer really see what you are missing. There is little enough Mackintosh in this world. Do you want one of the world's great interiors on a postcard or in reality?
The Library can be rebuilt with integrity and conviction. The original which Mackintosh saw is gone forever. But the Library is possibly Scotland's most documented room. We know exactly what it looked like.
Its intricate delight lay in its exceptional design rather than craftsmanship. This is not a difficult interior to recreate, and I have complete faith in the project management appointed to carry this out meticulously and to the highest standard.
We have lost the original, but we will have an authentic recreation. In other words, we will be there once more. We will experience it as it was. We have lost much, but in the end we will have won back everything Mackintosh intended.
The Library has not been the GSA's main Library for a very long time. While it should certainly continue to be used by students, as Professor Inns statement implies, it is also utterly essential that access by the interested public continues. That room will be ours as well. After all, we will be paying for it. Make no mistake, this is not a reinstatement for the students alone or for specialists. It is also for you.
Of course there are minor issues which, for some, may now loom large. Do we include alterations which have happened over time, and do we give a surface finish "as new" or with the lived-in patina it held in the time before the fire?
Frankly, the alterations were relatively minor, so that we need not lose sleep either way. And presenting the interior "as new" would be interesting, though I see no difficulty in gently aging the finish.
This is, after all, a reconstruction. Common sense is a great cure for misguided angst. None of these "problems" provide reasons for not proceeding. Equally spurious are attempts to ascribe views on the matter to the long dead Mackintosh.
Arguments for a completely new interior, for reconstructing the lost interior elsewhere, or for anything other than re-instatement, seem to me to be wilfully missing the point.
This is a truly significant interior. It will be reconstructed as it was, where it was, and as its architect designed it. We will continue to enjoy it. We will experience it in the very context to which it relates, with which it engages and which it explains.
There are constant opportunities elsewhere for more "contemporary" architecture in Glasgow. Indeed, the GSA's massive Reid Building has only just been completed across the road.
To reinstate, and to reinstate well, may not please everyone in the short term... but not to do so would surely be seen in succeeding centuries as unforgiveable.
Mackintosh at RIBA
The Royal Institute of British Architects is currently hosting an exhibition in association with The Hunterian, University of Glasgow devoted to the architecture, style and drawings of Charles Rennie Mackintosh at its London offices. Exhibition images below. Mackintosh Architecture is at RIBA, London until 23 May 2015.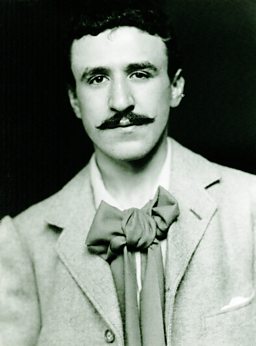 Charles Rennie Mackintosh, 1893 | Photograph by James Craig Annan | Courtesy of Glasgow Mackintosh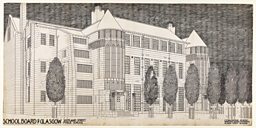 Scotland Street School Public School, perspective from the N.E., Charles Rennie Mackintosh, pencil and ink, 1906 | Courtesy of The Hunterian, University of Glasgow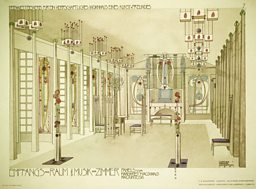 Design for the House for an Art Lover, 1901 | Courtesy of RIBA Library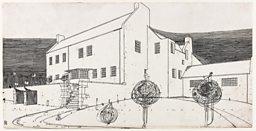 Windy Hill, perspective drawing in ink, Charles Rennie Mackintosh, 1900 | Courtesy Glasgow School of Art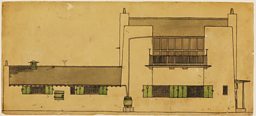 Design for an artist's house in the country, 1899-1900 | Courtesy The Hunterian, University of Glasgow

Daily Record Building, ink and watercolour, Charles Rennie Mackintosh | Courtesy of The Hunterian, University of Glasgow