Main content
Ali Plumb's Top Five 21st Century Heist Movies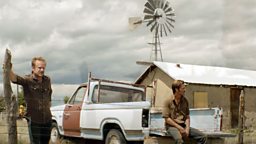 After 21st century action movies and 'underseen thrillers', there's still another pulse-racing genre I'd like to flag up: heist movies.
Up there with courtroom dramas, whodunnits and screwball comedies in my 'I'll watch anything in that genre' list, I'm pretty much always in the mood to watch a gang of uniquely talented ne'er-do-wells pull off a seemingly impossible coup.
So it's with great pleasure that I give you this, my top five favourite heist films from the 21st century. And yep, with the past two decades being the only ones that count, that means the likes of A Fish Called Wanda, the original Point Break, Heat or either The Thomas Crown Affair, well, they're all not permissible (but are still all worth watching so please, please, please don't let me stand in your way).
Third party videos may contain adverts.
While it was underrated by cinemagoers on its release, this powerful, contemporary heist thriller from Oscar-winning 12 Years A Slave director Steve McQueen is a real gem, tackling class issues, sexism, racism and much more as it delivers the heist thrills you'd expect. The film kicks off with four bank robbers left dead in an explosion at the end of a hold-up gone very wrong. Lumbered with their debts and the same obligations they ever had, their widows are faced with an impossible task: drumming up a colossal amount of money out of nowhere to pay off the bad guys their husbands were on the hook to.
Faced with no other conceivable option, our four leads (played by Viola Davis, Michelle Rodriguez, Elizabeth Debicki and Cynthia Erivo) attempt to steal from local well-to-do politician Jack Mulligan (Colin Farrell) to make it right, but things are never that easy. One of the flies in the ointment is Brian Tyree Henry's Jamal Manning, another political contender, and his mob enforcer brother, Daniel Kaluuya's Jatemme, whose jaw-droppingly powerful delivery will only add to your increasing appreciation of him after Black Panther, Get Out, Skins and Queen & Slim. And if you're thinking this all reminds you of the 1983 British TV show of the same name, well... that's because it's the remake of exactly that. Now you know.
4 | Ocean's Eleven (2001)
Third party videos may contain adverts.
I don't want to scare you, but the early noughties Ocean's Eleven remake will be 20-years-old next year. Yep. Deep breaths, everyone. The whole trilogy is proper comfort food cinema for me, its slick, smart alec swishness never failing to put a smile on my face. Speaking of food, maybe avoid any 'take a sip every time Brad Pitt eats something on screen' drinking games watching this one back because seriously, he's always chomping into something in these movies.
Anyway, you don't need me to remind you how enjoyable these films are - even with the bizarre shark-jumping Julia Roberts gag in Ocean's 12 - and if it's been a few years, I heartily recommend you dipping your toe back into the Bellagio fountains, if only to look back at its jaw-dropping cast, including George Clooney, Matt Damon, Andy García, Elliott Gould and, yep, Julia Roberts, not forgetting Brad and whatever burger he's devouring at any given moment. Oh, and a word of warning: Don Cheadle's Cockney accent is just as bad now as it was back then. "Bloimey" indeed.
3 | Matchstick Men (2003)
Third party videos may contain adverts.
If you've seen Matchstick Men, you'll be thinking - quite rightly - "Is it a heist movie though?" And that's absolutely fair, it kinda-sorta is at best, and only if you really squint. But! I really do love this movie, and I find that often people have never even heard of it, so here we are: I'm giving it that boost it seems to need, despite the A-list director (Ridley Scott) and cast (Nic Cage and Sam Rockwell) and there's nothing you can do about it.
So, the story: Roy Waller (Cage) is an LA con artist, one whose severe Tourette's syndrome and OCD makes his work fleecing unsuspecting targets a little... complicated, shall we say. But Waller is exceptionally gifted at grifting, and alongside his partner and protégé Frank (Rockwell), Roy operates a fake lottery that does them both very well, thank you very much. But when his mental health starts getting in the way of his work, Waller goes to a therapist and things start to get even trickier...
To say anything else would give away too much - and I'm already worried I've mentioned a few too many details - but if you like neat, nasty crime thrillers, give Matchstick Men a shot and remind yourself just how good an actor Nic Cage can be when he's not phoning it in on straight-to-DVD actioners that end up in the supermarket bargain bin. Come on, it's true, no lies here
Third party videos may contain adverts.
Ben Affleck wrote, directed and starred in The Town, so his heart and soul is on display with his homegrown Boston-set bank robber drama. He gathered together a very impressive cast too, with Rebecca Hall, Jon Hamm, Jeremy Renner, Blake Lively, Titus Welliver, Chris Cooper and the late great Pete Postlethwaite all on board, so if only to see that lot tearing strips out of each other, it's worth the watch.
It's also a real pleasure to see a modern version of that classic "Just one last score" story, where a group of very successful criminals bite off more than they can chew with their "final" big play, and what a play it is: the Red Sox's very own Fenway Park being the tantalising target the team can't resist. It's also interesting to watch this as a kind of dry run for Affleck's later, Oscar-winning work, Argo (2012). I could easily argue that one's a heist movie too - only with people instead of money - but I'll leave that particular bit of media studies essay-writing for another day and just tell you to watch The Town. And then Argo. They're both very good, basically.
1 | Hell Or High Water (2016)
Third party videos may contain adverts.
I've lost count of the number of times I've practically forced friends to watch this film. One of my favourite movies of 2016 and a real word-of-mouth hit, Hell Or High Water is a true, unequivocal pleasure to watch, a grown-up, powerful piece of filmmaking blessed with fantastic performances, inventive cinematography and a story that really hits home.
The basic set-up is this: a seemingly sensible divorced dad (Chris Pine) and his wilder, untameable ex-con brother (Ben Foster) decide to rob the banks that have "robbed" them before their family farm forecloses because of Texas Midlands Bank and its dodgy dealings. On their tails is a soon to retire, long-in-the-tooth Texas Ranger (Jeff Bridges) and his partner (Gil Birmingham), who start to sympathise with their marks as the cat and mouse chase carries on.
I'm definitely not the only one who's still harping on about how good this film is. After all, it eventually earned itself a Best Picture Oscar nomination, as well as a nod for Best Film Editing, Best Supporting Actor (Bridges) and Best Original Screenplay for the preposterously talented Taylor Sheridan, who you may recognise as the man behind the similarly excellent Sicario, Sicario 2 and Wind River (all well worth your time).
I just love this movie. Unfortunately, it's not on any UK subscription streaming services right now, so if you're going to watch this one - and I really hope you do - you'll have to buy a physical copy or pay to download it. But it's worth it, I promise! You trust me, right? Of course you do...
Honorable mentions
Baby Driver (2017), Inside Man (2006), Fast & Furious 5 (2011), Logan Lucky (2017), American Animals (2018) and Snatch (2000).
Ali Plumb has been given the very difficult job of having to curate a mixtape of the very best songs from greatest movies.
Ali Plumb reviews all the biggest releases and goes behind the scenes with Hollywood stars.