Main content
'Foster care made me who I am today'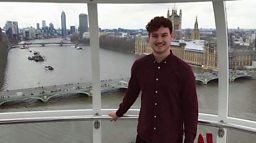 Callen Martin usually marks the anniversary of the day he was taken into care as a four-year-old by thinking about all he went through as a child and feeling "a little bit sorry for myself".
But this year was different. As Callen approached his 20th 'care-aversary', he found himself thinking more positively about how much he had thrived.
For the first time in his life 'he felt proud' to be a care leaver and he wanted to share his story on social media.
Writing on Twitter, he said: "20 years ago all my things were packed into two black bags and a stranger took me away from my home. I was 4 years old.
"14 years in care, an undergrad and an MA later, I'm sitting at my desk in a job that I love, in the field I want to be in. Foster kids can succeed."
The response to the post was huge. It was liked 38.4k times and retweeted by more than 1,700 people.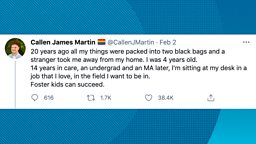 Callen says it's now made him more determined to change people's perceptions of care leavers and break down the stigma that some people in care feel.
Speaking to Nihal Arthanayake on BBC Radio 5 Live, Callen said: "As a child in care you suddenly have your whole world turned upside down, you are in a new situation, in a new family for reasons which are most of the time perfectly correct but it still is incredibly scary.
"While you are navigating that you also have to navigate the stereotypes of being pigeonholed of being troubled, of being damaged goods. So, as a child in care, not only have you got to get to grips with your new life, you've also got to get to grips with the wider world and that's quite hard."
You suddenly have your whole world turned upside down"
There are currently more than 80,000 'looked after' children in England, which includes those living with foster parents, in a residential children's home or in secure units.
Callen remembers clearly the day he was placed with a foster family.
"I remember coming home from school and my mum packing my stuff into a black bag and then she pulled me onto her lap and she said my brother and I were going to go on a special two week holiday that she couldn't go on.
"Then a stranger appeared and that stranger picked up that black bag and put it in the car and together my brother and myself and my mum we drove at what felt like forever. We arrived at this other house with another strange person I'd never seen before and we went in. And that two weeks turned into 14 years."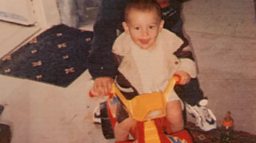 He blamed himself for being in care.
"I wholeheartedly believed that it was my fault as a four-year-old that resulted in me being in the system. I can look back now and see how ridiculous that is.
"Throughout society we are taught and we see in everything that love is this healing factor that can overcome curses, that can change worlds. When you're a child in care and you know your parents still love you, they tell you they love you, and yet that love wasn't strong enough for you to still be with them…then maybe the problem is with me. And for a long time I held onto that."
The 24-year-old, who works as a submissions co-ordinator for the Good Literary Agency, believes his journey has made him much more resilient than he would have been if he hadn't had grown up in care.
He now wants to help other care leavers and is writing a young adult book about growing up in care - something he would have wanted to read as a child.
He added: "You learn quite quickly that one of the only people you can rely on is yourself and so you have that resilience there with everything you do. I'm determined to be the best version of myself that I can be. I wouldn't be the person I am if it wasn't for going through care and I'm grateful for it."