Main content
Why is Dinu Lipatti a "musicians' musician"?
Radio 3 presenter and professional pianist John Shea explains why Dinu Lipatti's untimely death robbed the world of one its greatest musical talents.
Just think how different our celebrations of the Dinu Lipatti centenary might have been: born a hundred years ago this weekend [19th March 1917], he could still have been enrapturing audiences until recent decades, before going on to become one of the world's most sought-after teachers.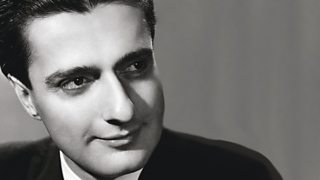 A parallel career as a musical ambassador for his native Romania, in the tradition of his godfather, Georges Enescu, would have been practically guaranteed.
Fate had other ideas, and Lipatti's death in December 1950 at the age of only 33 is one of the great tragedies of 20th- century music.
As a baby, he showed every sign of youthful musical prodigy, and his father hoped he'd follow in his footsteps and learn the violin.
But Theodor Lipatti feared that young Dinu might damage his valuable instruments before he was old enough to know any better, and steered him towards the piano instead – all of which seems ironic, given the delicacy that came to characterise his playing as an adult.
At the age of 16, Dinu managed the rare feat of provoking a jury resignation when the International Piano Competition in Vienna awarded him second rather than first prize. The protesting juror was Alfred Cortot, and the incident led Lipatti to go and study with him in Paris, renewing the unofficial musical twinning of France and Romania that Enescu had established four decades earlier. The recording that, for me, best combines French refinement and Romanian piquancy – in the music itself as much as Lipatti's performance of it – is Enescu's 3rd Piano Sonata.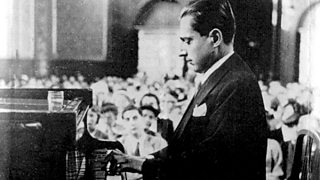 That recording is included in Through the Night in the early hours of Sunday 19 March. Enescu once turned down an invitation to perform it himself, insisting that Lipatti should be asked instead as he played it so much better!
Sarah Walker has been featuring other Lipatti recordings throughout the week on Essential Classics, and it was great to hear Mark Ainley telling Sara Mohr-Pietsch on Music Matters about the lost recordings he's managed to unearth in recent years.
Musicians' musicians – those revered by their peers as much as by other music lovers – are a rare breed, and I hope that this anniversary focus on Dinu Lipatti as both pianist and composer will help to persuade you how he qualifies.
Dinu Lipatti on BBC iPlayer Radio
John Shea presents a centenary selection of music composed and performed by Lipatti.

Orlando Murrin joins Matthew Parris and pianist Alexandra Dariescu to champion Lipatti's life and work.