Main content
The Food Chain Global Champion Award 2019 winner: Akshaya Patra
This year's Global Champion Award was presented to Akshaya Patra - the world's largest charity-run school meals project.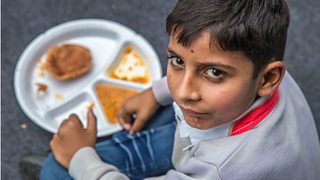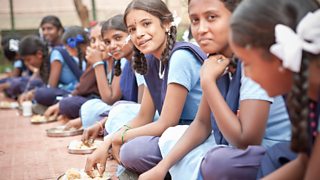 School children eating lunch (Credit: Akshaya Patra)
Akshaya Patra believes that no child should be deprived of education because of hunger. It recognises that children may forego education to do menial jobs to earn enough money to eat, and even if they do make it to the classroom, an empty stomach can make it hard to concentrate.
It started its mid-day meals programme in 2000. Back then it provided 1,500 free school lunches every day. Today it feeds 1.76 million children all over India with hot, freshly prepared meals. For many, this will be their main source of nutrition and keep them in education.
Akshaya Patra was chosen by an international panel of judges from nominations sent in by the World Service audience.
Head judge, Iranian-American writer, chef and Netflix star Samin Nosrat, said: "There is nothing more important to me than getting children fed. There are so many studies have proven that this is fundamental. I'm really moved by getting school lunches paid for in the States, and so to see it being done on such a large scale and in such an incredible way by Akshaya Patra - that was a really moving and powerful thing to see."
This is the third year The Food Chain has presented its Global Champion Award. It looks for a person or project who has:
Changed the way we deal with our food, from its production to its presentation and consumption.
Challenged established methods or practices
Inspired others to continue with their work
Whose ideas have had a lasting effect on our relationship with food
This year's finalists were:
Lucy May - founder of The Organic Cookery School
Richard Swannell - development director at WRAP, a UK charity aiming to reduce waste across a range of sectors.
CGIAR - the world's largest international agricultural research for development partnership.
Food 4 Education - a non-profit organisation which provides heavily subsidised meals at primary schools in Nairobi, Kenya
Terms and Conditions
The BBC, its sub-contractors, subsidiaries and/or agencies cannot accept any responsibility whatsoever for any technical failure or malfunction or any other problem which may result in any nomination not being properly registered. Proof of sending is not proof of receipt. The closing date for entries is 23:59 GMT on the 3rd March 2019
Please make sure you read through the description and the word count. Make sure you clearly explain how your nomination meets, or exceeds, the criteria in the description. The BBC has the right to disqualify entries that don't contain the information requested on the nomination pages.
All entries will be sent to members of The Food Chain team to be processed and checked against the criteria before being sent to the judges for consideration.
The judges work alone to select a 'long list' for shortlisting. All judges are listed on the Food Chain website.
You can nominate yourself or the organisation or company you work for. However, you will need to state if you are nominating your own business.
The judges are independent and have been selected for their knowledge in the various category areas. They all see the long lists, and their decisions are final.
It will not be possible to update you on the outcome of your individual nomination. We may contact the nominees directly for further details, but all those shortlisted will be contacted personally by end March 2019. The judges will then together decide on a winner from the shortlist.
The Awards are not open to employees or contractors of the BBC, BBC Group company, Monterosa or any person directly or indirectly involved in the organisation or running of them, or their family members.
A press release will be issued with details of finalists in each category, and a later release will name the winners. The finalists will also be announced on the BBC World Service The Food Chain Programme and the BBC Radio 4 Food Programme and will be listed on the website at the end of June 2019.
The award will consist of a chopping board. There is no cash prize. No commercial gain can be made from using or referencing the BBC brand, the award itself or any other element of this awards process.
The BBC reserves the right to exclude any entry from the award at any time and in its absolute discretion if the BBC has reason to believe that a nominator or nominee has breached these rules, acted fraudulently or has done anything which, in its sole discretion, brings the BBC into disrepute.
The BBC reserves the right to amend these Terms and Conditions. The BBC reserves the right to cancel this award or alter any of the Terms at any stage, if deemed necessary in its opinion, or if circumstances arise outside of its control.
To the extent that they apply – this award is subject to the BBC's Code of Conduct on Competitions and Votes - http://www.bbc.co.uk/editorialguidelines/guidelines/appendix2
These Terms and Conditions are governed by the laws of England and Wales.
Judges for 2019
Samin Nosrat: Head judge
Gaggan Anand
Arnold Kreilhuber
Mavis Nducha
Marion Nestle
Find out more about the work of chef and humanitarian José Andrés, the winner of the 2018 Food Chain Global Champion Award
Find out why MagMeal won the inaugural Food Chain Global Champion Award in 2017
Samin Nosrat: Head judge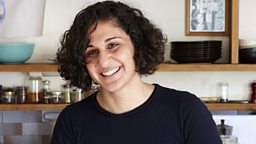 Samin Nosrat is a California based writer, a teacher and a chef. Starting out at Chez Panisse in 2000, she has cooked for the likes of Hilary Clinton and Jake Gyllenhaal, taught cookery classes across America, and written for numerous publications. Samin has recently released her first book, Salt Fat Acid Heat, which has been adapted into a TV series for Netflix.
Gaggan Anand: Judge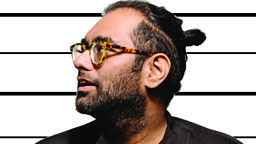 Gaggan Anand is the chef/owner of an eponymous restaurant in Bangkok that serves a tasting menu of forward-thinking Indian fare, and which currently sits at the number five spot on the World's 50 Best Restaurants list. Netflix have made a Chef's Table episode about the chef.
Arnold Kreilhuber: Judge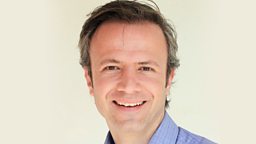 Dr Arnold Kreilhuber is the Deputy Director of UN Environment's Law Division in Nairobi, Kenya. He has more than 15 years of professional experience in the field of environmental law and policy, during which he led work on important issues such as environmental crime, human rights and the environment, judges and the environment, and, most recently, in response to attacks on environmental defenders.
Mavis Nduchwa: Judge
Mavis Nduchwa is the CEO of Chabana Farms, Botswana and recipient of the Most Outstanding African Entrepreneur Award 2018 (Tony Elumelu Foundation). Prior to transitioning to agriculture, Mavis worked in various safari camps and hotels in the hospitality sector including the world-renowned award winning Mombo Camp in the Okavango Delta Botswana. Her focus is now on 'organic symbiosis'.
Marion Nestle: Judge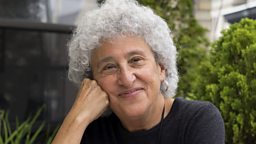 Marion Nestle is the author of ten books, mostly about food politics. Her most recent book is Unsavory Truth: How Food Companies Skew the Science of What We Eat, which came out in 2018. From 2008 to 2013, she wrote a monthly Food Matters column for the San Francisco Chronicle food section. She blogs daily (almost) at www.foodpolitics.com. Her Twitter account, @marionnestle, has been named among the top 10 in health and science by Time Magazine, Science Magazine, and The Guardian, and has more than 140,000 followers.