Main content
An act of rebellion: How Rebel Wilson took Hollywood by storm
22 December 2017
She sang. She sued. She conquered. Australian actor Rebel Wilson, 'Fat Amy' in the all-singing Pitch Perfect franchise, is a one woman whirlwind. An unlikely role model, she has made her name doing – and saying – whatever she wanted.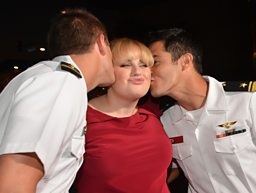 Rebel Wilson arrives at the Los Angeles premiere of Pitch Perfect in September 2012. Photo by Lester Cohen / WireImage | via Getty Images
With a name like Rebel, you'd expect the Sydney-born actor and comedian to be a fighter. And so it has proved. Her first US movie part was in Bridesmaids (2011). She turned up at director Paul Feig's audition as a no-hoper and parlayed an hour's worth of wacky improv into a role for herself. "Rebel's energy was so funny and odd," said Feig. "We kept thinking, 'What can we do with her?'" What he did was to create a role just for her. On set, Feig knew he'd done the right thing; "She was just going for it."
Bridesmaids proved Hollywood naysayers wrong by showing a female-led movie could laugh its way to international success – and eventually, a franchise. In the film, Wilson's customised role was that of Brynn, sister to Little Briton Matt Lucas' Gil, roles they took to heart when they moved in together in West Hollywood. Best buddies, they'd share washing up duties and annoy neighbours by singing show tunes very loudly. Wilson even made an uncredited appearance as Little Britain loudmouth Vicky Pollard in Lucas' TV series Pompidou. So close were they that chat show host David Letterman once confused her with Lucas during an on-air interview.
Now on directors' casting lists, Wilson soon fetched up with Kirsten Dunst, Lizzy Caplan and Isla Fisher in the rom com Batchelorette (2012). But it was with another Bechdel-busting movie, Pitch Perfect (2012) that she really began to hit the high notes. A post-Glee, all-female singalong comedy which was unafraid to go rogue and rude, Pitch Perfect (2012) took a cappella group 'The Barden Bellas' from regional heats to the big time with a breakout performance by Wilson as Fat Amy, "the best singer in Tasmania. With teeth".
Wilson had arrived. No question. Never scared to lob a feisty or humorous quote to journalists, in 2015 she found herself on the sharp end of a Bauer Media published Australian magazine called Woman's Day, who accused her of being dishonest about her age, that she wasn't related to Walt Disney and suggested that Rebel wasn't even her real name. As the story spread, Wilson claimed portraying her as a liar began to put a drag on her career, even causing her to lose parts. She decided to draw a line and sued for defamation. In 2017 a judge at the Melbourne supreme court awarded her £2.7m in damages. Said Wilson: "I had to stand up to a bully, a huge media organisation, Bauer Media, who maliciously took me down in 2015 with a series of grubby and completely false articles".
Now with the release of Pitch Perfect 3 and the forthcoming Nasty Women, a gender-flipping remake of Michael Caine and Steve Martin's Dirty Rotten Scoundrels with Wilson and Anne Hathaway taking the role of the con men, no one would bet against the 37 year old now. Said chat show host Conan O'Brien; "She's authentic … In her quiet way, you can't believe the balls on this girl. She has an incredible will".
I'm an actress. And if something gets a laugh, I have no problem embarrassing myself. The character is the point. Not my ego.

Rebel Wilson
I had to stand up to a bully, a huge media organisation, Bauer Media, who maliciously took me down in 2015 with a series of grubby and completely false articles.

Rebel Wilson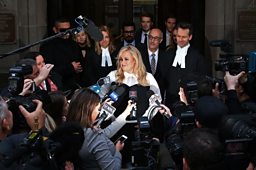 Rebel Wilson speaking after winning her defamation lawsuit against Bauer Media, June 2017, Melbourne. Photo by Scott Barbour | Getty Images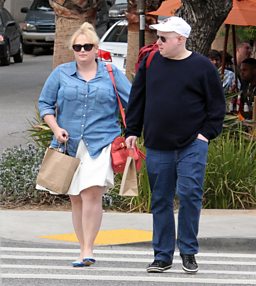 Rebel Wilson and Matt Lucas together in West Hollywood, January 2016. Photo by Splash News | Alamy Stock Photo
I think that women out there should just be happy with how they look, and they shouldn't really try to conform to any stereotype. Just be happy and, hopefully, healthy.

Rebel Wilson
I'm trained in musical theatre and 'Pitch Perfect' is the first movie where I get to really belt out. I beat Adele for that role.

Rebel Wilson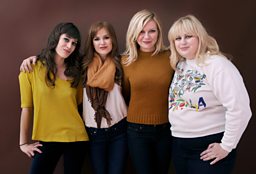 Bachelorette cast members Lizzy Caplan, Isla Fisher, Kirsten Dunst and Rebel Wilson pose for a portrait during the 2012 Sundance Film Festival. Photo by Larry Busacca | Getty Images
I am the type of girl with zero fashion sense, but I am getting into it now. It's becoming important for me. I saw a lot of girls were beginning to notice what I wear, and I feel a kind of responsibility because there aren't any women in Hollywood my size and age.

Rebel Wilson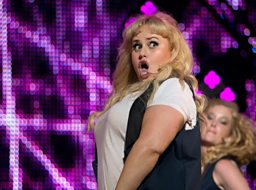 Rebel Wilson as Fat Amy in Pitch Perfect 2, April 2015. Image AF archive | Alamy Stock Photo
I have a lot of celebrity friends. But they're all Hollywood friends. You can't call them if you fall over and break your leg, but if you're having a BBQ and wanna chitchat, you hang out with them, or you go to their house.

Rebel Wilson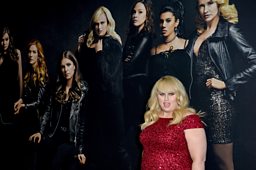 Rebel Wilson at the world premiere of Pitch Perfect 3, December 2017. Photo Sarah Stewart | Alamy
To hear how prevalent sexual harassment and assault is, is just so saddening. I know my stories aren't as horrific as other women and men have described - but if you've ever experienced anything like this I feel for you.

Rebel Wilson
Rebel Wilson's latest and potentially last outing as Fat Amy in Pitch Perfect 3 is on general release in UK cinemas from Friday 22nd December.