Main content
6 things we learned when Phoebe Waller-Bridge met Lauren Laverne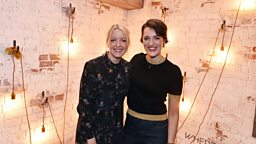 It's been an incredible 2019 for Phoebe Waller-Bridge. She began the year with a second, final series of breakthrough black comedy 'Fleabag'. Next, she was brought into the 007 fold to help write the new James Bond film. And she's spent a big chunk of the year in New York for the stage version of Fleabag.
Before she spends 2020 working on new projects, she joined Lauren Laverne on 6 Music Breakfast to look back on the last 12 months, and to reveal a few Fleabag secrets we hadn't heard before.
Here's what we learned…
1. She consulted an actual priest when writing Fleabag's "Hot Priest" role
One of the biggest talking points of TV in 2019: the unlikely emergence of Andrew Scott as a "Hot Priest". Scott's portrayal as a lustworthy clergyman was of such heartthrob status, people dressed up as priests for Halloween.
When writing season two of Fleabag, Phoebe consulted a real life priest for research. "He was the most open, erudite, generous-hearted person," she said of Father William, who she described as "screamingly funny."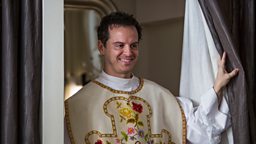 He is one of several people to appear in the "Thank You" section of her new 'Fleabag: The Scriptures' book, which dives into the origins of the show, and how it started as a play.
"I needed a priest who I could talk to about sex, really," Phoebe told Lauren, and he ended up being an inspiration for the writer. "A lot of that character has come from talking to [him]."
2. Her first "proper job" saw her working with Andrew Scott
10 years ago, way before Phoebe cast Andrew in his iconic role, she worked with him on a Soho Theatre play called Roaring Trade, about the behind-the-scenes brawls of investment banking. "It was my first proper, proper job."
"I remember feeling the electricity of working with him," she said. "He was just so extraordinary."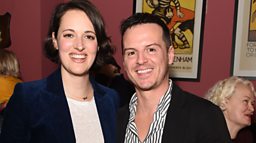 She desperately wanted to work with him again, so she took him for a coffee in Soho and "begged" him to play a part that she hadn't yet written. A few hours later, after walking around central London together, he said he was up for it.
Did she know how much of a thing the character would become? "I knew the power of Andrew would be felt," she told Lauren. "We both really cared about telling a proper, grown-up love story. He wanted the character to have integrity."
3. There's a story behind her viral Emmys photo
Every glitzy awards bash has a viral moment, and at this year's Emmys, it was a photo of Phoebe sat backstage, post-ceremony, sat beside her haul of awards and basking in her success.
The BBC's head of comedy, Josh Cole, posted the photo to Instagram with the caption "all hail the queen," and it took off from there.
She remembers the night as "wonderful, silly and surreal," a vindicating moment for years of hard work. "It was a magical moment and it just felt like one of those elevated nights that you'll never forget."
How was the hangover, though? "It's still here," she joked.
4. She's sworn to secrecy around James Bond
You know how it is: When a massive movie is around the corner, but not much is known about it, everybody involved in the production has their lips sealed.
However, with a trailer for new Bond film 'No Time To Die' landing this week, 007 fever is heating up.
She says she "can't say anything" about the film, but she insists it was an "extraordinary experience." She was brought in to tidy up a script and add a few flourishes, but added that characters and a plot were already established before she started work on the film. The April 2020 release stars Ralph Fiennes, Ben Whishaw and Léa Seydoux (alongside Daniel Craig, obviously).
Disclaimer: Third-party videos may contain adverts.
5. She's a nocturnal writer
Fleabag's biggest fans will be picking up Phoebe's book to try and find out the secret to her incredible, witty, human style of writing.
"I hate talking about writing, it's like drinking your own bathwater," she admitted, but she said she tends to write in bed, without interruption, until her stomach growls. "I write until I get hungry and then I just crawl downstairs," she told Lauren.
Writing sessions go late – really late, as far down the clock as 5am. And her mantra? "Write like you're not afraid."
Watch: Phoebe Waller-Bridge shares her writing tips
6. She'll be spending 2020 writing and writing some more
By the sounds of it, Phoebe will spend most of 2020 writing in bed, crawling down the stairs for food, and repeat.
She has several projects on the go, namely a new movie idea – which she plans to write in 2020 or 2021 – and new concepts for television shows. "It's going to be a real creative year. I don't think there'll be much actual acting. I just want to write and write and write."