Main content
Drawing level: How Kristina Stipetic is making waves in the male-dominated comics world
15 March 2016
When one of the world's largest comic-book festivals recently announced an all-male short list for its biggest prize, it illustrated women's struggle for recognition within the genre. However, as the artwork and graphic novels of American illustrator and writer Kristina Stipetic proves, some female artists have little interest in following conventional paths. Based in China and tackling themes such as life in small towns, sexuality, politics and gender issues, Stipetic's work is avowedly independent and proudly outside the mainstream of the comics world. BIDISHA casts some light on an artist determined to do things her way.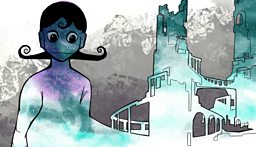 Image from I Aspire, by Kristina Stipetic
Earlier this year, the prestigious Angouleme International Comics Festival announced the nominees for its annual Grand Prix lifetime achievement award.
There were thirty men and no women on the list. There was immediate uproar, with many of the nominated men dropping out in solidarity with the ignored female artists and several women in the field publicly naming the industry peers who should have been nominated.
She operates in a way that is completely indie, counter-cultural and boundlessly creative
I couldn't help thinking of Kristina Stipetic, a brilliant young artist whose work I've been following for the last two years.
She operates in a way that is completely indie, counter-cultural and boundlessly creative, but far from the comics in-crowd.
Stipetic is from the American South, growing up in Atlanta and North Carolina, but for the last few years she has been based in Suzhou in Southern China, a city known equally for its beautiful ancient gardens and its main streets full of brothels.
From her apartment she produces amazing graphic novels, commissioned artwork and comics series.
She releases gorgeous print editions and also puts her work online for fans to read for free as well as travelling to conventions and meet-ups all over the country, conversing in fluent Chinese.
I first encountered Stipetic's work two years ago on a tourist trip.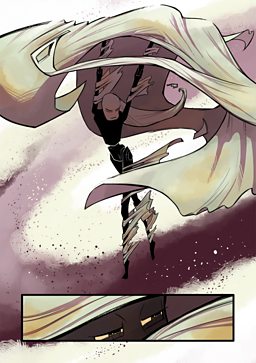 Detail from Alethia by Kristina Stipetic.
With her droll, offbeat, self-deprecating humour she reminded me of a hustling artist in early-days San Francisco, an outsider with insight, a blunt speaker with an edge.
Her greatest achievement so far is a long, novelistic series called 14 Nights, in which two loserish but lovable guys contemplate smalltown life as beta rather than alpha males.
The 400 page series is reminiscent of a cool early Steve Buscemi film like Trees Lounge or Ghost World, mixed in with Seinfeld's depressed humour.
Her characters aren't heroes, they're wanderers and wonderers, dreamy and dissatisfied, yearning and restless.
Aside from 14 Nights, there was also a detectable influence of classic science fiction and fantasy in the look and feel of her work.
It's no surprise, then, to see her latest project, a series called Alethia. It's a vast space opera examining everything from matriarchy to reproduction, touching on questions of gender, labour exploitation and capitalism along the way.
In the first chapter one character, hailed as a queen, has to painfully give birth to a new egg every day in the hope of bearing her heir, a new queen. But each egg hatches into a "worker", a regular citizen who joins the throng urging the weary queen to keep reproducing.
When a damaged female robot falls out of the sky, the superstitious workers wonder if she is a warning, a reward, a threat or something to be taken advantage of.
Thought-provoking, haunting, moving and terrifying in equal measure, Alethia touches on political leadership, forced pregnancy and female duty, wrapped up in a roving adventure story.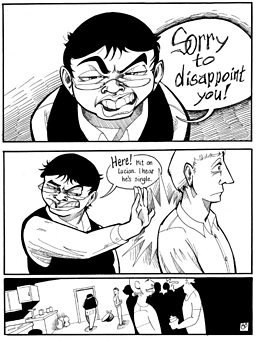 Artwork from 14 Nights, by Kristina Stipetic.
As Stipetic writes to me from China, "Over the years humans have solved the question of how to get women to reproduce by force and by manipulation, so what are some other ways we can continue the species while respecting the humanity of those who create life?"
Her characters aren't heroes, they're wanderers and wonderers, dreamy and dissatisfied
Released in beautiful little print editions for purchase before being put online in bulk later this year, Alethia is the culmination of a longstanding ambition.
"I've wanted to do a traveling story for a long time, since I was a teenager even," she says.
"A character goes from village to village and sees strange things along the way, as strange as I can think up.
"The inspiration comes from both wildlife and human society. For instance, an organism's physiology affects its behaviour, so what if the organism was very intelligent? How would a society form around, for example, a species where only one individual can reproduce?"
Having already told me the ending and then sworn me to secrecy (here's a slight hint: watch Prometheus), she clarifies, "A lot of the stories will revolve around the way that robots reproduce, which is different in every city.
"To me this is the fundamental question that sentient creatures must solve.
"Right now we are not truly free, because if all women decided to stop having babies, our species would disappear.
"And I think the more women have a choice, the more of us will not want to 'shit a pumpkin' as [feminist writer] Shulamith Firestone put it."
Stipetic has built up a disciplined daily work practice to complete her projects.
She namechecks musicians Jun Togawa and Grimes and writer Flannery O'Connor as inspirations, adding that "Andrea Dworkin, in her fearlessness and anger, has [also] had a deep effect on me."
When it comes to comics, "there are many heroines to choose from," she says, but singles out Yuki Urushibara in particular.
"She writes a comic called Mushishi, which is also a travelling story. Each chapter is very tight, has a compelling problem, a profound sense of mystery, juicy emotions, and a satisfying solution. She's the master of such things."
Stipetic came to China on a whim.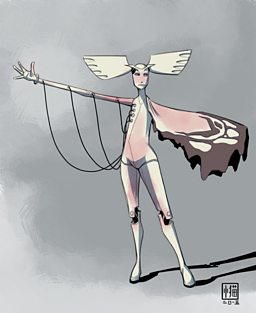 A female robot from I Aspire, by Kristina Stipetic.
"I wanted to travel somewhere," she says simply. "I'd never left America before I came here. It's expensive, you know? I never took vacations or anything like that. I figured the only way for me to see the world was get a job somewhere I wanted to live. I moved to Shenyang having never even heard of that city and speaking only one month's worth of Chinese. After a year, I moved to Suzhou."
I want to write what I want to write, and if that is 400 pages of ugly men having bad sex...

Kristina Stipetic
The ever-proliferating Chinese urban sprawl is a source of wonder: "There's so much stuff everywhere, buildings seem like they're growing out of one another."
I had assumed that Stipetic liked her independent, ad-hoc, online way of releasing work, so I'm surprised to learn how ambivalent she is about it.
Last year she submitted 14 Nights to thirty publishers and agents, small and large, and "had no response except rejection, so it's not entirely by choice than I'm independent," she says.
She jokes, "I want to write what I want to write, and if that is 400 pages of ugly men having bad sex, I can't expect the critical establishment to get on board."
The upside, she thinks, is that "nobody holds any power over me. I don't have to wait to publish, but I also don't have to keep a schedule. I'm just out there online for free, for anyone to read, and I'm not a big famous person who you can tell your daughters to avoid."
For now, Stipetic remains settled in Suzhou like some kind of intense, reclusive genius, working on the next chapters of Alethia and releasing them to the world as she completes them. She has a devoted cult following but is under the radar of the mainstream.
I wonder if it bothers her to be out of reach of the established hierarchies represented by the Angouleme Comics Festival, but she has some choice words on that, especially for up-and-coming artists:
"You don't have to wait for some crusty European to decide who is significant and who isn't. You have that power inside yourself."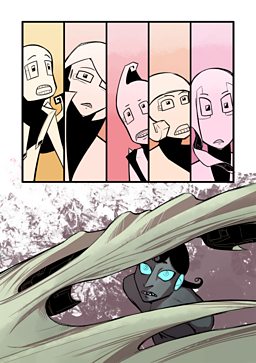 Detail from Alethia, by Kristina Stipetic.
Arts highlights on BBC iPlayer
Watch 12 mesmerising performances from Dancing Nation, a sampler of UK dance in all its forms.

Chizzy Akudolu presents a new collection of dramatic short films.

The Oscar-nominated actress gives a singing masterclass.