Main content
11 fascinating things you might not know about Quincy Jones
Quincy Jones is a living legend. At 83 years old, the renowned composer/producer/arranger/conductor is one of the most influential names in recent musical history. But here are are 11 facts about his life and career that may come as a surprise…
1. Quincy Jones was born in Chicago in 1933. His full name is Quincy Delightt Jones.
2. Quincy has credited his musical career to a life-changing experience he had as an 11-year-old living in extreme poverty. He and his brother broke into a nearby recreation centre and were gorging themselves on stolen pie and ice cream when he discovered a piano. As he started playing, he "began to find peace" and was hooked.
3. Quincy was mentored by the jazz piano legend Count Basie, who "adopted" him at the tender age of 13. As a teenager he also worked with Duke Ellington, Ray Charles and Benny Carter.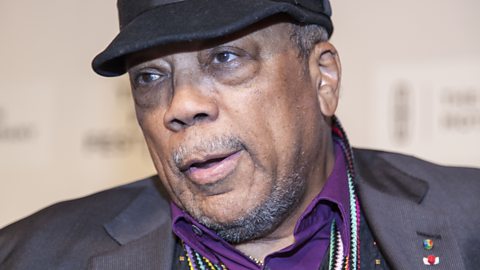 The legendary producer describes how the world of music looks to him today.
4. As a young man, Quincy was briefly addicted to heroin, but gave up after a quick course of "ghetto rehab" – AKA falling down five flights of stairs while under the influence.
5. Quincy started playing trumpet with the big band leader Lionel Hampton in 1951, aged just 18. He said he would memorise his parts in double-quick time so that he'd be able to spend more time on stage looking at girls.
6. Quincy moved to Paris in the late 1950s. He lived across the street from Picasso and studied classical composition with Nadia Boulanger – teacher to some of the most famous composers and performers of the 20th century.
7. As an arranger, Quincy was behind some of the most iconic hits of the 1960s – Dinah Washington's Mad About The Boy, Frank Sinatra's Fly Me To The Moon and Soul Bossa Nova (the Austin Powers theme tune), to mention just a few.
8. He was one of the first African-American executives of a major US record label, becoming vice-president of Mercury Records in 1964 aged just 28. His first hit single was Leslie Gore's It's My Party And I'll Cry if I Want To.
9. Quincy narrowly survived a life-threatening brain aneurysm in 1974. He was gravely ill, so friends and family started planning his memorial service. In the end, the line-up (which included Marvin Gaye, Richard Pryor, and Sarah Vaughan) was so fierce that Quincy ended up attending in person, with a neurologist on standby.
10. One of Quincy's best-known projects is Michael Jackson's Thriller (1982), which is estimated to be the biggest-selling record of all time. Quincy first met Michael Jackson when the singer was 12; he gave MJ the nickname "Smelly".
11. Quincy was an executive producer on the hit 1990s sitcom The Fresh Prince of Bel Air. His son, QDIII (Quincy Jones III) wrote and produced the theme tune.
The Metropole Orkest are conducted by Jules Buckley in a celebration of Quincy Jones.

Highlights including Laura Mvula, Neil Hannon, Amanda Palmer, John Cale, Anna Calvi and s t a r g a z e.