Main content
The Cultural Frontline: Women's Stories in Arabic Cinema
Tuesday 26 March 7:00pm
Women's Stories in Arabic Cinema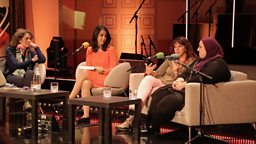 The Cultural Frontline: Women's Stories in Arabic Cinema
This special broadcast of the BBC's The Cultural Frontline brings together filmmakers from various parts of the Arab film industry to discuss how women's stories are being told in Arabic cinema.
Recent years have seen a new wave of female talent and women-focused stories in Arabic cinema. But what are the types of stories being told and can the portrayal of these stories help influence society across the region? We will explore the opportunities and challenges faced by women working in front of and behind the camera. In this current era of #MeToo and #TimesUp, we will discuss these and other challenges that arise when showing women on screen, as well as those faced by women within the industry.
The discussion will be hosted by our presenter, the award-winning journalist, Nawal al-Maghafi, with a panel of leading and emerging filmmakers from the region.
Join us for this discussion and exploration of the power of women's stories in the cinema of the Arab world.
The Cultural Frontline showcases artists from around the world producing ground breaking work that addresses the most pressing topical, social, cultural and political issues that we face. The Cultural Frontline broadcasts on BBC World Service Radio every Saturday at 18.32 GMT. Or you can listen to the programme later online, iPlayer or by subscribing to our podcast.