Main content
6 School Assembly Memories To Take You Back
BBC Ten Pieces is asking schools across the UK to host their own musical assembly this June! Ahead of the event, we reminisce on all the memories that made assemblies an integral part of our educational life. We hope the nostalgia will inspire you to hold your own BBC Ten Pieces Assembly (if you're a teacher of course), along with hundreds of schools already signed up.
1. The Homemade Costume
Everyone remembers the Papier-mâché disasters that haunted our childhoods. The pillowcase with a belt, the tea towel on the head and the see-through tights were a demonstration in thriftiness and craftiness to behold.
2. The Pressure of Learning Your Part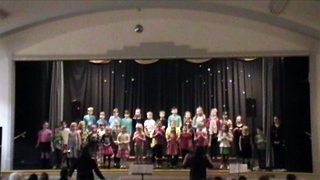 Whether you were a narrator, a musician or a tree – learning your part was crucial. Practice takes time, but the rewards are great. Check out practice perfection as Songwires in Thirsk performed Kerry Andrew's No Place Like as part of BBC Ten Pieces.
3. The Extra Loud Participant
No need for amplification or a microphone with this individual – a noise warning and ear plugs were a must for spectating classmates, teachers and family members. So confident were these children in learning their part (see above), that they simply needed to let the whole world know. Secretly, they're our favourites.
4. The Enthusiastic Parent
This particular character can be spotted by three things: a video camera or phone, excessive waving and a tear in the eye (you know, like the 'cool mom' from Mean Girls). Without the enthusiastic parent many famous actors, musicians and singers would not be where they are now – we commend their enthusiasm.
5. The Hierarchy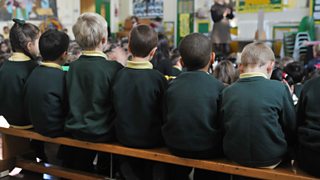 The hierarchy in the assembly hall was much like The Globe in Shakespearean times. The groundlings (the youngest of the children) were condemned to sit on the floor cross-legged amongst each other. Fast forward a few years and you were suddenly upgraded to your viewing pleasure upon a gym bench. Power never felt so good.
6. The Music
The everyday "play-in", the sing-a-longs with an acoustic guitar or a spectacular melodious performance – music is an essential part of every school assembly.
To celebrate a fantastic school year of music-making and creativity, we're encouraging schools and teachers to take part in a UK-wide celebration by putting on your own Ten Pieces Assembly.
Hold your assembly any time between Monday 3 and Friday 7 June, on a day that works for your school. Let us see any photos and videos taken for a chance to be featured on the Ten Pieces website.
Join Ten Pieces in celebrating a fantastic year of music-making and creativity by holding your own Ten Pieces assembly this June!
Sign up to BBC Ten Pieces!
Join the Ten Pieces mailing list for updates and news on our new teaching resources, events and exciting opportunities!
Join Ten Pieces in celebrating a fantastic year of music-making and creativity by holding your own Ten Pieces assembly this June!