Main content
Antiques Roadshow is coming to The Piece Hall on Sunday 8 July
What story will you bring?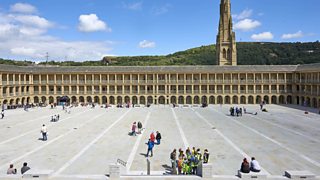 BBC One's Antiques Roadshow will be filming at the The Piece Hall in Halifax on Sunday 8 July.
Fiona Bruce and the team of Antiques Roadshow experts will be waiting to welcome you, so dust off your family heirlooms and dig out those car boot bargains and bring them along for free advice and valuations to visitors.
Doors open at 9.30am and close at 5pm. Entry to the show is free, everyone is welcome, and no tickets or pre-registration is required. For parking arrangements please check our website.
Visitors are welcome to just turn up on the day but they can also share their stories about the special items they are bringing along using Share Your Story on the Antiques Roadshow website.
Alternatively, email: antiques.roadshow@bbc.co.uk or write to Antiques Roadshow, BBC, Whiteladies Road, Bristol BS8 2LR.
Getting there
By rail
The Piece Hall is located just five minutes walk from Halifax Railway Station, with direct links to Leeds, Huddersfield, Bradford and Manchester stations. Grand Central Rail also operate a regular service between London and Bradford, calling at Halifax. To plan your rail journey visit National Rail Enquiries.
By bus
The Piece Hall is five to ten minutes walk from Halifax Bus Station with regular services from across West Yorkshire. Plan your bus journey by visiting Metro.
By car
From the M62, exit at junction 24 and follow signs for Halifax (A629) and the brown tourism signs.
Parking
As an historic building The Piece Hall does not have its own car park, however Halifax Town Centre has plenty of car parks and on-street parking spaces, all within walking distance of The Piece Hall.
Weekend visitors can park at the following locations:
• Eureka! National Children's Museum, HX1
• Dean Clough, HX3 5AX – (free parking weekends)
• Broad Street Plaza, HX1 1YQ
Alternatively, Calderdale Council has on-street parking spaces and town car parks located at:
• Thomas Street
• King Street
• Mulcture Hall Road
• Northgate House
• St Johns Lane
• Prescott Street
• Union Street
Blue badge parking
There are a number of designated bays for Blue Badge holders in Halifax town centre and the nearest one to The Piece Hall is on Westgate.
Others are located on Alexandra Street, Commercial Street, Corporation Street, Gaol Lane, Northgate, Old Market, Rawson Street, Thomas Street, Wade Street.
Dogs
Are welcome at The Piece Hall.