Main content
10 surprising things we've detected about Agatha Christie
There's a double bill of Hercule Poirot on BBC Two and BBC iPlayer on 28 December with Peter Ustinov starring as the Belgian detective in film adaptations of Death on the Nile and Evil under the Sun. But it turns out that author Agatha Christie was no stranger to drama and excitement in her own life...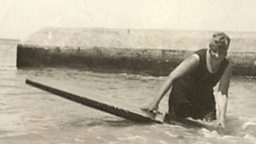 Agatha Christie surfing in Waikiki, Hawaii in 1922. (Photo courtesy The Christie Archive)
1. She was a surfing pioneer
Through her marriage to Archibald Christie and his job promoting the British Empire Exhibition, the couple were able to travel the world - and recent research has uncovered that Archie and Agatha may have been among the first Europeans to learn the art of surfing standing up. Agatha became skilled at body-boarding in South Africa, Australia and New Zealand, and in Hawaii she and Archie learned to ride the waves while standing on the board.
2. She had a penchant for poison
Early in the First World War Christie worked with the VAD (Voluntary Aid Detachment) and later in the dispensary of the local hospital, where she completed the examination of the Society of Apothecaries and acquired an interest in and knowledge of poisons.
3. Her husband was suspected of murdering her
1926 saw both highlights and heartache for Christie. She became a household name with the publication of The Murder of Roger Ackroyd but she lost her mother that year and her husband revealed he was in love with his golfing partner, Nancy Neele. The result was an intriguing 11-day disappearance. Suffering from amnesia, Christie had signed herself into the Harrogate Hydropathic Hotel, where she registered as Teresa Neele. Police and bloodhounds searched for her. Colonel Christie was suspected of murdering her and only when a member of the hotel band recognised her and reported it was Agatha considered safe. She never recovered her memory from that time. Agatha divorced Archie Christie in 1928. Michael Apted's 1979 film Agatha, starring Vanessa Redgrave and Dustin Hoffman, is a fictional account of those 11 days.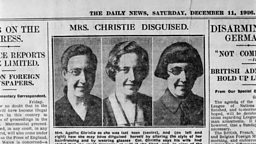 Photographs in The Daily News from December 1926 showing how Christie may have disguised herself after her disappearance.
4. She's the best-selling female writer ever
And Then There Were None is the best-selling crime novel of all time, with over 100 million copies sold across the globe. And with global sales of all her books totalling somewhere between two and four billion, Christie is one of the best-selling authors ever - beaten only by William Shakespeare.
5. She really loved dogs
Christie loved dogs, usually a terrier of some sort. Her first was called George Washington, but her favourite was a short-haired terrier called Peter who starred in Dumb Witness under the name of Bob. The book's dedication reads: "Dear Peter, Most Faithful of Friends and Dearest of Companions, A Dog in a Thousand."
6. She dug photography
Christie married archaeologist Max Mallowan in September 1930 and became his artefact photographer on his many digs in Syria and Iraq. She did not say "the older the wife of an archaeologist, the more interesting she becomes to him", though it is often attributed to her. Those expeditions would influence her writing greatly in Death on the Nile, Murder in Mesopotamia and Murder on the Orient Express.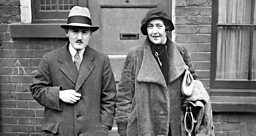 Mrs M.E. Mallowan (aka Agatha Christie) pictured in 1933 with her second husband, Sir Max Mallowan. (Planet News Archive/SSPL/Getty Images)
7. She rose to a challenge
She'd begun writing detective stories in response to a bet by her sister Madge that she couldn't do it. She struggled to find her central character until she witnessed an odd little man amongst a group of Belgian refugees in Torquay, and Hercule Poirot was born. The Mysterious Affair at Styles was rejected six times before being published in 1920.
8. She killed Poirot, then put him in a safe...
By the late 1930s Christie had begun to find Poirot "rather insufferable" and in 1940 she killed him off in the story Curtain. Persuaded against this by family, friends and her publisher she placed the manuscript in a safe and carried on writing the character until 1975, when the story was finally published. Hercule Poirot received an obituary in the New York Times.
9. She was humble and gracious
According to her family, Christie initially refused a damehood and only accepted after Max was knighted for his services to archaeology.
10. She didn't have a formal education
Although her brother and sister were sent away to school and she was sent to finishing schools in France, Christie taught herself to read at five, and educated herself from her father's library. A remarkable beginning for such a successful career.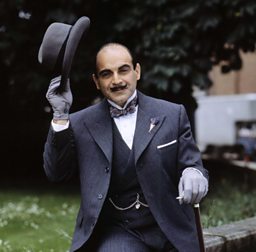 David Suchet played Hercule Poirot for over 25 years
A version of this article was originally published on 24 July 2015.