Main content
How do you talk to children and young people about climate change?
As children and young people become more and more engaged in environmental issues, how can parents support them and talk to them about climate change in an age-appropriate way? We put the question to climate change psychotherapist Caroline Hickman, climate change teacher Fiona Cowan and 19-year old eco-activist Ella Mann - who organised a climate strike in Oxford - on an episode of the Woman's Hour parenting podcast. Here's some of the advice they shared to get you started...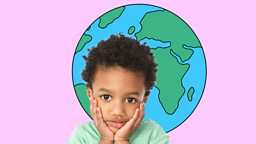 Eco-activist Ella Mann's tips on talking to young people
Empower young people, but do not exploit them. Show them that they have a powerful voice, but do not put the burden of solving this problem on them. It's not their responsibility to fix your mess. Avoid the 'your generation will fix this' narrative as this can put extreme pressure on them.
Consider their emotional well-being before you speak. This crisis is scary and depressing, especially for young people who see their future slipping from our grasp. With younger children, be truthful, but avoid scaremongering. With older children and teens, be with them in their grief and anger, and create supportive spaces where they can express this.
Help them connect with and play in nature. Children who do not spend time in nature and see its beauty will not care enough to want to protect it.
Listen to them! Young people do not have the same baggage and preconceived ideas as older people, so have the ability to think more creatively about the issue. Do not assume that just because you are older that you are better equipped to tackle the climate crisis.
Check out the work of the Kids Climate Action Network - their website has lots of downloadable resources.
Climate change psychotherapist Caroline Hickman's tips on talking to children
We need to tell children the truth, but in ways that they can understand. Try to relate it to their local environment as well as further afield (it's not just polar bears that are at risk).
Adults need to face their own feelings about climate change first in order to then be able to talk with children without frightening them. Adults need to show and acknowledge their own feelings, but not in an 'out of control' way, and also give permission to children to talk about their feelings.
We need to make the conversation fit the child in front of us – so judge their age and capacity to understand, then start the conversation by asking them how they would like to discuss it. Give choices, use some books, watch the David Attenborough documentary together – but then discuss it together.