Main content
Filled with 'a number of male lovelies': the surprising court of King James VI and I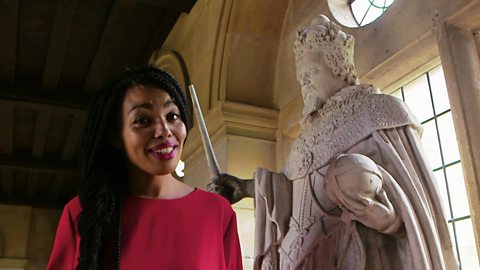 Emma outlines the nature of the relationship between George Villiers and King James I.
Dr Bendor Grosvenor and Emma Dabiri travel to Glasgow to investigate a long lost picture of one of the most famous gay men in history, possibly painted by one of the most famous artists in history.
Latest features from BBC Scotland
BBC Scotland's series of programmes that chart the monumental rise of hip-hop.

Marjolein and Ransom FA talk about their respective hometowns of Lerwick and Aberdeen.

Do cashless payments benefit both business and consumer?

The award-winning team behind BBC ALBA's FUNC take aim at the US President.

Rose Reilly won the 1984 Women's World Cup after playing at the highest level in Serie A.

A tea grower in Perthshire believes low temperatures give her plants a unique flavour.

Changing your driving style could benefit your wallet.

Police Scotland's murder investigation team allowed camera access to harrowing murder case.

Sisters Onnagh and Breagha Cuinn are a riot grrrl two-piece from North Scotland.

Alistair Heather talks to schoolchildren taking part in the inaugural Doric Film Festival.

Frank Quitely spoke to Mirror Mirror about how he started out as a comic book illustrator.