Main content
Beethoven – the most infamous classical concert ever
On Thursday, 22 December 1808 Beethoven participated in a benefit concert of his music at the Theater an der Wien in Vienna. It was the most ambitious concert he ever organised, ridiculously so – designed to show off his abilities as a pianist as well as a composer, the event lasted over four hours. Even Beethoven's committed friends and supporters who were present were critical, complaining that there were too many challenging works, inadequately performed.
As the BBC National Orchestra and Chorus of Wales and the Orchestra of Welsh National Opera prepare to recreate that very concert for Radio 3, David Wyn Jones explains what it was like to be there.
The 1808 concert included two symphonies, No. 5 and No. 6 ("Pastoral"), the Fourth Piano Concerto, two movements from the Mass in C, a concert aria for soprano and orchestra, an improvisation on the piano and, as a rousing finale, a hurriedly composed work that involved all the performers (pianist, singers, chorus and orchestra), the Choral Fantasy.
In effect it was two demanding concerts rolled into one hopelessly lengthy one. The obvious question is why did Beethoven set it up in this manner? Why not have two concerts a few weeks apart? Romantic biographers will suggest that it was the product of an idealistic creative figure with little or no sense of practicalities.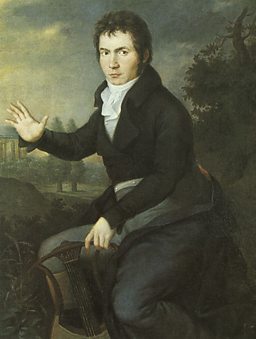 Beethoven around 1804-5. Portrait by Joseph Willibrord Mähler
There may have an element of that, but the unhelpful practices of public concert life in Vienna at the time – familiar enough to Beethoven – certainly did not help. Compared with London, Paris, and several cities in Germany, such as Leipzig and Munich, public concerts (as opposed to private concerts) were a patchy affair in Vienna: there was no regular concert series from year to year and composers and solo performers had instead to seek out spare dates in the calendars of the main theatres.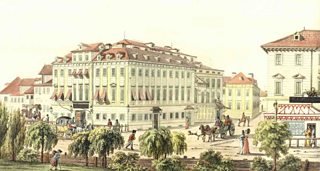 The Theater an der Wien in 1815
Theatre managers were often not particularly sympathetic and would offer dates, such as 22 December, that were not especially favourable.
Beethoven had previously organised two benefit concerts, in 1800 and 1803, to present his work, but during the five-year period from 1803 to 1808 he had composed a significant quantity of music that he wanted to present to the public.
When, finally, he was offered a date in the Theater an der Wien, he had already decided that the concert was going to be a lengthy one for the basic reason that another opportunity would not come along for a while.
He retained this determination when he discovered that the date coincided with a charity concert for widows and orphans of musicians, held in another theatre. Performers in the city naturally gave that concert priority, making it difficult for Beethoven to assemble the best players and singers.
There were further, self-inflicted problems. Benefit concerts for composers in the theatres often included arias from operas in the current repertoire for the very practical reason that they did not require rehearsal. In 1805 and 1806, the Theater an der Wien had given performances of Beethoven's Leonore (the first version of Fidelio) with the famed Pauline Milder-Hauptmann in the title role.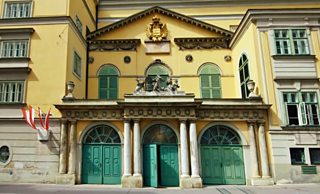 The Theater an der Wien today. Photo: BBC
Beethoven seems to have asked her to participate in his concert, but rather than performing something she already knew, he was adamant that she should self-perform his concert aria, "Ah perfido", which she didn't know. She withdrew and Beethoven engaged another, less commanding soprano, Josephine Killitschky.
Another set of organisational problems emerged from Beethoven's decision to include two movements from the recently completed Mass in C, the Gloria and Sanctus. Not only did it necessitate employing a chorus and four soloists, it could not be performed in the original Latin because imperial censors would not allow liturgical music to be performed in secular surroundings. There was a way round the problem, announcing the movements as "Hymns" and translating the text into German, but all this took time and money.
Beethoven could not be blamed for one unhelpful difficulty, the wintry weather. Snow had arrived early that year, at the beginning of December, and the evening of the concert was particularly cold. One commentator said that Killitschky shivered rather than sang, and despite fur coats and cloaks many members of the audience left early, cold, exhausted, perplexed and irritated.
All in all, it was an object lesson in how not to organise a concert. Yet it remains a historical event of rare significance. It is difficult to think of any other concert in the history of Western Art Music that included first public performances of so many undoubted masterpieces, cornerstones of the concert repertoire.
In Part 1, Carlo Rizzi conducts the Orchestra of Welsh National Opera and the BBC National Chorus of Wales in the 6th Symphony, Ah! perfido, the Gloria from the Mass in C major, and the Piano Concerto No 4 in G major, with Alwyn Mellor (soprano) and Steven Osborne (piano). In Part 2, Jaime Martín conducts the BBC NOW and NCW in the 5th Symphony, the Sanctus from the Mass in C, the Piano Fantasia and Choral Fantasy, with Llŷr Williams (piano).

Programmes, concerts and features celebrating the 250th anniversary of Beethoven's birth.

Watch as Tom Service introduces the composer who innovated in every type of music he touched.

Donald Macleod asks conductor Marin Alsop and historian Simon Schama why Beethoven's life and work still matter today.