Main content
Stormy Waters: Maggi Hambling returns to the National
26 November 2014
WILLIAM COOK meets painter and sculptor Maggi Hambling as she prepares for her new exhibition, Walls of Water, at the National Gallery. The controversial painter and sculptor became the gallery's first Artist in Residence in 1980.

Maggi Hambling at Walls of Water | Photograph courtesy of the National Gallery
Maggi Hambling can remember exactly when she painted her first seascape. It was on Sunday November 30th 2002. 'I'd driven to the sea, early in the morning, and there was this enormous storm. The waves were throwing the shingle in the air. It was very exciting. I stood there and absorbed it... I realised that what was inside me was that storm.'
We're standing in Room One of London's National Gallery, surrounded by Hambling's latest seascapes. She started working on these eight paintings four years ago, inspired by another storm, in Southwold, near her Suffolk home.
I love oil paint. It's sexy stuff.… Oil paint has a great life force of its own
'I encountered these unnervingly high waves, crashing onto the sea wall. Southwold is a very genteel place, and suddenly there was this primeval force, being really subversive. It was beautiful and frightening at the same time.'
It's easy to understand why Hambling's new exhibition is called Walls of Water. These seascapes are very big, seven feet across and six feet tall. In this windowless room they seem even bigger. Hambling's painting style is almost sculptural, her use of colour is explosive.
'I love oil paint. It's sexy stuff. You learn new things about it all the time. Things happen that have never happened before when you paint… Oil paint has a great life force of its own.'
Standing here, with these dynamic canvases all around you, you can see exactly what she means. It feels like treading water in the eye of a perfect storm. At first her pictures look fairly similar, variations on a theme, but as your eye adjusts you realise they're as varied as the ocean.
Some are full of sound and fury. Others are quite playful. Her palette ranges from thunderous grey to skittish pink.
'I hope people might feel as if they're on a sea wall, with all this energy and crashing going on around them.'
There's only one picture in this show which isn't of the sea, and that's her tribute to Amy Winehouse. It's smaller than all the others, in a space on its own, beside the door - but though the subject is completely different, this feels like a fitting place for it.
'I hope it's the colour of her sound,' says Maggi. 'I hope it's a memorial and a celebration, because it was very tragic when she died, and I found her voice very moving.'
This was actually her third attempt. She'd painted two previous pictures of Winehouse, more figurative than this one, but she destroyed them. Does she ever regret destroying her own work?
'Never!' she says. 'It's pretty hard at the time, if you've spent several months on something. But a painting comes alive and dies lots of times, and if it really does kick the bucket, you've got to get rid of it.'
Maggi Hambling on BBC Arts
Painter and sculptor Maggi Hambling selects her five favourite paintings by the Dutch master
Exhibition images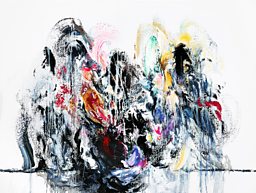 Wall of Water, Amy Winehouse, 2011 | © Maggi Hambling / Photograph by Douglas Atfield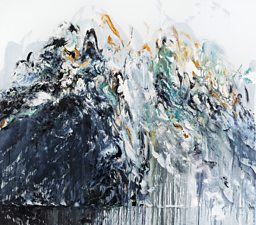 Wall of water VI, 2011 | © Maggi Hambling, photograph by Douglas Atfield
In 1980, Hambling became the National Gallery's first Artist in Residence, so this exhibition is a sort of homecoming.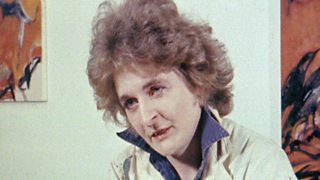 Watch a Newsnight report from 1980 featuring Maggi Hambling at the National Gallery
'There were posters around the gallery saying, Meet A Real Artist! I did feel as if people would want to come up and poke me! That was quite strange.'
But she relished sketching in the gallery, especially early in the morning and late at night, when hardly anyone else was here. 'It's one of the greatest collections of painting in the world.'
She also took groups around the gallery, and talked to them about the collection. 'I always went to The Execution of Lady Jane Grey by Delaroche to tell them it was the worst painting in the National Gallery.' Several years later, she heard it had been voted the National's most popular painting.
Her own work also divides opinion, particularly her huge steel Scallop, which stands on the beach in Aldeburgh, near her Suffolk home. It's a tribute to Benjamin Britten, who lived and worked in Aldeburgh (Maggi is a great admirer of the composer).
It's my life. I'd go pottier than ever if I didn't work every day
Her Scallop has attracted many admirers too – especially children, who use it as a climbing frame - but not everyone has been so impressed. 'Thirteen lots of graffiti, all of them extremely boring!'
It's a good job her art teacher told her not to care what people said about her work. 'I was rather shocked at first, but then I got used to it,' she says. 'People have got married at it, I think there's been a funeral at it. People leave flowers at it. It's become like a sort of shrine.'
She once joked that she'd be happy for people to make love beneath it. 'I believe that has happened! Children on the top, and who knows what underneath! It's a user friendly piece of sculpture!' It's refreshing to meet an artist with such a healthy sense of fun.
Her statue of Oscar Wilde, on London's Strand, has also been vandalised several times. Like her Scallop, it's prompted strong reactions – both positive and negative. Few people remain indifferent to Maggi Hambling's art.
'When the critics are divided, the artist is at one with himself,' she says, quoting Wilde. 'If things are controversial, that's great. It just proves they've got a bit of life to them.'
Like most truly talented artists she doesn't take herself too seriously, but she's deadly earnest about her work. 'It's my life. I'd go pottier than ever if I didn't work every day.'
And with these seascapes, she's found an infinite subject that's absorbed so many great artists, from Turner to Emil Nolde. 'I hope these waves become a metaphor for life and death. I know it's a corny thing to say, but I think that's what art should attempt to do.'
• Maggi Hambling: Walls of Water is at the National Gallery, London, until 15 February. The selected images below feature in the exhibition.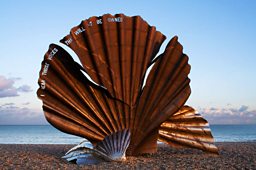 The Scallop, Maggi Hambling, Aldeburgh | Photograph © Andrew Dunn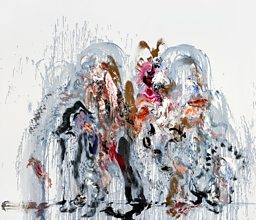 Wall of Water XII, 2012 | © Maggi Hambling / Photograph by Douglas Atfield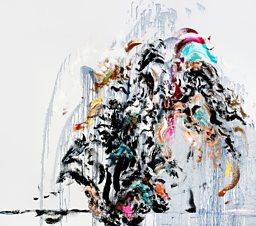 Wall of Water XI, 2012 | © Maggi Hambling / Photograph by Douglas Atfield

Wall of Water XII, 2012, detail | © Maggi Hambling / Photograph by Douglas Atfield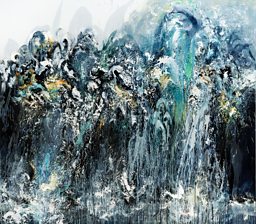 Wall of Water V, 2011 | © Maggi Hambling / Photograph by Douglas Atfield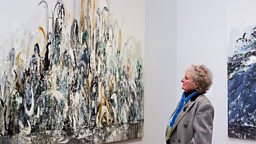 Maggi Hambling, Walls of Water | Photograph courtesy of National Gallery
Art and Artists: Highlights
Edinburgh's Dovecot Gallery is hosting two major exhibitions as part of the 2015 Edinburgh Art Festival

An astounding photographic collection by 'Speedy George' Douglas

A sculptural mystery tour which takes in several of Britain's finest galleries

Just who was the man behind some of the most memorable artworks of the last century?

The extraordinary work of award-winning American photojournalist Steve McCurry

A major Tate retrospective of the British sculptor, and the dedicated museums in Yorkshire and Cornwall