Main content
Mobile Insurance
Many mobile phone insurance providers promise to cover for loss, theft or accidental damage to your handset. But take a closer look at your policy and you'll realise you might not nearly as well covered as some ads like to claim. Just how much does your mobile mean to you?
Protect Your Bubble is supposedly a new kind of insurance company which claims their online service makes insurance simple and uncomplicated.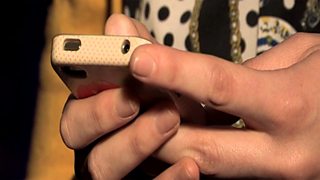 Niamh Munday does not agree. Her phone was stolen from her bag whilst on a night out and despite reporting it to the police, and her provider O2 within 24 hours, Protect Your Bubble rejected her claim.
Niamh says the reason that they gave for not giving her a new handset was that she hadn't blocked the phone within 12 hours. She told us: "I assumed with the phone insurance that if my phone got stolen and I'd gone to the police and they'd given me a crime reference number that I'd get a new handset apparently that's not the case".
When the company refused to budge, Niamh went to the Financial Ombudsman Service.
It agreed with her, told the company to pay compensation, and provide a new phone.
When it got to about a month later she felt she still hadn't got a phone even though the Ombudsman had ruled in her favour. In the end, Niamh had to wait seven months for her new phone. Definitely not the protection she thought she was buying.
Christian Twigg-Flesner, Professor Of Consumer Law told us: "The marketing creates certain expectations as to what is covered and how extensive the coverage is…Consumers wouldn't necessarily expect them to be as restrictive as they are in places so we do see a difference in the way the policies are presented on the website and the real detail, the nitty gritty."
Steve Foster was also surprised at the restrictions on his policy. He paid £6 a month to insure a mobile with Vodafone and claimed for it after the phone was taken during a night-time burglary.
The claim was initially rejected because a clause in the Vodafone contract says they'll only pay out if burglars force their way in.
But Steve's repeated calls prompted them to study their own small print even more carefully.
This says the policy will cover you for theft without force….if you're in the property at the time.
If Steve had taken them at their word he would be £400 or £500 out of pocket and would have had to go out and buy a new phone.
Foneguard has a similar policy for theft. The big print might promise to cover you for theft but the small print says that's only in the event of force, or threat of it.
That's why they rejected a claim from Claire Dale, whose phone was taken from a zipped-up handbag while she was in a bar.
She challenged their decision, and did get a replacement but only after three attempts and four months.
"The way the policy is marketed indicates that theft is not restricted also the word theft has this fairly common understanding and consumers would expect certain instances of theft such as pick pocketing to be covered. Consumers would not expect the word theft to be defined so restrictively and that's why there's a problem here." says Christian Twigg Flesner.
So that's three companies - and three ways they've tried to wriggle out of paying. We thought there wouldn't be more until we heard from Samantha Castle another customer of Protect Your Bubble.
Samantha thought her phone would also be replaced after it was stolen at a pop concert. She even provided them with a police report of the theft but, for Protect Your Bubble, this wasn't good enough.
Amazingly, staff she spoke to said they needed to see video evidence of the crime.
Samantha Castle says, "The first thing they asked was whether I'd seen it get stolen and I said no. And they if there's video evidence and I said no, and they said that because of that then it was a loss nit wasn't stolen so I kept fighting it because it was a much bigger excess fee rather than if it was stolen, which obviously wouldn't have been my fault."
Eventually the company did accept that Samantha's phone had been stolen but only after she'd spent four weeks arguing with them.
Christian Twigg-Flesner says, "The policy doesn't say that this evidence is required so how the company thinks it can get away with it is beyond me. How is the consumer going to obtain this kind of evidence and by putting such a significant hurdle in the way of the consumer we could actually say it might be a breach of the consumer protection from unfair trading regulations. In other words it would be an unlawful request to provide that kind of evidence."
So, lots of insurance policies and even more ways the providers try to escape paying out.
If your mobile phone is insured it's advisable to go and check the policy.
Company Responses
A spokesperson for Vodafone says,
Mr Foster's claim was originally rejected on June 13 when he explained that his front door had not been locked as he believed his wife had locked it and vice versa. However, the claim is valid if the customer is on the premises (or in the vehicle) even if the door was unlocked and there is no evidence of forced entry. This error was rectified on the same day and a replacement handset was ordered. We're sorry our adviser made the mistake initially – we've talked it through with the individual concerned to make sure they understand the policy better so it doesn't happen again.
(ii) Loss or theft, or damage as a result of an attempted theft, of your mobile from any vehicle or premises left unlocked unless the equipment is out of sight and evidence of forcible and violent entry to the vehicle or premises is provided or unless you are in the vehicle or premises;
A spokesperson for Protect Your Bubble says,
Protect Your Bubble is proud to offer specialist gadget insurance with excellent customer service. We regret that for Ms Munday and Ms Castle our customer service levels did not reach the high standards that we and our customers expect.
We acknowledge that it can be difficult to contact a network provider within 12 hours of a theft. That is why in August 2012 we expanded the time to 48 hours. We do, however, encourage customers to contact their provider as soon as possible to protect themselves from unauthorised calls.
We can confirm that in the case of a stolen phone, a police crime reference number is sufficient evidence of theft. Unfortunately, Ms Castle was given incorrect advice by one of our customer service agents. We have since retrained all our agents to help ensure customers receive the correct information.
A spokesperson for Foneguard says,
Miss Dales claim:
We are pleased that, after further consideration, Ms Dale's claim has been settled, although clearly that process has taken longer than she would have liked and we sincerely apologise for that.
All Insurance policies reflect the level of risk in the premium they have paid, and in general the higher the risk, the higher the premium. Often, and in order to keep prices competitive, many insurers place exclusions into the policy, so it is essential that customers taking out that policy understand exactly what the policy covers them for, and what it does not. For their part the insurers must spell out the level of cover clearly and unambiguously in the policy wordings, so that a customer will know exactly what they are receiving for their money.