Main content
"During song number nine this year. I'll be encouraging everyone to raise a glass" - Graham Norton
We caught up with Graham ahead of this year's competition to chat Joe and Jake, the Swedish sense of humour and his plans to remember Sir Terry Wogan during this year's broadcast on the 14th May.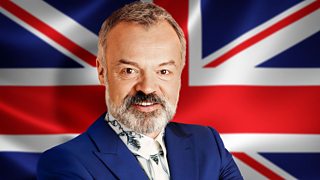 After Malmö hosted the 2013 competition. Graham's looking forward to another Swedish production in Stockholm: "they get irony and can even do innuendo which must be incredibly difficult as a second language"
For those who aren't aware song number nine is famous because Sir Terry always warned me not to have anything to drink until that point

Graham Norton
What's your routine for preparing before the show?
I sit through it all and see as much of it as I can, once you are there you want to soak up as much of it as you can so I sit through all the dress rehearsals, run throughs and press briefings so that I know as much as I can when it comes to the night. If something has changed or if anything has gone wrong I can react to it. My job is to give viewers an insight as someone who has been privy to the preparations.
I watch the jury final the night before and do a commentary on that for the timings - but it's a bit like doing a radio show and a lot of it is about filling time. On top of that there is a lot of information and all sorts of things to ensure it all fits together. Also, I know people have their own little bugbears about when commentators talk but some of them. I can't avoid such as speaking over people who are speaking English. It is really irritating and I totally get that but often I have to because they are telling you something that isn't relevant to viewers back in the UK.
Then there is speaking over the introductions. Some commentators, Sir Terry being one of them, didn't mind doing that but I know it does annoy some people. When I took over from Sir Terry I knew the fewer things I can do to actively irritate people the better so I certainly do try not to speak over introductions!

Are you tightly scripted or do you go off piste?
There is no script. There are a couple of things written down though. So for example at the end of the show there is a list of names for me to thank - people who've helped out and I'm useless at remembering, so those are written down. Plus there are the technical things like how you vote, when you can vote, how long you have to vote and all of those things are very important so there is strict wording for those parts.
Have you listened to all of the songs yet?
I haven't yet because I'd hate to tire of any of them before the big day! Come the night, I'd have heard all of them at least four or five times.

Joe and Jake, appeared on your TV Show this week and came in to see you on the radio show after they won Eurovision: You Decide. What do you think of our UK entry this year?
I think what's good is there was a public vote to get them on board, so the public can't complain and say "well we never wanted them" because clearly someone wanted them! I think the public did a good job to be honest. It is a really credible pop song and the boys deserve to do very well. Joe and Jake are charming and are good looking young guys, they should be able to build up a good fan base in the weeks leading up to the competition.
Every year Eurovision throws up suprises. The Belarussian act has apparently asked to perform naked with Wolves...
I think that is a publicity stunt and I think the problem is that the song isn't very good. Sometimes publicity and song come together like with the Russian grannies or Conchita. The Russian grannies song was lovely and happy. Conchita's song was great too of course. Everyone is talking about the guy with the wolves now but have people actually heard the song? They won't be talking about it after!

You were in Sweden previously when Malmö, hosted the 2013 competition. How did you find the Swedish hospitality on your last visit and have you ever visited Stockholm before?
I thought the production in Malmö was great, it was properly funny. Petra Mede was such a great host and it's great that she will be back alongside last year's winner Måns Zelmerlöw. They also have Linda Woodruff involved too this year who is really funny too. The great thing about Petra is that she has a cosmopolitan sense of humour. I think Sweden in a way is closer to us than the rest of Europe and of course as a country they speak English so well meaning that they get irony and can even do innuendo which must be incredibly difficult as a second language.
The competition in Malmö in 2013 was one of the strongest productions we've had in a long time and it'll be nice to be in Stockholm. There was some mild disappointment when they stuck it in Malmö last time so it'll be nice to be in the big smoke this year.
A new voting system has been introduced for the first time since 1975. Will it confuse viewers or add to more thrilling climax?
I think I get it! They have separated the public vote from the jury vote. The main benefit of it is that the contest will be more exciting as you won't know who has won until the very end. In the last few years there has been that rather eggy moment when you announce the winner but you keep going with the votes because it is impossible for anyone else to catch up. I always thought just ignore it unless there is a real runaway winner. It takes the energy out of the room for the last 15 or 20 minutes as you are just hearing votes for no reason. So I think the new voting system is a good idea. I say that now but the only thing is that it will make the show longer and I always feel that the show doesn't need to be is longer! I love Eurovision but I would also love it at two and a half hours
Do you ever socialise with commentators from other countries?
We are all stuck in a rabbit warren type set up of huts at the rear of the stadium and we do swap gossipy little notes when we get a chance. You can't stay in your little hut for too long without going crazy so people do chat. I don't really know the other commentators that well but I see them every year and we chat therefore you get little nuggets from each other.
This is the first Eurovision to take place since the sad passing of Sir Terry Wogan. Can you talk a little about his Eurovision legacy? What was the best piece of Eurovision advice Sir Terry gave you when he passed the baton on?
Sir Terry Wogan will always be associated with Eurovision. He took a role that wasn't really a role at all and he totally transformed it into the job it is today. When I am doing the commentary I still hear Sir Terry in my head as I am sure lots of other people do too. I think this year will be bittersweet because we will all be thinking of Terry and I am sure I will say a few words about him as the night goes on as it is a night that will forever be associated with Terry Wogan.

Do you have anything special planned when it comes to song number 9?
Yes indeed! For those who aren't aware song number nine is famous because Sir Terry always warned me not to have anything to drink until that point. During song number nine this year the host country Sweden will be performing and I will be encouraging everyone to raise a glass. It has all worked out very nicely as Swedish people in the arena will be cheering their song in the stadium as everyone back in the UK will join me and say cheers to the memory and legacy of Sir Terry Wogan.
Watch the Eurovision Semi-Finals on BBC Four on the 10 and 12 May on BBC Four with Scott Mills and Mel Giedroyc. Graham presents the Grand Final on BBC One on 14 May. In the meantime stay up to date with @BBCEurovision and facebook/BBCEurovision