Main content
Suzy's Summer Sizzlers
Looking for an alternative soundtrack to your summer? Look no further: Essential Classics presenter Suzy Klein has curated the perfect playlist of classical tracks to help you beat the heat.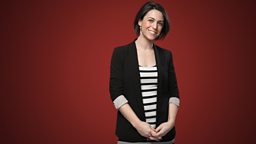 Trad., arr. Percy Grainger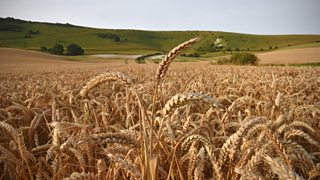 A listener recently suggested that we play this on Essential Classics, and it was a real moment of rediscovery: a reminder of all that really lovely English summer music out there.
Brigg Fair is one of those timeless English folk songs. It's an old tune all about the fifth of August when the weather is "fine and fair", full of gentle, rustic merriment. I love Percy Grainger's arrangement for solo tenor with choir.
Ottorino Respighi
There's lots of Respighi to choose from, but I wanted to include this because it's a bit like a musical postcard – if you can't get to Italy, it takes you there. It's a musical montage of scenes in Rome: we're taken to the Villa Borghese, the Appian Way, and then suddenly we're up on the Janiculum hill, with a view of all Rome spread out before us.
Respighi is clearly into the ancient sounds and culture of Rome, but this doesn't feel old: it feels like a freshly minted, exciting piece by someone who is obviously very in love with being Italian. I've even listened to this on headphones as I've wandered around Rome itself: it definitely captures something of that carefree sunniness.
Ralph Vaughan Williams
This piece by Vaughan Williams is the Bob Marley poster of the classical world. It's so popular that some people think of it as a bit of a cliché and stop paying attention. But if you wanted a distillation of a summer's day in sound: this is it.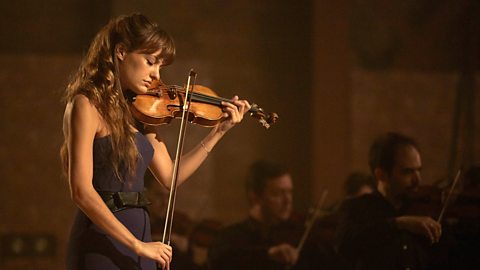 A performance of The Lark Ascending by the BBC Philharmonic and soloist Nicola Benedetti.
I recently learned that skylarks are one of the very few birds that actually sing in flight. Like the bird flying upwards on thermals of hot air, The Lark Ascending starts off with a tiny tune that grows and gets higher and higher, soaring into the sky on longs skeins of melody. You can't listen to this piece sitting in an office or stuck in traffic. You should listen to it while lying on the grass, looking up at the sky with the sun on your face. That is the rule.
You should listen to it while lying on the grass, looking up at the sky with the sun on your face. That is the rule.
Claude Debussy
This piece has a strange, narcotic sort of effect – I find that it makes me feel as though I'm somewhere incredibly hot and perhaps feeling slightly woozy, as if I've just had a drink in the sun.
Debussy creates a lovely shimmery sound from the opening bars of the solo flute onwards. You can almost see the heat haze. It's a really fabulous piece, but very dreamy – perhaps one to avoid if your summer plans involve operating heavy machinery.
This, by George Gershwin, is just a fabulous piece. You can't help but be infected by the optimism of it all: that soaring trill, that whizz upwards... you just get swept away. When I listen to it, I feel like I'm right there in New York in the 1920s: at the most positive moment in the most positive city in history. It's ridiculously effervescent, optimistic music, but with that slouchy, jazzy, hot summer's day feeling too.
Various composers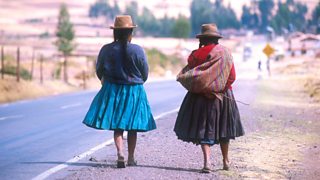 I absolutely love this album from the choir Ex Cathedra. All the music is from the Baroque period, but from the time when Europeans arrived in Latin America – so it's a meeting of Western European Baroque music with Latin colour and flavour.
One of the composers on the album is Juan de Araujo, who was born in Spain but in the 1670s became head of music at Lima Cathedral in Peru. There's a beautiful chorus by him called Los Coflades de la Estleya, or The Brotherhood of the Star – a sunny, Latin fusion of Baroque sounds. It feels like music you know, but coming from a place you probably don't.
Franz Liszt
This is a really refreshing and beautiful piece. For the full, impressionistic effect, you should listen while looking at falling water. The way that Liszt makes the piano sound like light and water is so clever.
It's fiendishly difficult to play, but the best performances make it sound easy and natural – like water droplets falling through the air, catching the sunlight as they go. Next time you find yourself near a fountain, look this track up and enjoy the synaesthetic effect.
Ferde Grofé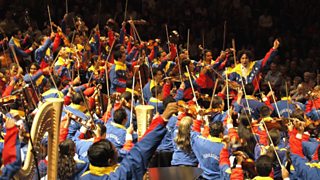 There was what I can only describe as pure energy pouring off the players...
This is what I'll be listening to in the car when I set off on holiday this summer. It's Grofé's attempt to recreate a day in the Grand Canyon in sound. The first movement is called Sunrise, so you hear things like birds and crickets before the sun rises and the music blooms out into this beautiful vista. For me, that's what setting off on holiday is like; suddenly the world is opening up and you're going on a fabulous journey!
Alberto Ginastera
This is honestly one of my favourite summer memories. I was at the BBC Proms in 2007 when a very young Gustavo Dudamel led the Simon Bolivar Youth Orchestra through some incredible encores, including this piece from Ginastera's Estancia Suite.
There was what I can only describe as pure energy pouring off the players. They just WENT for it! They all wore bomber jackets in the colours of the Venezuelan flag and there was a complete riot of applause when they finished. This piece is a summer stomper, with amazing "whomp whomp" rhythms scattered through it. I defy anybody to make it through without at the very least tapping their feet.
Judith Weir
I appreciate that not everyone worships the sun like I do, so I've chosen this piece by Judith Weir for people who hate the heat and just want it all to go away. It's full of light and colour and so cleverly catches the sound of huge, heavy raindrops falling to earth. A familiar sound to anyone who knows and loves the British summer...
Want to hear more great classical music? Join Suzy Klein and Ian Skelly every weekday morning on Radio 3 for Essential Classics: wonderful music in the very best recordings, plus daily Time Travellers and more.