Main content
Back in the NY groove: Bill Bernstein's disco photography
4 December 2015
A new book and exhibition of work by the American photographer Bill Bernstein casts a funky and nostalgic eye back to 1970s New York - and the legendary nightclubs that found themselves at the cutting edge of popular music as punk and disco emerged. By NATALIE BUSHE.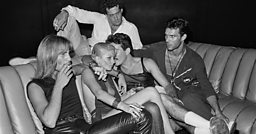 Studio 54 sofa, 1979 © Bill Bernstein / Reel Art Press.
He's the superfly shutter guy who celebrated disco's Good Times by snapping the Disco Nights and Boogie Wonderlands of East Coast America.
Bill Bernstein is a New York-based portrait photographer who began his career shooting lifestyle and culture for the Village Voice and Elle Magazine.
His skill with a camera has opened doors to the rich and famous (he's Paul McCartney's personal photographer), and his warmth and honesty gained the trust of the homeless on the streets of New York.
But the exhibition Disco: The Bill Bernstein Photographs - an access-all-areas tour of New York nightlife which Bill captured between 1978-1980 - highlights a golden era which embraced the chic and unique.
Unlike most of his contemporaries, Bill turned his camera away from the celebrities who gathered in the clubs - and pointed it towards the dance floor.
He captured the dancers, the posers and the watchers at Studio 54, the Paradise Garage, Mudd Club, Hurrah and GG's Barnum Room and the photographs illustrate a vibrant microcosm of social change.
As 'nightlife enthusiast' James Hillard attests in his foreword for Bill's book which accompanies the exhibition, it's a 'democracy of the dancefloor' that may never be seen again.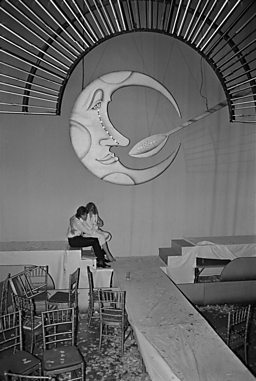 Studio 54, Moon and Spoon, 1979 © Bill Bernstein / Reel Art Press. Bill: "This shot was taken at Studio 54 at closing time one night, I noticed this couple under the famous Moon and Spoon. Romance, in a blitzed-out Studio 54 kind of way."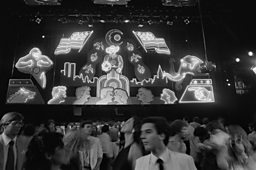 Xenon Neon, 1979 © Bill Bernstein / Reel Art Press. Bill: "At Xenon the giant neon light panel would drop down from the ceiling in the middle of the night creating an amazing backdrop. This was one of the many features that Xenon incorporated into their changing environments."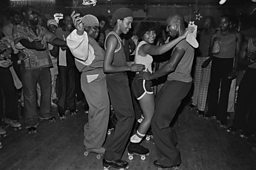 Empire Roller Disco #1, 1979 © Bill Bernstein / Reel Art Press. Bill: "The Empire Roller Skating Rink in Crown Heights, Brooklyn opened in 1941 and finally closed its doors in 2007. Empire was usually packed with an African-American crowd but top skaters of all races and creeds also came. It was a great place to shoot with good vibes all around."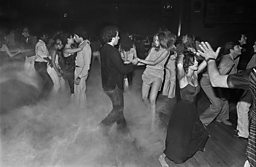 XENON #1, 1979 © Bill Bernstein / Reel Art Press. Bill: "Xenon was located in the former Henry Miller Theater at 124 West 43rd St, which had previously been a porn house. Xenon was the only nightclub popular enough to compete with Studio 54 and was popular with the straighter, white, upwardly mobile crowd."
Bill Bernstein's top 5 disco tunes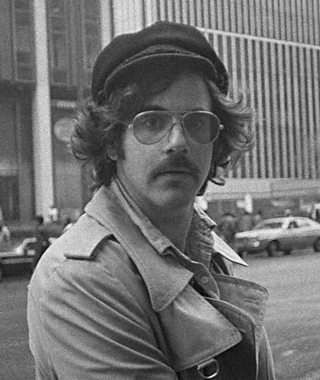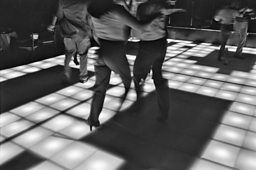 2001 Odyssey dance floor, 1979 © Bill Bernstein / Reel Art Press. Bill: "2001 in Bay Ridge, Brooklyn was famous for being the location for the movie Saturday Night Fever, and featured the classic illuminated disco dance floor."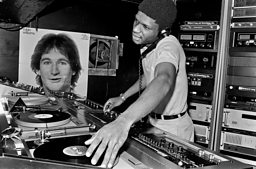 Paradise Garage DJ Larry Levan, 1979 © Bill Bernstein / Reel Art Press. Bill: "Not enough can be said about the influence of Larry Levan, the Paradise Garage's legendary DJ, whose sets were called 'Saturday mass' by his followers. Sometimes I would just put down my camera to watch him work the crowd."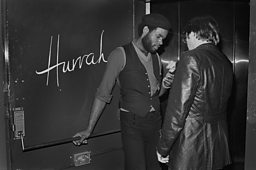 Hurrah Door, 1979 © Bill Bernstein / Reel Art Press. Bill: "Hurrah was at 36 West 62nd Street and ran from 1976-80. It was mostly a punk and new wave club, and I remember seeing Klaus Nomi, The Fleshtones and other new wave bands there. There were a lot of Rock and Roll Forever and Disco Sucks T-shirts here."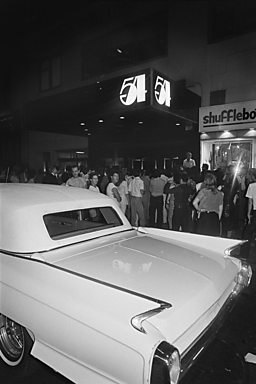 Studio 54 and Cadillac, 1979 © Bill Bernstein / Reel Art Press. Bill: "Marc Benecke called the shots outside Studio 54, along with Steve Rubell. This was the scene most nights as people waited for hours to be chosen to enter the grand party. Sometimes pulling up in a Bentley or Cadillac helped, but not always."
Bill Bernstein Q&A
Q: How did you find yourself there in the first place, and why did you keep going back?
Early on in my photographic career I was doing a lot of work for The Village Voice in NYC. One night I was sent up to Studio 54 - the den of iniquity - to photograph an awards dinner for Lillian Carter, the then president Jimmy Carter's mother.
After covering the assignment for the Village Voice I decided to stay on through the night to see what the "regular" crowd was like. I quickly bought 10 rolls of Tri-X film from a departing photographer and waited.
It wasn't long before the room was packed with the most diverse and inclusive group of people I had ever seen. I think if it had been a crowd of the normal "beautiful people" of NYC I would have left and never come back.
Q: Other photographers focused on celebrity during that period, why did you point your camera in the other direction?
I never focused on celebrities at the clubs. This is because as a portrait photographer, I knew that if I was to shoot a celebrity I would want to have them all to myself and be able to engage with them and have control over the lighting, background and general mood of the photo.
Plus I found the regulars much more interesting. Many of them lived for the night scene and brought their creativity and energy to clubs.
Q: What was it about the clubs and Disco itself that made them a magnet for diversity?
New York City was going through a disastrous financial crisis through most of the 70's. It was also the time before AIDS was announced as an epidemic, formally called the "gay cancer".
The Gay Liberation movement was in full swing, still propelled by the Stonewall riots in the West Village in the late 60's. Women's liberation, Racial Equality Movement… all of these people needed a place to let go of their daily frustrations and submit to the party atmosphere of the disco.
There was an attitude of acceptance and openness to freedom of expression within the disco that drew the creative and diverse crowd night after night.
Q: Those were heady times, were you tempted by any of it, and what stopped you putting the camera down?
These were hedonistic times. It was a "pre AIDS" period. Cocaine and "poppers" were very popular at the discos.
When I decided to pursue Disco as a personal photography project I took it very seriously. I knew if I started giving in to the temptations that surrounded me I would be very disappointed with the evening's shoot.
It was difficult enough in those days with film cameras to shoot in mostly dark rooms with moving people and flashing lights. I needed all of my brain cells to be intact when I was working at the clubs.
Q: Nobody seemed bothered by you taking their photos, why do you think that was?
I never once had anybody stop me from taking a photo. I think this was because people went to the disco to "see and be seen." Also, this was long before the cell phone camera and having your picture taken was still much of a novelty then.
Q: What's your most enduring memory of the period?
One of my enduring memories of this period was when I was on the ferry to Fire Island off the coast of Long Island in New York. I had heard for months about this club in the Cherry Grove section called The Ice Palace, and how it was, in many people's opinion, the first Disco in the US, or at least the East Coast of the US.
The Ice Palace was primarily a gay disco and Cherry Grove was a gay community there. It seemed that for years this place had a reputation for having a number of great DJs, great sound system, and wild parties.
So here I was, at about midnight, pulling into the dock on Fire Island with the lights and sounds of this club getting closer and closer. The lights were flashing, the music was loud, and the crowd was creating an atmosphere of partying that I hadn't seen outside of the New York City Clubs.
Q: What are the three things a photographer needs to capture the perfect image?
The first thing a photographer needs to capture the "perfect image" is something great, unique or unusual happening in front of your lens. A story that needs telling. You need to keep your eyes open.
The second thing is being in the right place with the right equipment. The first part of this is often luck with a little training.
The third thing is knowing the technical end of things. What shutter speed do you need? What f/stop would help tell the story more effectively? Where is the light? In time this comes more quickly and naturally when you shoot a lot.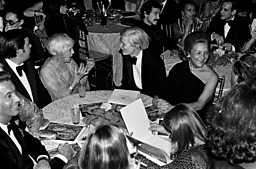 Lillian Carter and Andy Warhol Studio 54, 1977 © Bill Bernstein / Reel Art Press. Bill: "I got the call to go and photograph President Jimmy Carter's mother, Lillian. She was receiving an award at Studio 54 and I photographed her talking to Warhol. The mix of humanity that started coming through the door, the way they dressed, the way they walked and talked and posed. I stayed and got hooked on disco."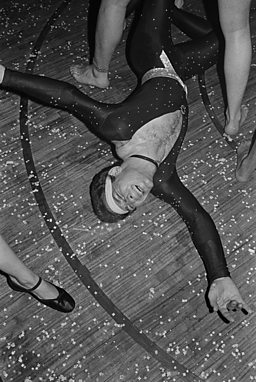 Le Clique #1, 1979 © Bill Bernstein / Reel Art Press. Bill: "Le Clique was a roaming disco that popped up in different locations throughout Manhattan. Its creators, Stu and Marlene Feinstein, conjured outrageous parties with acrobats, actors, dancers, special effects and staging."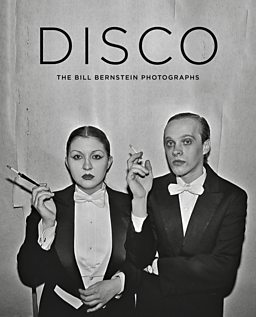 Studio 54 Cabaret Couple, 1977 © Bill Bernstein / Reel Art Press.