Main content
14 things we learnt from Stella McCartney's Desert Island Discs
In her Desert Island Discs fashion designer Stella McCartney, who numbers Team GB among her clients, tells us about her music (she found it incredibly difficult to pick eight records, "I hated this process!"), her fashion education at Central Saint Martins, what it's like to spend your weekends with Neil Young and then go back to school on Monday, conscious consumerism and her retail empire.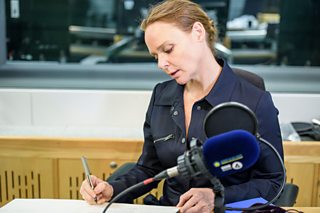 1. She's a supporter of women in fashion
In her fashion company Stella employs a workforce of 80 percent women and is working to change a "historical" situation in which the "men in the boardroom" picked the men in the design process. When she took over Chloé from Karl Lagerfeld, aged 25, she increased profits five-fold.
2. Tom Daley wanted really small shorts
Stella wanted to "unify everyone" in Team GB and the designs had to work across everything from Paralympians' kit to merchandise to the teeny tiny trunks worn by the swim team. Tom Daley "likes a small short", says Stella.
3. Love and energy
She has extremely fond memories of her childhood in the forest with her parents, Sir Paul and Linda McCartney. "Music was the driving force in every moment of our childhood", she says. When Sir Paul came home in the evening he'd play the children what he'd created in the studio earlier, but they'd shush him when he picked up a guitar so that they could hear the TV.
4. Dodging fame
She tried to go under an assumed name as much as possible, especially doing her Fashion Foundation as otherwise you never have "a clean slate" she says. People suddenly realising her father was a Beatle was always an embarrassing moment for her.
5. Hands-off parenting
She had "incredible freedom" as a child, she says, and has very peaceful memories of wandering through the fields of Scotland having fallen off her horse which was by then happily back in its stable. She struggles to offer her children the same level of liberty.
6. Touring with the band
She travelled the world with Paul and Linda, and says as a well-travelled child you see "the world is varied and vast". As a teenager she toured with her father to New Orleans, and then stayed on with her sister to go to the New Orleans Jazz Festival and see Fats Domino and Toots and the Maytals.
7. She won Designer of the Year for the VH1 fashion awards
When she won the Designer of the Year, the award was presented to her by David Bowie and Paul McCartney. A few years later Bowie asked her to present his GQ award to him.
8. She interned for Christian Lacroix aged 15
It was her first time away from home and she was living in Paris. "Couture is deadly posh", she says, and has to be handmade in Paris. This was her first venture into luxury fashion: Stella was allowed into the fittings, made a lot of tea and coffee and laced shoes.
9. She learnt tailoring with Edward Sexton
Edward Sexton is a pattern cutter for Tommy Nutter, and in the evenings after her lessons at St Martins, Stella would go to learn tailoring from him. She wanted to learn how to make "a British suit, the best suit in the world". Tailoring is an intrinsic part of her style.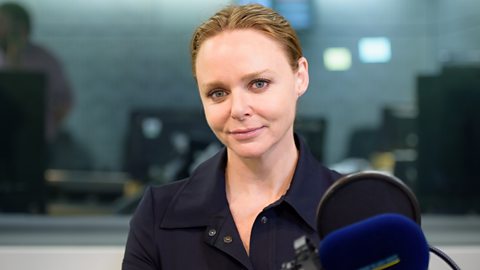 Stella McCartney on her student evenings at Savile Row
10. She's embarrassed about her degree show
Kate Moss, Yasmin Le Bon and Naomi Campbell modelled for her degree show. She realises now that that could have irked her contemporaries, but at that time, they were her best friends so it made sense to ask them.
11. She brought eco to high fashion
She doesn't use leather, fur, plastics or PVC and all her viscose now comes from sustainable wood. She thinks that the luxury fashion industry doesn't question its sources well enough, and Stella does an environmental audit every year to see how her company is doing.
12. Musical influence
Stella picked her father's song Blackbird as one of her Desert Island discs. The Beatles consistently refused to play any segregated venues and Blackbird, sung by Paul alone, is about race relations in the US in the 1960s. It's a technically tricky track to play but Stella urged her father to put it back in his set after he stopped playing it live, and he did. "I was really happy that he put it back in," she says, as it's testament to his confidence in himself as a performer.
13. Close to her siblings
She says with her sister Mary, together they make up "100% of our mum". When you lose a parent as she lost her mother Linda, she says, you can look around your siblings and see your parent there.
14. Memories of prison life
Japanese Jailbird is the book chosen by Stella: it's written by her father. It's about his experiences in jail in Japan after he was busted for possession of marijuana. He wrote it and then put it in a safety deposit box to be read by his children when they were old enough to understand what had happened.
Desert Island Disc's Fashion Designers