Main content
'Never compare yourself to others, make what makes you feel good'
Make! Craft Britain is coming to BBC Four on 9 June and Get Creative has spoken to the teachers that feature on the programme about themselves and their creative passions.
First up is Marna Lunt, a textiles artist, who talks about her inspirations and how she got onto the path of creativity and why you should give it a go.
My name is Marna and I am an artist that uses fabric as paint and a needle as my brush. I create artwork and embroidered illustrations and I have become known for transforming these highly laboured works of art into lampshades.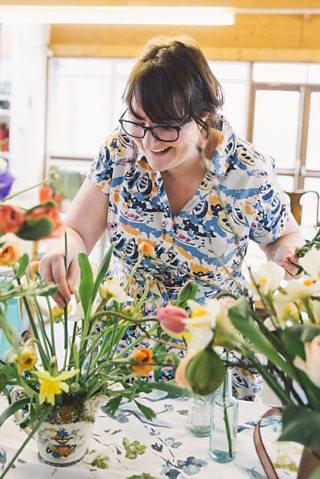 I was brought up on the North Yorkshire Moors and that landscape has become incredibly special to me. It defines me in many ways and is the main inspiration for all my work.
I'm inspired by the texture and colour and the combinations of these, how they work and why they work. The materials I use are often irrelevant. I don't see the thread as thread or fabric as fabric. I see the colour and texture of each element regardless of their being.
Creating anything is so much easier when you let go of the rules of how things ought to be done or used and enjoy all things, mix things up, take away the usual use of a material and simply appreciate the qualities it holds. We all see beauty in different ways and what is important is to hold onto your sense of beauty and achievement.
So what's my work about and why do I do it? Basically, it's all about me. Me, me, me, ha. When I was little there was only one thing I wanted to do when I woke up and one thing I thought of when going to bed. I just wanted to draw stuff around me. I needed to. I wanted to be an artist. So I drew every day and went to the Manchester School of Art to study fine art painting and then I thought I had to get a 'proper' job.
It took a very long journey to get back to that dream of painting, via offices, different countries, flower shops and call centres and temp jobs I hated. But when life threw some really pants stuff at me my solution was to create again at any cost.
It's my therapy, my medicine, my selfish pleasure, my secret affair

Marna Lunt on creativity
It's my therapy, my medicine, my selfish pleasure, my secret affair. It's also a sickness. I can't stop. I won't stop. I just have to create things that I love, that makes me proud of myself and will be a legacy to my children when I am gone. You see, me, me, me, me.
I create stuff I like, that excites me. I see each piece I create as a journey of discovery that I am travelling, a sampler or experience that leads me to my next idea, my next vision, leading me through peaks and troughs.
In today's society we are always on the go. I know I am rarely without phone in hand. We never stop working, we never stop comparing, we just never stop and we become exhausted and lost in the cyber world. So now more than ever is a time we are all looking for something else to do with our hands, something constructive, a new skill that takes us back to a quieter time where we can relax with simple repetitive movements.
There has been a resurgence in the creative arts recently and it is now a scientific fact that sewing, knitting, crochet are great stress relievers and act as a form of therapy. Embroidery was used to help treat shell shock with the soldiers in the Great War. This is exactly why I transferred my skills from painting to embroidery, I had only ever tried the odd piece of cross stitch as a child and so have completely trained my self and learnt the stitches from nothing. Yes I have a basic knowledge of composition, perspective, etc, but these are not things I concentrate on or impact my stitched work at all.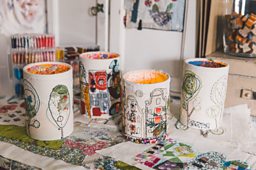 So what I'm saying is that you can do it too! Regardless of any previous artistic capabilities. The reason I feel so passionately about this is that art and embroidery saved me from severe mental health issues, it continues to save me as I go through issues with chronic pain and has given me a sense of self, independence and belief as a mother and carer of a child with complex needs.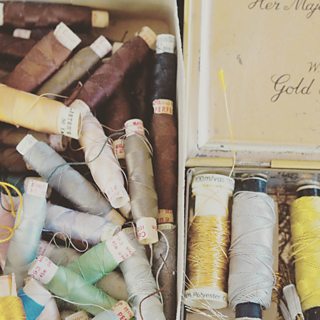 Being creative is an essential therapy for me every single day. It is quite often not important what the finished piece looks like, it is the journey it takes me on that is rewarding and then if it happens to look great then thats even better. I believe that embroidery can be as all consuming you want, you can copy a pattern, and turn off your mind from the business of the outside world or you can immerse yourself in a complex design that makes you problem solve and challenge yourself.
It's so easy to get started now too, you've got nothing to lose, creativity can be shown in so many ways, through music, writing, embroidery, paper cutting, card making, the list is endless. There are no rules to follow. You can make it up as you go along. Don't expect immediate perfection, an artist rains every day, like an athlete. You wouldn't run a marathon without training, so be kind to yourself and celebrate each step. The secret is never compare yourself to others, make what makes you feel good.
'To practice any art, no matter how well or badly, is a way to make your soul grow. So do it'
Kurt Vonnegut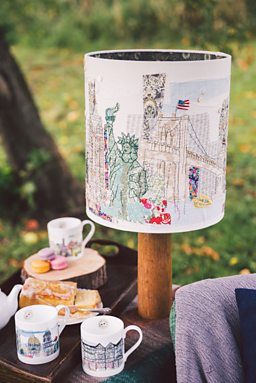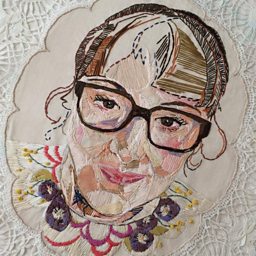 More from Make! Craft Britain