Main content
'I was there': Niki Lauda Grand Prix crash, 1976
5 Live Daily looks back at the horrific accident at the Nurburgring Grand Prix
The Austrian-born driver became trapped inside his Ferrari after it swerved off the track before bouncing back into the path of the oncoming cars and catching fire.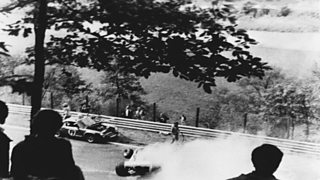 Niki Lauda was trapped in his burning car

Fellow driver Guy Edwards managed to avoid the blazing wreckage but Harald Ertl and Brett Lunger both hit it.
Lauda suffered horrendous burns to his head and face
Part of one of his ears was burnt and his tear duct mechanism was severely damaged which affected his vision in subsequent races.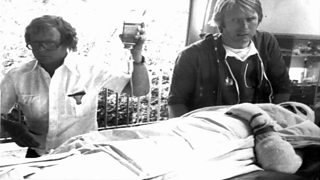 Lauda: "I could see myself falling backwards into a black hole"
Lauda remembers being unhappy after being given the last rites in hospital: "I got so upset that I put more effort into not dying because of this incident with the Priest".
He also said a photographer went into the hospital dressed as a Doctor taking pictures of him in his bed: "to lie there not being able to react was not an easy thing".
John Watson helped Lauda until medics arrived
Watson arrived at the crash scene seconds later and cradled Lauda in his lap until the ambulance arrived.
John Watson was behind Lauda in the race
John Watson: "In some parts his scalp was scarred black"
John Watson said Niki Lauda asked him what he looked like "I couldn't really tell him the truth but there was severe burning to his forehead".
He said Lauda's return to the track weeks after his crash was the bravest act he'd ever seen.
Less than six weeks later, Lauda was back behind the wheel
Despite his raw injuries, Lauda was desperate to win the World Championship and stunned his fellow drivers when he turned up at the Italian Grand Prix.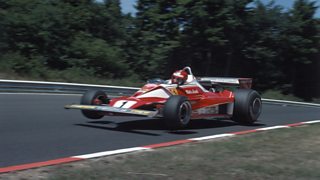 Niki Lauda driving in German Grand Prix in 1976 before crash
Lauda: "People when they talked to me, they never looked in my eyes"
He told 5 live Daily it was the competition with friend and rival James Hunt which speeded up his recovery: "I really was set to make a comeback, I did not care how the other people reacted".
Their relationship was the subject of Hollywood blockbuster Rush.
The end of racing at Nürburgring
Lauda said following the crash "people never looked" at his eyes. He made a decision to "ignore" this type of response, as he "couldn't change" the injuries he suffered from the crash.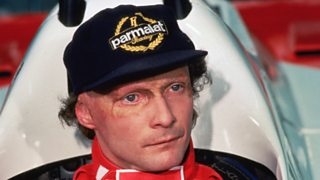 Lauda's accident proved why the old Nürburgring had become too dangerous and too difficult to manage satisfactorily for Formula One.
After the Nürburgring was rebuilt and shortened, Formula One would return to the new 2.8-mile course for the European Grand Prix in 1984, and the German Grand Prix in 1985.
If you have a few more minutes...