Main content
BBC Young Composer 2021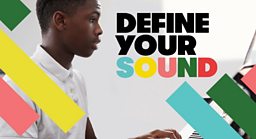 The BBC Young Composer Competition 2021 is now closed.
Find out about the BBC Young Composer Competition 2021
What is the BBC Young Composer Competition?

An annual competition for 12 to 18 year olds across the UK who create their own original music. Winners will participate in a tailored development programme working with a mentor composer on a project with the BBC Concert Orchestra, culminating in a performance or broadcast opportunity.

Entries will be judged in three categories:

Lower Junior Category (age 12-14): for those aged between 12 and 14 at the closing date.

Upper Junior Category (age 15-16): for those aged 15 and 16 at the closing date.

Senior Category (age 17-18): for those aged 17 and 18 at the closing date.

The BBC Young Composer Competition 2021 is now closed.
Winners and Highly Commended

Six talented young composers have been announced as the winners of the BBC Young Composer 2021 Competition.
Congratulations to this year's winners and highly commended entrants!

Winners

Lower Juniors (12 – 14 years)
• Isaac Bristow – Dark Matter
• Theo Kendall – Magellan

Upper Juniors (15 – 16 years)
• Maddy Chassar-Hesketh – From Galaxies to Cells
• Will Everitt – Etude

Seniors (17 – 18 years)
• Chelsea Becker – Iris - for oboe and electronics
• Jenna Stewart – Lost Times

Highly Commended

Lower Juniors (12 – 14 years)
• Taro d'Aronville – Helix
• Avram Harris – Yizkor
• Sam Hesketh – God of the Moon

Upper Juniors (15 – 16 years)
• Andrea Lam – Life in 5 & 1/2 Minutes
• Leo Little – Wind Quintet no. 1 "Adolescence" (movement 1)
• Reese Carly Manglicmot – Praeludium

Seniors (17 – 18 years)
• William Clark – Piece for Piano, Celeste, Percussion and small orchestra
• Polina Savicka – Feel Study
• Melanie Silva – I DIED AND WENT TO SPACE
Who are the judges?

Each year entries are judged by a panel of leading composers and music industry professionals who are passionate about finding and developing young talent.

The 2021 judges were Becky Hill, Benbrick, Gavin Higgins, Sarah Freestone, Lloyd Coleman, Matt Kaner, Shiva Feshareki, and David Pickard.
BBC Young Composer Alumni and Ambassadors

BBC Young Composer brings together some of the UK's brightest young talent to meet, explore and share ideas at workshops, concerts and events throughout the year. The scheme has provided a platform for talented young composers including previous competition winning and highly commended entrants Shiva Feshareki, Kate Whitley, Tom Harrold, Alissa Firsova, Mark Simpson, Toby Young, Lloyd Coleman and Duncan Ward.

Winning and highly commended composers are also invited to become part of a growing team of BBC Young Composer Ambassadors, giving our alumni a chance to continue a relationship with the BBC Proms beyond the age of 18.

Many of our recent alumni have gone on to receive additional commissions from the BBC including:

• Tom Harrold, for BBC Symphony Orchestra at the Last Night of the Proms, 2016

• Grace Mason, Proms At…Stage@TheDock, 2017

• Sarah Jenkins, for BBC Concert Orchestra, 2018

• Xia Leon Sloane, for BBC Concert Orchestra, 2020

• Helena Paish and Electra Perivolaris, for the BBC Singers for Radio 3's International Women's Day commission

• Mark Simpson, currently Composer in Association with the BBC Philharmonic

If you wish to ask a question to our Ambassadors (whether about the BBC Young Composer competition or more generally about your own music), feel free to send an email to getinvolved@bbc.co.uk and we will pass it on.
Contact Us

We want everyone to have the opportunity to take part and benefit from BBC Young Composer, nurturing and showcasing their original talent. Therefore, if you have any concerns regarding access or you know of barriers to entry, please get in contact with us on the details below.

If you have any questions about BBC Young Composer please contact a member of the team by emailing getinvolved@bbc.co.uk or calling 0207 765 0557 during office hours (10am-5pm). Standard geographic charges from landlines and mobiles will apply.

If you're a teacher or music education professional who would like to speak to a member of the team about how we can support you and your students, please don't hesitate to get in touch.
Listen and discover
The judges of the Young Composer 2021 competition share their top tips for making music!

Inspiring chats with music-makers on getting started, dealing with writer's block and more!

We've asked some amazing composers, producers and songwriters to share their ways in unleashing their musical potential.
Follow BBC Young Composer through the BBC Proms