Main content
How actor Paul Kaye became Terry Pratchett
10 February 2017
Beloved author Terry Pratchett has been resurrected in a new documentary film for BBC Two. BBC ARTS spoke to the award winning director CHARLIE RUSSELL on how he and actor Paul Kaye went about bringing Terry Pratchett back to life.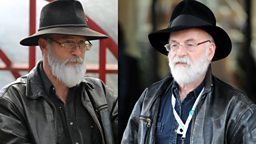 Paul Kaye as Terry Pratchett and Sir Terry Pratchett (Charlie Russell/ Shutterstock)
When director Charlie Russell was asked by the BBC to make a film celebrating Sir Terry Pratchett's life, he knew that the standard talking heads documentary just wouldn't wash. How did he know this? Russell had already made three documentaries with Sir Terry himself: Living with Alzheimer's, Choosing to Die and Facing Extinction.
I knew that he'd hate the idea of a film full of people saying nice things about him.

Charlie Russell, Director
"I got to know him over a long period of time and we came to care for each other. As his illness progressed and it got harder for Terry to do certain things, we had built up a trust and I felt I had developed a real sense of who he was."
Terry Pratchett was diagnosed with Alzheimer's disease in 2007 and in the opening minutes of Russell's new film Terry Pratchett: Back in Black, we see Terry's assistant Rob attempting to record Terry's memoirs with Terry finding it difficult to form coherent sentences aloud. Terry sadly died from his illness on 12 March 2015.
"I knew that he'd hate the idea of a conventional film full of people saying nice things about him. He would have wanted to do things differently, to come back and be in his own documentary and because we couldn't do that the next best thing was to get an actor to play him", Russell explained.
With the blessing of Terry's family and close friends, Russell started the process of finding their Terry and although initially they were looking for a Pratchett fanatic in the end they chose a man who had never read a Pratchett book in his life.
They had written to a number of actors but it was Paul Kaye who came back to them keen to meet up to discuss the project.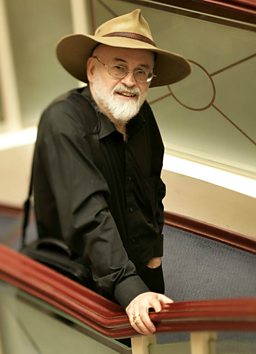 Terry Pratchett pictured in 2007 (Getty)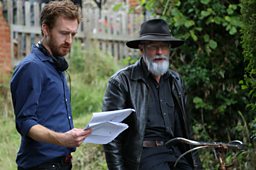 Charlie Russell and Paul Kaye on location during filming of Back in Black
"He told me he'd been watching loads of Terry clips online and he found him absolutely fascinating. During the course of that meeting Paul became incredibly enthusiastic. He really wanted to do Terry justice and from then on he threw himself into the project."
It was uncanny. We all just felt like Terry had walked back into our lives.
The sections of the film with Paul were shot over three days last Autumn and Russell remembers when Paul, newly transformed into Terry arrived on set:
"It was uncanny. We all just felt like Terry had walked back into our lives."
"Once he had got a sense of who Terry was Paul was full of ideas on how to make certain sequences in the film more 'Terry'. One idea was for the scene we were shooting at Terry's old school. Paul thought it would be fun to dress up in a school uniform - grey flannel shorts and all."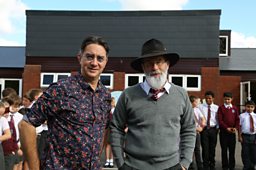 On location at Terry's old school: Rob Wilkins, Terry Pratchett's assistant, and Paul Kaye dressed as Terry Pratchett
One aspect of the production Charlie Russell was pleased with was that they were able to use the genuine locations from Terry's life. They filmed in Pratchett's actual study, at his real school, at his old newspaper office and in Terry's own working observatory, that he had built in his garden.
"We made the film with the blessing of and in collaboration with the Terry Pratchett estate and they really bought into the idea. Terry's assistant, Rob Wilkins, allowed Paul to wear Terry's jacket, his shirt and even his hat."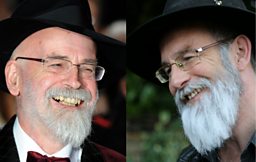 Terry Pratchett (Getty) and Paul Kaye dressed as Terry Pratchett
In 2011 Charlie Russell filmed Sir Terry Pratchett on his journey to the Dignitas clinic in Switzerland to investigate assisted suicide first-hand. That film, Choosing to Die, went on to win an International Emmy for Best Documentary.
Terry Pratchett: Back in Black receives it's UK premiere on Saturday 11th February to an audience of expectant Pratchett fans, Paul Kaye fans and, no doubt, Charlie Russell fans. Given Mr Russell's past form on this subject it's difficult to imagine a more authentic telling of the life of one of Britain's most memorable writers.
Terry Pratchett: Back in Black, Saturday 11th February, 9.00pm on BBC Two and thereafter available on BBC iPlayer.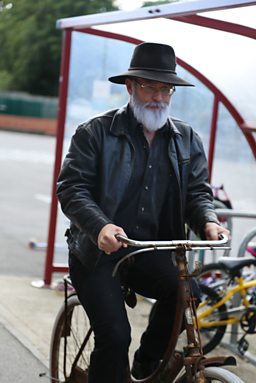 Paul Kaye as Terry Pratchett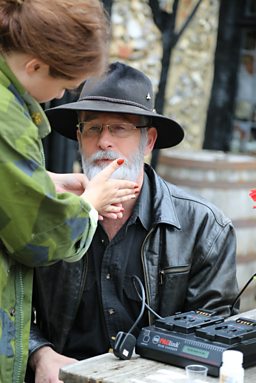 Paul Kaye with make-up artist Siân Revill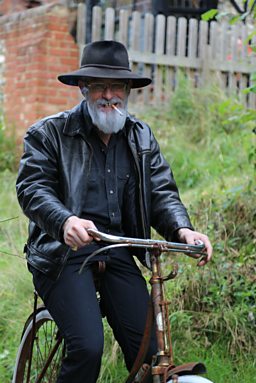 Paul Kaye as Terry. "Paul looked incredibly like Terry except when he would have a fag hanging out of his mouth. That is definitely not a Terry thing", says Charlie Russell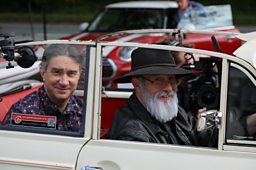 Rob Wilkins and Paul Kaye as Terry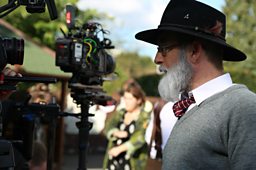 Paul Kaye as Terry – schoolboy sequence.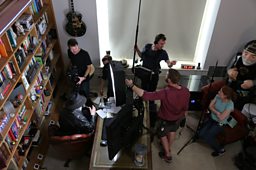 Filming drama sequences, Paul Kaye as Terry in Terry's study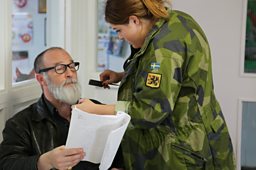 Paul Kaye with make up artist Siân Revill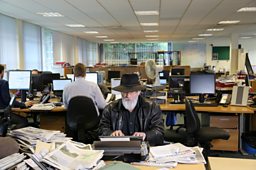 Paul Kaye during filming at Bucks Free Press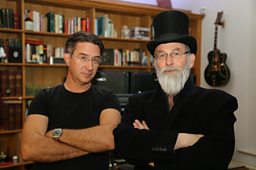 Rob Wilkins, Terry Pratchett's assistant & Paul Kaye as Terry