Main content
6 Music Recommends Albums Of The Year 2020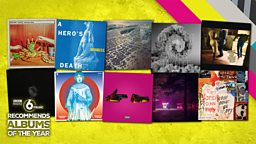 From the return of musical greats to cutting-edge artists to exciting new acts, 2020 has delivered no shortage of standout albums.
We asked our presenters to pick their favourite, tallied all their votes, and we can now reveal the final results. Find out below which records made the Top 10, and see each presenter's personal pick of the year too!
Lauren Laverne reveals the full Top 10 of 6 Music Recommends' Albums Of The Year list for 2020.
10. Sports Team - 'Deep Down Happy'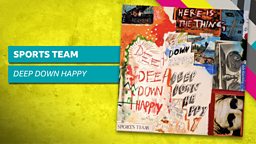 A joyfully scrappy debut, the Mercury Prize nominated first album from Cambridge Uni grads Sports Team paid fizzing homage to a wild and varied host of idiosyncratic artists, from Sultans of Ping FC through to Franz Ferdinand and Parquet Courts. Yet throughout, the band still sounded very much like themselves.
Packing 12 mini-anthems into a tight 36 minutes, 'Deep Down Happy' managed to harness the frenzied energy of the six-piece's rowdy gigs, leaving the nation begging to be packed like sardines into sweaty venues and slipping on spilled pints in a murky mosh pit once again.
With his wry, semi-spoken vocals, frontman Alex Rice was part court jester, part pop cultural commentator, hammering into privilege and entitlement in the sassy 'Here's The Thing' and the thundering 'The Races'. Elsewhere he's not in the slightest bit caring that he's 15 years out of date, howling about being a "mid-noughties MTV star" on the Demi Moore and Ashton-referencing 'Kutcher'.
Sports Team: "It means a lot coming from 6 Music, proper tastemakers with a license to play weird music. Especially big thanks to Lammo for giving us a break early doors and putting up with meeting us."
Liz Kershaw: "It smashed right in there in that all important Number 2 position. It's the biggest selling debut album by a British band in four years, the biggest selling debut album on vinyl AND it was Mercury nominated… I'm glad we gave them that final leg up in Camden in March at the 6 Music Festival."
9. Doves - 'The Universal Want'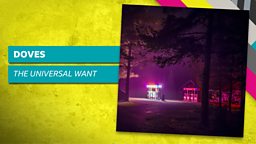 Prior to their extended hiatus (and thanks for letting us know it would last over 10 years, guys), Doves were one of the toughest bands to pigeonhole. They sidestepped the indie revolution, they were too sensitive for bolshy anthem-rock, and Jimi Goodwin's tales of flawed suburbia never seemed rooted to a particular time. Perhaps it's this that allowed Doves to hit the ground running at full pelt, when they returned. 'Carousels', their first song in a decade – built on a drum sample by the late Tony Allen – picked the baton directly from a band who gave us 2005's 'Some Cities' and 2009's 'Kingdom of Rust'.
Indeed, 'The Universal Want' is a continuation of Goodwin and co.'s unique recipe for lushly-produced, skyscraper alt-rock. There is evolution in the pop-oriented 'Broken Eyes' and 'Cathedrals of the Mind''s fragmented melancholy, but this is still unequivocally Doves. The chest-thumping acoustic punch of 'Prisoners' even carries hallmarks of 2000 debut 'Lost Souls'. It's as if the band have gone full circle, taking in moments of their past while (hopefully) outlining their next steps.
Doves: "Thank you for the Doves love! 2020 has been a bittersweet year. The album's success and warm reception after 11 years away has been truly humbling and gratifying on the one hand and then there's the bigger picture of a world in crisis. To say we're living in tumultuous times is a massive understatement! Shout out to anyone struggling right now. Keep on keeping on and remember better days lie straight ahead. Music heals."
Shaun Keaveny: "It's certainly one of my favourite albums of the year. First album in 11 years - a massive hiatus for any band to come back from. But they did it with great aplomb. It's just beautiful, it crystallises all the things that are greatest about this band. They're such brilliant musicians, the layers and the texture of the arrangements. It's a pretty beguiling mix actually, and the more you listen to it, the more it reveals itself. It's all underpinned with the voice of Jimi Goodwin, of course, plaintive and soulful. And I think maybe 2020 is a great place for this album to land, because after all that time away it does sort of remind us of simpler and better times."
8. Run the Jewels - 'RTJ4'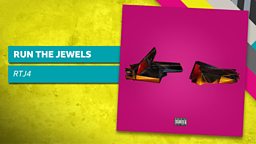 "We don't mean no harm," Killer Mike announces on Run the Jewels' fourth album's opening track 'yankee and the brave (ep. 4)', before adding: "But we truly mean all the disrespect". It succinctly sums up what's so vital about the hip-hop duo. They're urgent and take no prisoners in their verses. Many will feel that the sharply penned social commentary, which laces their unrelenting bars, couldn't feel more timely or necessary.
"The last one we did felt like a little bit of fire, a lot of water, and a whole lot of dark skies," Killer Mike's brother-in-rhyme El-P told Rolling Stone earlier this year, speaking of their 2016 album, 'RTJ3'. For its follow-up 'RTJ4', however, "it was going to be all fire." The pair said they wanted to dig a little "deeper" with their latest release.
'RTJ4' ultimately benefits from the two taking a step back and some time away. Produced by Rick Rubin, it features guests including Pharrell Williams, Josh Homme, Zack de la Rocha, DJ Premier and Mavis Staples. The sound is bigger, their lyrics bolder - the pair addressing everything from police brutality to racial inequality, all backed by crunching beats.
Run the Jewels' Killer Mike: "These are tumultuous times and I just hope our jammin' ass album helped people through their days of walking in the snow."
Nemone: "'RTJ4' is so vital as an album, this year of all years. The youthful playfulness of 'RTJ3', replaced with something more akin to who they are now. Eloquently spitting lyrics about police brutality, politics and experiences authentic to them, over breaks that compliment, but don't take over, is such an arresting listen. Run the Jewels reaching their most comfortable whilst delivering uncomfortable home truths. This album feels current yet timeless. I love it."
7. Cornershop - 'England Is A Garden'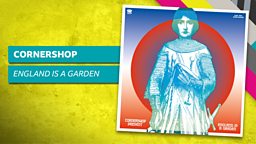 Their first album of all-new material in almost 10 years, 'England Is A Garden' wasn't just a Cornershop comeback, but a solid return to form. Perky pastoral pop like High Amplified combined songwriter Tjinder Singh's Black Country rock roots with his British Asian heritage and psychedelic Punjabi pop, but this was an album that was as ambitious as it was familiar.
Tjinder Singh and Ben Ayres dig into the greatest British guitar sounds of the past sixty years, from The Rolling Stones' glammy stomp in 'No Rock: Save In Roll' to 'One Uncareful Lady Owner''s Beatles-esque beauty. Elsewhere on the album they reflect on instances of police brutality and the trappings of colonialism.
A thing of delicate beauty as well as massive riffs, the title track was a tabla-driven instrumental complete with twittering birds and mellifluous flute; close your eyes and it's enough to make you believe that 2020 wasn't so terrible after all.
Cornershop: "We are elated. 'England Is A Garden' is an album that has aligned all our previous albums into chapters of a compelling story and it tackles many issues with an upbeat varied sound that saw it so popular as the unfortunate COVID isolation set in. We also appreciate that 6 Music have always supported us, no matter which way our garden grows."
Cerys Matthews: "Why does it stand out for me? Well, it's full of different vantage points - it's got musical interludes, sounds of nature, political points made, but it's all wrapped in great production, huge melodies and a massive dollop of positivity."
6. Nadine Shah – 'Kitchen Sink'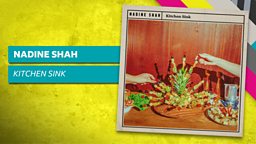 A show-stopping, pin-sharp performance at March 2020's 6 Music Festival set the scene for another stellar year in Nadine Shah's ever-fledgling career. 'Kitchen Sink', her richly-constructed fourth album, is just as uncompromising as 2017's Mercury Prize-nominated 'Holiday Destination', as unlikely to mince its words as a skilled orator with a telescript.
On 'Ladies For Babies (Goats for Love)' Shah sets her sights on toxic relationships, where a man "wants his lady… to care less / be hairless," and to be tamed. Elsewhere, there's the pain in witnessing richer hand-me-down friends purchasing houses for "less than I'm renting mine", on 'Ukrainian Wine'. And 'Trad' finds her wrestling with age, bluntly asking a loved one, "Will you want me when I am old?"
All of this stacks up as examples of her faultless, observational songwriting – when she takes on a subject that's usually hard to convey, she doesn't miss. She remains a one-of-a-kind songwriter.
Nadine Shah: "It was heartbreaking releasing this album during the pandemic. I wished we could've been touring it live for you all. But you, 6 Music, you've kept my record alive despite this. Thank you for bringing 'Kitchen Sink' into people's homes. Even my mum got to hear it on the radio before she passed and that means the world to me. She knew you guys had my back. Thank you to all you listeners, thank you to all you presenters. Keep on enjoying the album and keep on shining with the spirit intact."
Tom Robinson: "Since 2017's 'Holiday Destination', Nadine has turned her attention from the poison of populism to the politics of the personal. Sonically startling and rhythmically adventurous, Kitchen Sink manages to be fiercely feminist yet frequently funny at the same time. Never one to rest on her laurels Nadine has once again mixed musical innovation with savage social commentary and memorable tunes you can dance to. Everything we love at 6 Music in a nutshell."
5. Bob Dylan - 'Rough and Rowdy Ways'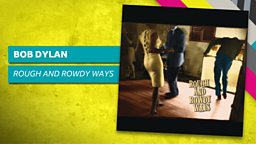 It's a testament to Bob Dylan's interplanetary talent that his 39th studio album, released at the grand age of 79, is one of his finest yet. The man who made folk music cool – and then spent the next 50 years confounding and delighting his fans at every turn – is laidback, jazzy and deeply introspective on 'Rough and Rowdy Ways', the instrumentation taking a backseat to his poetic lyricism, which shines brightest on the epic closer, 'Murder Most Foul'.
Running for a full 17 minutes over placid piano, the song tells the story of JFK's 1963 assassination and the collapse of the American dream which followed. Ever so slightly more conventional offerings sit alongside this grand statement, including the gruff and bluesy 'False Prophet', on which he sounds more like Tom Waits than Bob Dylan, and the doomed country ballad 'Key West (Philosopher Pirate)'. Flawless.
Iggy Pop: "'Rough and Rowdy Ways' is just the album of the year for me that had the depth. There are so many good, beautiful and clever references in the lyrics, and the group that Bob has cultivated over the years is really paying off. They handle his material beautifully. There are songs about Jimmy Reed and Key West and those are good enough for me, not to mention, of course, 'Murder Most Foul', which is all about the Kennedy assassination. In America, we tend to forget our nefarious occurrences and that's a terrible thing, and he gets some good lines off in that. His voice just gets better for me. So, there you go."
4. BC Camplight - 'Shortly After Takeoff'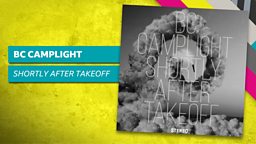 A one-man powerhouse, Brian Christinzio is BC Camplight; an electronic chamber-pop crooner whose story is almost as fascinating as his music. 'Shortly After Takeoff' is the third and final part of his so-called 'Manchester trilogy', which started with 2015's 'How To Die In The North' and then 2018's 'Deportation Blues', made after the Philadelphia native moved his life across an ocean and up the M6.
Detailing the death of his father Angelo and his own struggles with mental health, a dark kind of comedy runs through 'Shortly After Takeoff''s moody and illuminating chansons. In a statement around the album, he describes opening track 'I Only Drink When I'm Drunk' as "Hank Williams on cough medicine being awoken by ferocious guitars", and Hank isn't the only musical hero referenced here, with the ghosts of Leonard Cohen, Frank Sinatra, Harry Nilsson and Elliott Smith all haunting this complex and strangely comforting release.
BC Camplight: "This is an album that examines loss, mental illness, isolation, and hope. When I recorded it I never could have guessed that the whole world would soon be engulfed in similar issues. Until recently I've spent my career feeling like a pair of brown trainers in a world full of tuxedos. Now, I'm truly moved that so many people have taken comfort in 'Shortly After Takeoff' and identified with this brain of mine. Thank you, 6 Music, I am honoured to be a part of this list."
Marc Riley: "It seems every time BC Camplight creates a new masterpiece it is met with huge critical praise followed rapidly by adversity. What Brian hasn't been through over the last 5 years isn't worth mentioning. Yet he bounces back every time with a record which is even better than its predecessor. He is a genius, you know!"
3. Fleet Foxes - 'Shore'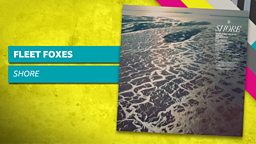 To call Fleet Foxes' first record in three years, and the follow-up to 2017's rejuvenating 'Crack-Up', a "lockdown album" wouldn't be completely accurate - band leader Robin Pecknold had been working on the release since late 2018. However, after scattered sessions that spanned New York, Portugal, Paris and Los Angeles, the songwriter had found himself "a bit lost".
Instead, the album - and its lyrics - started coming together as the world around Pecknold began to slow down due to the pandemic; the musician - like many - beginning to take solace from life's simpler things and finding inspiration on long drives in upstate New York, surrounded by the vast expanse of nature surrounding him.
Pecknold described the album, released without warning in September, as "celebrating life in the face of death", and it can be seen as a perfect soundtrack for such a year - at times quietly meditative, other moments euphoric and stirring, but constantly life-affirming. It's a record primed for taking stock in such profoundly turbulent times.
Fleet Foxes' Robin Pecknold: "As huge fans of 6 Music, it's an incredible honor for 'Shore' to be on their Top 10 list for 2020 - thank you so much to all of the BBC folks and listeners who've supported."
Stuart Maconie: "After the rich and complex but often opaque 'Crack-Up', hearing the new Fleet Foxes album 'Shore' recalls the goose-pimpling thrill of hearing 'Mykonos' or 'White Winter Hymnal' back in 2008. Everything seems rinsed fresh and new minted, and these new songs have a radiant openness and clarity that feels like someone opened a window into a claustrophobic year."
2. Fontaines D.C. – 'A Hero's Death'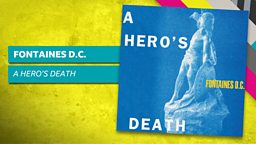 "That was the year of the sneer, now the real thing's here," runs the closing lyric of 'A Hero's Death', the title-track of Dubliners Fontaines D.C.'s second album in two years. Said line has been viewed as a reference to the Grian Chatten-fronted group revealing their true selves on the follow-up to 2019's 'Dogrel'. Whereas their debut (6 Music Recommends' 2019 Album of the Year) was a rollicking, frustrated capsule of youth, 'A Hero's Death' is more complex at heart.
With added complexity comes more depth, and 'A Hero's Death' can be stop-you-in-your-tracks deep. The band sound almost free from gravity on the breathtaking 'A Lucid Dream', where pent-up energy gives way to a spacious, percussive mid-section. Whereas on 'Dogrel' they had one unrelenting gear, they sound like two entirely different bands when comparing beautiful, strung-out closer 'No' with the downbeat, repeated refrains of 'Love Is The Main Thing', all drenched in a noir aesthetic.
'A Hero's Death' doesn't just about-turn from 'Dogrel', it in fact paves several paths forward; a blueprint for a dozen bands Fontaines D.C. could eventually become, each its own fascinating prospect.
Fontaines D.C.: "Sound, 6 Music, for your unbelievable taste."
Steve Lamacq: "It's a good indication of how the band are already evolving; showing the new layers and textures they've added to the sound, while Grian's lyrics have started looking at a bigger picture of life beyond the cityscape of Dublin, which was the backdrop to the first LP. This one's still very poetic and full of love, but its slightly more wary and shaped by the experiences they've been through over the past two years."
1. SAULT - 'UNTITLED (Black Is)'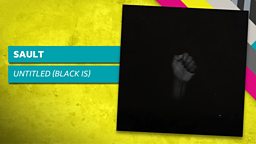 There are few concrete details that we truly know about SAULT, the mysterious UK-based collective that span genre lines and keep their true identities firmly under wraps. What we do know, however, is that the music they've been steadily releasing since emerging seemingly out of nowhere in 2019 has been so breathtakingly singular that - unlike many similarly enigmatic acts - the autobiographical question marks that still surround those behind the project almost feels like an afterthought.
After a prolific 2019, which saw the release of two studio albums ('5' and '7'), SAULT upped the ante in 2020 with a dual offering of double albums: 'UNTITLED (Black Is)' in July, followed by 'UNTITLED (Rise)' in September. Of the intent-signalling former of these releases (which features Michael Kiwanuka on a track), the band issued a statement that read: "We present our first 'UNTITLED' album to mark a moment in time where we as Black People, and of Black Origin are fighting for our lives… Change is happening… We are focused."
Aptly described by one critic as "a robust collection of funk, soul, meditative spoken-word and protest chants meant to score the full spectrum of Blackness", it's a record that delves into the past by reshaping inherited genres and sounds into something entirely modern and self-contained. Whoever SAULT may be, you'll find few other artists this year creating music quite as urgent and revolutionary.
Gilles Peterson: "I've been following SAULT for a while now, and loved their two records in 2019. So when I heard that there was a new album coming this summer, amidst such a tumultuous year, and a pivotal time in the Black Lives Matter movement, I just had a feeling that they would do something special, and they absolutely came through.
They sent it to me on the morning of my show, and I listened to it from beginning to end. And I was like, "I'm playing the whole thing!". It's that strong. It's undoubtedly going to be my record of the year, I can't imagine anyone is going to come close to it.
It was basically that sense that you got when you listened to a record like The Specials – 'Ghost Town', or Gil Scott-Heron, The Clash - those classic records that have just lasted forever, that have political energy, and are of the moment, which is so important in music. That's what it's all about - forget the decadence and the escapism - this was a real record; this was about how we can all make a difference through music."
Lauren Laverne reveals the full Top 10 of 6 Music Recommends' Albums Of The Year list for 2020.
In addition, for 21 days from Saturday 28 November, each of the presenters' own personal Album of the Year choices will be played on 6 Music, with one album celebrated per day until Friday 18th December.
The full list of albums and dates is as follows:
Saturday 28th November: 'The Long Goodbye' by Riz Ahmed, selected by Tom Robinson
Sunday 29th November: 'The Invention Of The Human' by Dylan Henner, selected by Tom Ravenscoft
Monday 30th November: 'Rough and Rowdy Ways' by Bob Dylan, selected by Iggy Pop
Tuesday 1st December: 'Róisín Machine' by Róisín Murphy, selected by Nemone
Wednesday 2nd December: 'Love And Dancing' by Horse Meat Disco, selected by Craig Charles
Thursday 3rd December: 'Healing is a Miracle' by Julianna Barwick, selected by Lauren Laverne
Friday 4th December: 'UNTITLED (Black Is)' by SAULT, selected by Gilles Peterson
Saturday 5th December: 'The Universal Want' by Doves, selected by Shaun Keaveny
Sunday 6th December: 'Fugitive Light And Themes Of Consolation' by Andrew Wasylyk, selected by Gideon Coe
Monday 7th December: 'Rejoice', by Tony Allen & Hugh Masekela, selected by Cerys Matthews
Tuesday 8th December: 'Off Off On' by This is the Kit, selected by Guy Garvey
Wednesday 9th December: 'Angela' by Caixa Cubo, selected by Huey Morgan
Thursday 10th December: 'Letter to You' by Bruce Springsteen, selected by Liz Kershaw
Friday 11th December: 'Dark Matter' by Moses Boyd, selected by Mary Anne Hobbs
Saturday 12th December: 'Bug On Yonkers' by Damaged Bug, selected by Marc Riley
Sunday 13th December: 'Unfollow The Rules' by Rufus Wainwright, selected by Don Letts
Monday 14th December: 'UNTITLED (Rise)' by SAULT, selected by Chris Hawkins
Tuesday 15th December: 'Serve to Serve Again' by Vintage Crop, selected by Steve Lamacq
Wednesday 16th December: 'Billy Nomates' by Billy Nomates, selected by Amy Lamé
Thursday 17th December: 'Tomorrow Again' by Saint Saviour, selected by Mark Radcliffe
Friday 18th December: 'Shortly After Takeoff' by BC Camplight, selected by Stuart Maconie
A fresh dose of new music recommendations every week, picked by 6 Music presenters.