Main content
Ten things you should know about yetis
Words and pictures – Justin Anderson
On their way up to Everest Base Camp on a quest to film jumping spiders, the Planet Earth II 'Mountains' team stumbled across a famous artefact in a remote monastery: the scalp of a yeti. They decided to delve deeper into yeti lore and came up with 10 little known facts about these mysterious mountain dwellers.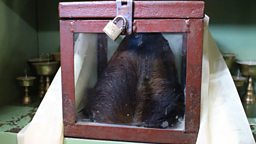 The infamous 'Yeti scalp' at Khumjung Monastery
1) Everest, Cho Oyu, Lhotse and Makalu are all giants in the Mahalangur range, Mahalangur happens to be Sanskrit for 'great ape'.
2) Sherpas are the guardians of yeti lore. They describe the beasts as 1.7 metres tall with brown fur and that they walk on four legs as well as two. 'Yah' and 'Teh' meaning 'rock animal' in the Sherpa language. Sherpas believe that the feet of the yeti actually point backwards to allow it to walk up hill more easily.
3) Villagers of the Jalpa la valley of Sikkim regularly leave out bottles of home-brewed Chang on mountain pathways, to catch yetis, who apparently prefer it to water. Villagers at Targna in the Khumbu, claim yetis regularly raid their crops, so leave out Chang and Nepalese khukri knives in the hope the thieves get drunk and use the knives to fight and kill each other in a brawl.
4) Yeti females are known for their pendulous breasts which hang down below their waists. If they need to run, they can throw them over their shoulders.
In fact Sherpas advise, to outrun a yeti, head downhill. If the yeti is female, her breasts will fall from her shoulders, slowing her down. If male, a downhill direction will force his brow of long hair to fall in front of his eyes, blocking his view and allowing you to escape.
5) Legendary Everest climber and Sherpa champion Sir Edmund Hillary, found a tuft of black hair at 19,000ft but his superstitious Sherpas took it and threw it away.
6) Hillary led an expedition to find the yeti in 1960. He found several yeti skins, including one in Khumjung, but they all ended up being Himalayan bear skins.
The famous Scalp from Khumjung, (see picture) was analysed and declared a fake, moulded from skin of wild serow but then the Zoological Society of London declared these results inconclusive and doubted the scalp was from a serow, meaning the item's origin became shrouded in mystery once more. Other samples of hair and skin obtained by the expedition were believed to be from an unknown primate.
7) Many famous mountaineers from John Hunt, Reinhold Messner to Tenzing Norgay and Eric Shipton all reported seeing yeti tracks high in the peaks.
8) In 1974 in the village of Khonar, a Sherpa girl Lakhpa Dolma aged 19, was grazing her yaks when a yeti attacked, killing all five animals by smashing their heads in. She screamed and the yeti knocked her unconscious.
When she awoke she described the attacker to the authorities as 1.5 m high, with black hair, backwards pointing fingers and that it ran away on all fours. Local leaders followed a series of tracks to a cave where the bodies of the five yaks were discovered.
9) A Nepali newspaper in 1977 ran a story recounting a yeti kidnapping a male villager from Keronja village. Only for the man to reappear three years later claiming to have had sexual intercourse with a female yeti. He alleged the yeti went on to have twins.
The female yeti longed for her human love and tried in vain to kidnap him on many occasions. She became so angry she killed her daughter in a rage but her half human - half yeti son remained in the village, where his descendants can be spotted even today.
10) The original kidnap victim recounted his time with the yeti claiming they mostly like to eat frogs from glacial streams and are good at throwing stones.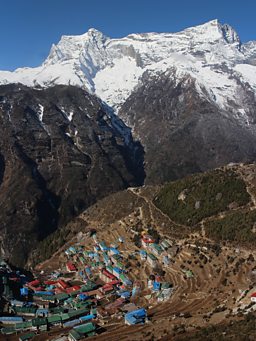 Namche Bazaar – Sherpa capital and centre of yeti folklore.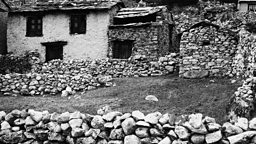 Khumjung is famous for its Yeti scalp.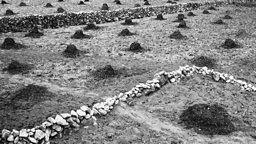 Yetis have been known to raid the villagers' potato crops.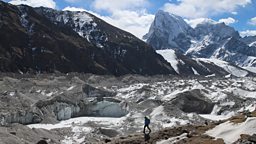 Western climbers have found evidence of yetis as high as 19,000ft.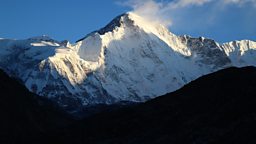 Cho Oyu – the world's sixth tallest peak. It is the peak of the Mahalangur range – sanscrit for 'great ape'.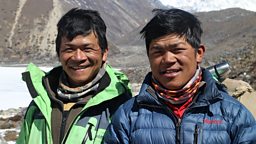 Sherpa people love to tell yeti stories.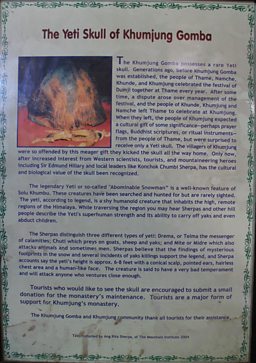 The history of the Khumjung yeti scalp.