Main content
Radio 2's Ultimate Moon Music Quiz - how much do you know about songs inspired by the moon?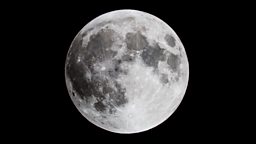 July 2019 marks 50 years since man first stepped onto the surface of the moon, during the Apollo 11 mission.
Radio 2 is marking the occasion with three special programmes:
One Giant Step - David Bowie's Space Oddity (available now) looks at the origins and legacy of the iconic artist's debut hit, released 50 years ago in the same month as the moon landing.
Brian May's 1969 (available now) sees the Queen star explore the impact that 1969 had on music and culture.
And in Moonbathing (available now), Charles Hazlewood celebrates the musical legacy of the space age in a show originally broadcast for the 40th anniversary of the moon landing.
Meanwhile, 6 Music Celebrates Space (19 to 26 Jul) with a special season of programmes - find out more and discover 11 stellar songs about space.
The moon has long been a source of inspiration and reference for musicians and songwriters, influencing numerous songs both before and after Neil Armstrong and Buzz Aldrin took their famous first footsteps on the lunar surface. How many of them do you remember?
Find out by taking Radio 2's Ultimate Moon Music Quiz.
Sorry, this quiz is no longer available.