Main content
Salad Nicoise
Rowley Leigh, pioneer of modern Anglo-French cooking and chief proprietor of award-winning restaurant Le Café Anglais, demonstrates his perfect Salade Niçoise - and not a flake of tuna in sight!
Salad Nicoise
What could be nicer for a summer lunch than a bowl of Salade Niçoise with some crusty bread? Our British version of Salade Niçoise bears surprisingly little resemblance to the original summery dish from Nice.  The recipe is taken from his book 'No Place Like Home: Seasonal English Cooking' (publ. Clearview Books).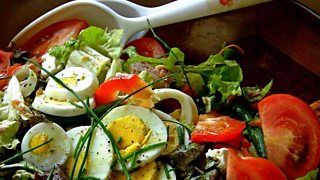 Subscribe to our podcast to be kept up to date with all cookery items.
Tips and techniques
The key to the success of this recipe is to use good, fresh ingredients
To skin tomatoes, blanch them in boiling water for about 30 seconds, plunge them into cold water, and the skins should come off easily with the help of a sharp knife
For the perfect boiled egg - put it in cold water, bring to the boil and boil for 5 minutes. Or 4 minutes if you prefer the yolk to be slightly runny
If you blanch the broad beans briefly in boiling water it makes them easier to peel
Rub a clove of garlic around the serving bowl to give a delicious flavour without serving up chunks of raw garlic.
Ingredients
1 cup of podded broad beans
6 large tomatoes
1 green and 1 red pepper
1 cucumber
12 radishes
2 spring onions
6 hard-boiled eggs
1 clove of garlic
12 anchovy fillets
1 tablespoon black olives
10 basil leaves, torn in half
1 dessertspoon red wine vinegar
At least 2 tablespoons very good extra virgin olive oil
Preparation method
Blanch the broad beans, then drain well and peel off the thin skins.
Skin the tomatoes and slice them.
Seed the peppers and cut them into thin rings.
Peel and slice the cucumber. Thinly slice the radishes and spring onions.
Peel and slice the hard boiled eggs.
Cut the garlic in half and rub a large wooden salad bowl very well with it.
Place the tomatoes, overlapping each other, in concentric rings on the bottom of the bowl.
Proceed to layer the salad ingredients in similar rings, scattering the smaller ingredients across the surface.
Season the whole with sea salt and coarsely milled black pepper, then sprinkle with the red wine vinegar. Coat the salad with the olive oil. Take it to the table in all its glory and then turn and toss it very thoroughly before serving.
Browse previous recipes
Seeking to create perfect pumpkin soup, cracking curry or unbeatable bread and butter pudding?
More Food on the BBC
Browse our selection of recipes from top chefs, cooks and food writers who have joined us on Woman's Hour.