Main content
Five frightening facts about the fashion industry
BBC Sounds podcast Fashion Fix with Charli Howard sees the model and activist setting out to right some of the wrongs of the fashion industry. Before she can work out what we can do to help fix it, she discovers some frightening facts about an industry which has been estimated to be worth multi-billion pound industry. Here are just five.
1. In the UK we buy more clothes per person than any other country in Europe
That's according to estimates from the European Clothing Action Plan, a project which aims to reduce clothing waste across Europe. One way of doing this could be through recycling and buying vintage – something Charli looks into in the fourth edition of the podcast, in which she talks to vintage reseller Bella McFadden, aka Internet Girl.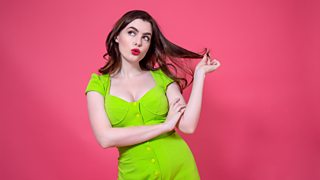 2. Greenhouse gas emissions from the textile industry are greater than those of all international flights and maritime shipping combined
The textile industry, which includes fashion, is responsible for 1.2 billion tonnes of greenhouse gas emissions every year. That's according to The Ellen MacArthur Foundation, a charity which seeks to facilitate the world's transition to a circular economy – that's one which eliminates waste by continually reusing the planet's resources. Fashion has a long way to go before becoming sustainable, but some fledgling brands are beginning to work to this goal, as Charli discovers when she meets Emmanuel Enemokwu in episode 2.
3. A polyester T-shirt has more than double the carbon footprint of a cotton shirt
Polyester is a synthetic fibre, usually made from oil. It can take more than 200 years to decompose. The Massachusetts Institute of Technology has calculated that a polyester shirt has more than double the carbon footprint of a cotton shirt.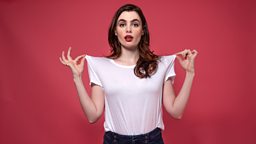 4. But a single cotton shirt and pair of jeans can take as much as 20,000 litres of water to produce
Unfortunately cotton's not perfect either. The waste charity WRAP found that just one kilogram of cotton – roughly the weight of a shirt and a pair of jeans - can take as much as 10,000 to 20,000 litres of water to produce. In fact, 20% of industrial water pollution globally is attributable to the dyeing and treatment of textiles.
5. UK citizens throw out around a million tonnes of textiles per year
That's another fact from WRAP, an organisation focussed on sustainability. It says that around 300,000 tonnes of this goes straight into household black bins each year, with 20% sent to landfill and 80% being incinerated. But according to the textile charity TRAID, in 2017 UK charity shops diverted over 330,000 tonnes of textiles from landfill and helped reduce carbon emissions by reusing and recycling second-hand clothes.
Listen on BBC Sounds...
Charli sets off on her mission to fix fashion with a look at body image.