Main content
Deck the halls with crochet squares
9 December 2015
As Christmas creeps closer many of us are now thinking about getting the decorations out of the loft to start dressing the tree. One group of world-record holding crafters has set themselves a challenge to crochet a tree as part of a community project at the Essex school in which they all work.
The Craft Club Yarnbombers are friends Emma, Helen, Claire, Gabby and Becky from The Appleton School in Benfleet. And on the 11 December they are unveiling a 12ft Christmas tree made out of crochet squares donated from across the world and pom poms made by the pupils of the school.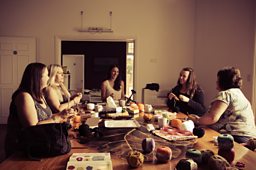 The Craft Club Yarnbombers
The group started in 2013 after they saw a magazine article about yarnbombing.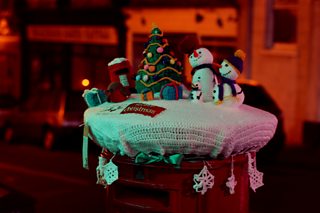 We really did look like crazy women, but we had a great time and didn't stop laughing
"We thought that it looked like fun and something we could do, so one evening we all jumped into Becky's seven seater and went for a drive to the seaside. We took various random crocheted items with us and yarnbombed a bench and some lamp posts. We really did look like crazy women, but we had a great time and didn't stop laughing," said Helen.
After that they were hooked and wanted to yarnbomb in bigger and better ways. That first Christmas they came up with the idea of yarnbombing the tops of postboxes. With people posting Christmas cards they thought this would be a great way to catch the eye of the local community.
"Our first big yarnbomb was in Leigh-on-Sea. The local community loved it and we were bombarded with messages of support and appreciation," they say.
Since then they have yarnbombed other postboxes, more recently with a seaside theme to promote the Southend Festival.
And now their latest project, the crochet Christmas tree, is being pieced together ready for the big reveal on Friday. But they haven't done it alone, putting out a request for craft squares from knitters around the world.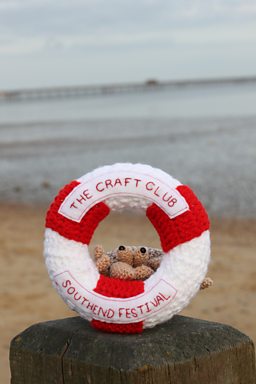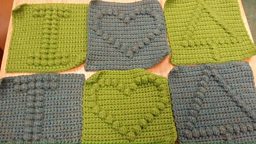 "We thought this would be a relatively small project, but we have so far had 1360 squares received from as far as Japan, Bermuda and America," they say.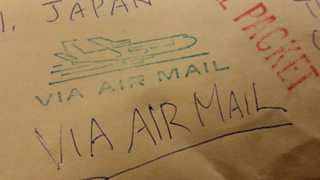 Crochet squares come from far and wide
We love the creativity that yarnbombing brings and also the excitement that going out and yarnbombing brings
They will attach these to the tree structure and unveil the tree at the school on Friday. The students and their families and a local befriending voluntary service have been busy making pom poms that will adorn the tree.
Once the tree has been displayed the squares will be removed and sewn together to make blankets for the homeless.
The five friends and colleagues are all self taught crocheters and knitters, they all love crafts but only one of them could crochet so they used videos on YouTube to teach themselves.
"We love the creativity that yarnbombing brings and also the excitement that going out and yarnbombing brings.
"It's especially exciting when lots of people Tweet, Instagram and Facebook selfies with our yarnbombs. We are glad that it brightens up a dull day for so many people," Helen said.
And it's through their Facebook page that they have managed to spread the word. They like to interact with their followers, many of who are fellow crafters, so when they ask for help on projects their request is shared far and wide. Thanks to a craft blogger in Japan who follows them they were sent crochet squares from more than 40 contributors from there alone.
It's this support that also helped them become Guinness World Record holders.
They hold the record for the largest amount of crochet items in one place. They asked people to send in crocheted items in the theme of Enid Blyton's The Faraway Tree, in an attempt to beat the 4,000 record. In the end they managed to crochet and were sent a total of 13,388 items.
And all this is done in their spare time. They are a group of friends who "like to think of ourselves as hippy arty types, but in reality we are office ladies/teacher/mums/animal lovers/crocheters/knitters".
"We Craft Club girls are so lucky to work, knit and crochet together, as well as bringing together a community who enjoy looking at our work and best of all working with us to create massive yarnbombs.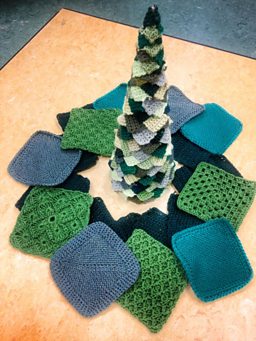 A miniature version of the Christmas tree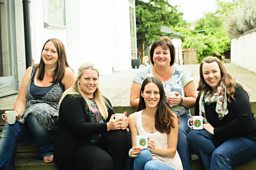 The Craft Club Yarnbombers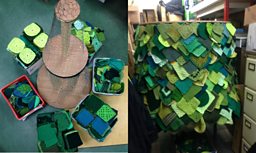 Assembling the tree
Meet the world-record holding crafters making a crochet Christmas project

One of a handful of aspiring artists whose painting was chosen for the Royal Academy's Summer Exhibition

A retired designer who painted a Canaletto-style painting, replacing the buildings with those of his home town

A jewellery designer who discovered a love for digital printing and uses it as a way to relax and to cure jet-lag

A dedicated mum and knitter who makes retro tank tops for her rugby- mad son and his friends to add a splash of style to the stands

A stitcher who joined a sewing group to meet like-minded people. She's made tea cosies and draught excluders as gifts and hopes to move to dressmaking

A stroke survivor who has used painting, music and writing to rehabilitate. He shared his first self-portrait using his affected hand with Get Creative

A keen cross stitcher and crafter who uses it as a way to relax and wind down after a day content producing for Get Creative