Main content
"Hot dog, jumping frog, Albuquerque": The pop genius behind the strangest lyric of the 1980s
8 February 2019
Paddy McAloon's Prefab Sprout stormed the 1980s charts with sophisticated pop hooks like When Love Breaks Down. A re-release of 2003's astounding I Trawl The Megahertz, mixing orchestral multi-tracks with radio phone-in snippets, brings him out to meet Newsnight's STEPHEN SMITH.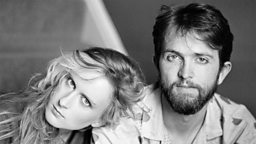 Wendy Smith and Paddy McAloon of Prefab Sprout in 1983 | Getty Images
Paddy McAloon materialises out of a snowstorm in a long, white beard, red fedora and matching ensemble, and sporting a silver-topped cane. On his journey to London from his native North-East, the frontman and songwriter of Eighties chart-toppers Prefab Sprout was asked for a photograph by an admirer. "You're my favourite actor," sighed the fanboy, "Dumbledore!"
Well, you can see where the kid was coming from. McAloon certainly has the look of a wizard. And he is not lacking in the necromantic arts. How else to explain his vanishingly rare facility for marrying melodic pop hooks to smart, bittersweet lyrics?
Irresistible compositions such as Cars and Girls, When Love Breaks Down and The King of Rock 'n' Roll (Altogether now: "Hot dog, jumping frog, Albuquerque!"), and the sublime albums Swoon and Steve McQueen, earned McAloon comparisons with his idols Lennon and McCartney, and Stephen Sondheim.
The Prefabs had their moment, and as these things go, it was rather glorious. They've only released one album of new material since the turn of the century, Crimson/Red in 2013, so fans could be forgiven for fearing that 'the light is gone', to coin the lyrics of their lovely ballad We Let The Stars Go.
Their underrated singer Wendy Smith has 'retired'. She may be the same Wendy Smith who popped up on my Twitter timeline recently as director of creative learning at the Sage, Gateshead.
But just as Sondheim and McCartney aren't the sort of songwriters to knock it on the head, neither is McAloon, it turns out. All these years at home in Durham, he's been writing "obsessively", he says.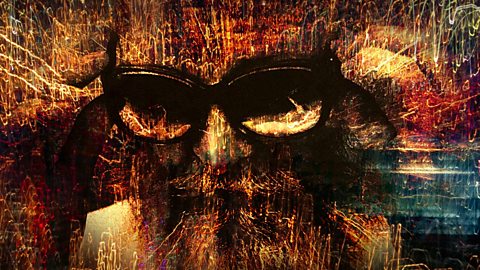 'The King of Rock 'N' Roll' talks to Stephen Smith about song-writing and remaking music.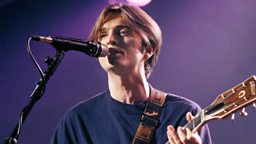 Paddy McAloon performing with Prefab Sprout in 1989 | Getty Images
He is making a rare excursion to talk about I Trawl The Megahertz, a solo album he released way back in 2003, which his label has now re-badged as a Sprout record. It's a spoken-word piece over an orchestral backing, but before you turn impatiently to the BBC's bridge column, I should add that these are hauntingly lush charts of strings and late-night brass.
McAloon has suffered ill health in recent years, including Ménière's disease, which causes dizziness and hearing loss. I Trawl The Megahertz came about after he underwent surgery for detached retinas and was advised to rest. He found himself listening to a lot of phone-in radio.
"I taped these programmes and one or two sentences came bouncing out at me. A young woman says, 'I told my daughter, your Daddy loves you. He loves you very much. He just doesn't want to live with us anymore.'"
One reviewer said of the album, "not one to listen to when in a fragile state of mind." I'm ashamed to say I found the arrangements so blissful, I tuned out the heartache.
We agree that these micro-stories are as poignant as McCartney's lyrics for Eleanor Rigby. McAloon met the former Beatle at a party when The King of Rock 'n' Roll was in the charts.
"He was very gracious about it. He said 'You've got the grannies with that record, you've got the kiddies.' And I very earnestly said, 'But it's not terribly representative, man', a stupid thing to say. And McCartney said, 'Ah, it's your My Ding-a-Ling.'" A reference to that ribald novelty hit by the fons et origo of rock and roll, Chuck Berry.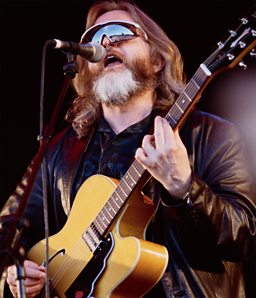 Paddy McAloon in 2000 | Getty Images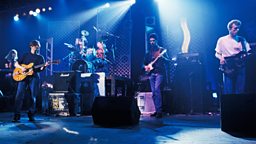 Prefab Sprout performing in 1989 | Getty Images
McAloon has written a lot about pop stardom - 'We were singled out by fate / We were quoted out of context, it was great" (Electric Guitars) - but his own relationship with it is distinctly ambivalent.
I'd always prefer to be writing a new song than recording an old one.

Paddy McAloon
He once broke 'the golden rule of showbusiness' by approaching a rock god for an autograph in the gents. It was one of Britain's seedier guitar greats, who showed his displeasure by (metaphorically) pissing all over Prefab Sprout. "You won't get anywhere with a name like that," he said. McAloon adds, "And when I looked at my piece of paper, he'd just drawn a wavy line."
Other pop luminaries have been more well disposed. McAloon's compositions have been covered by Cher and Kylie Minogue. Perhaps the most unlikely hat-tip he received was when his theme tune for a homely Sunday night TV drama set in the Yorkshire Dales, Where the Heart Is, was snapped up by director Spike Lee for the Netflix version of She's Gotta Have It.
McAloon still writes more or less as he did as a teenager, when he would send away for courses in foreign languages on approval, ruthlessly repurposing the cassettes as demo tapes for his songs. He still commits ideas to tapes, he just doesn't bother to send them to record companies now.
He enjoys art - Crimson/Red was a nod to Rothko - and likes to return to a composition months or even years after putting it on one side, like the late British painter Howard Hodgkin. At his studio, Andromeda Heights, there are boxes of songs awaiting one last lick or two: a song sequence inspired by Dolly the sheep and cloning; songs about - and perhaps for - Michael Jackson.
Another box contains a putative Christmas album. When McAloon read that Rod Stewart admired Prefab Sprout, he sent him one of the tracks. Stewart has duly essayed Who Designed the Snowflake? on his latest release.
If it weren't for his utter lack of airs, you might mistake Paddy McAloon for the Norma Desmond of Durham: "I am big! It's the music that got small!" But he is not a recluse. Indeed, he's something of flaneur, a well known figure in the North East. As he walks, even as he sleeps, a snatch of a lyric will come to him.
"I'd always prefer to be writing a new song than recording an old one," he says. For Prefab fans, it's tantalising to think that he might be sitting on material of the quality of Hey Manhattan and I Remember That. You just hope that he hasn't neglected security at Andromeda Heights: "no tunes are left on the premises overnight".
Stephen Smith is Culture Correspondent of Newsnight.
McAloon on 6Music
Mark and Stuart chat to Prefab Sprout's Paddy McAloon.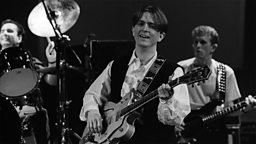 Prefab Sprout performing in 1990 | Getty Images
More from BBC Arts
How classic films influenced comic book writers and artists to create Batman and more

This exciting artists delivers an innovative performance of his epic poem