Main content
David and Ruth Archer: actors Timothy Bentinck and Felicity Finch go head-to-head
2017 is a significant year for both Timothy Bentinck and Felicity Finch with both of them reaching milestone anniversaries as their respective characters in The Archers.
Joining in 1982, Timothy has played David Archer for 35 years, and Felicity joining in 1987 has played Ruth Archer for 30 years.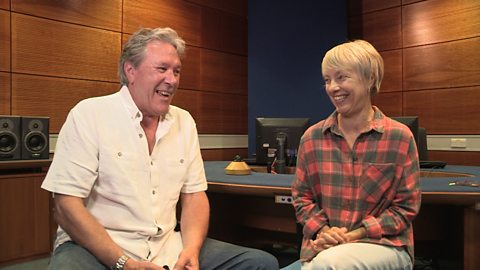 Timothy Bentinck and Felicity Finch reminisce and test one another on their characters.
First Day in Ambridge
David was initially played by Nigel Carrivick until Timothy took up the role in 1982. He was recently sent a copy of his first Archers script and had to correct his own memory about his first words as David.
"I thought I said, "Hello mum, hello dad, it's me, it's David"" says Timothy, when in fact his first words as the Brookfield farmer were "Evening all".
In Felicity's first recording, Ruth (then Ruth Pritchard) went into the village shop - she was due to start as an apprentice at Brookfield and looking for a place to live. Behind the counter was Martha Woodford, played by Mollie Harris.
Felicity remembers, "She [Mollie] was one of the actors who joined The Archers years ago… and she used to wear a fresh flower in her buttonhole whenever she came in [to record]."
Who knows their character best?
Timothy and Felicity tested one another on how well they knew their characters, David and Ruth. All the answers came from the programme's archive so will have been referenced in The Archers at some time.
Timothy was surprised to find out what David would have liked to have been if he hadn't become a farmer. Felicity was stunned to hear that Ruth isn't a fan of fruit cake!
David and Ruth's biggest moments
Looking back at David and Ruth's biggest moments, Timothy and Felicity agree that one of their most seminal was when they learned that Ruth had breast cancer. Timothy remembers there had been no time to read the script before the recording.
"It was like someone was telling us you had got cancer for real. It was the only time in the 35 years I have been here where I had goosebumps and was not acting. My reactions were absolutely for real."
Another stand-out moment for Felicity was recording the birth of David and Ruth's first child, Pip. "You put your hand on my arm", says Felicity, "I just remember this moment of absolute "in the moment" belief in what was going on."
When it comes to Ruth's near affair with cowman Sam Batton, there is a difference of opinion between the two actors who each take the side of their respective characters. But, thankfully, what they can agree on is that there is deep, heart-felt love between David and Ruth.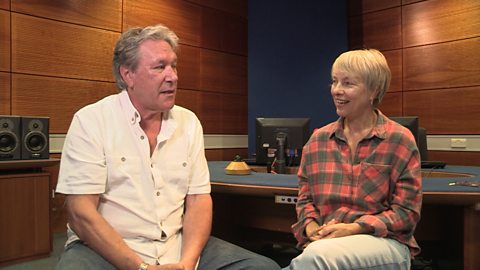 Actors Timothy Bentinck and Felicity Finch review David and Ruth's biggest moments.