Main content
Candid salon stories make for appointment viewing
Clients reveal the ups and downs of their daily lives to hairdressing therapists.

You'll notice from your daily video calls that an unforeseen consequence of lockdown is the less than alluring trend in uncontrollable curls, untameable tresses and unregulated roots.

Most of us will be missing our regular appointments with our hairdresser or barber, and not just because of the state of our locks, because for many, including the clients on Mirror Mirror, there's no better therapy than sitting in your stylist's chair.

The new series features salons across the country where candid, funny and honest conversations take place with every new appointment.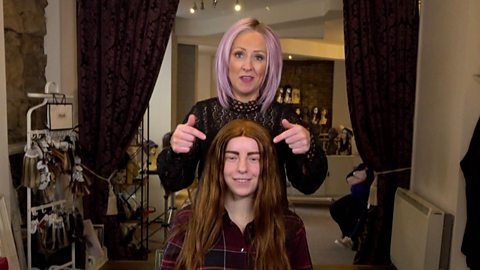 In Glasgow, Melanie helps teenager Megan choose a wig for her leavers' dance.
One of those moments comes in Glasgow salon, where teenager Megan is looking for advice and ideas for her school prom. Megan has alopecia and is bald as a result, so she visits Melanie's boutique to try on a variety of luxurious wigs.

While Melanie can help her find the perfect look for her big night, Megan reveals she is in two minds about whether she'll wear the wig to the prom at all. It's a huge decision for the teen who will decide at the time whether she is confident enough to be around her classmates without her wig for the first time.
"I feel like it's the last day of high school life, may as well go out with a bang!" smiles Megan.

"You'd be memorable," encourages Melanie. "They'll be like, 'Oh my gosh, you've got the confidence to be able to do that."

With or without hair, a hairdresser always want her clients to feel their best.
Latest features from BBC Scotland