Main content
Larger than life - Warwick Davis' Desert Island Discs
Actor, writer, presenter and public speaker Warwick Davis has worked with some of the biggest names in Hollywood and British television, from George Lucas to Ricky Gervais. Here's what we learnt from his Desert Island Discs.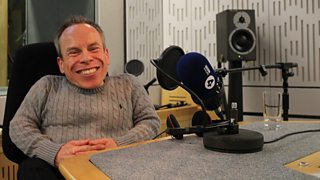 'We're looking for short people to play Ewoks…'
Loud and proud
"Being larger than life is my apprenticeship for being a performer." He says he had to be louder, more entertaining and more daring than his school contemporaries to be noticed.
Solitude
He's fond of solitude so he's fairly sanguine about being cast away, but he was anxious about missing an audience. "I'd find it calming, to look at the ocean." he says.
Survival of the fittest
Warwick was born with a rare genetic disorder that means his bone ends didn't form properly, and he is in near constant pain. He was christened in his parents absence because his health was so "touch and go" as he puts it, and doctors warned that he might not survive - he's now 46.
Adventure time
His first film performance was as an Ewok in Star Wars, aged 11. He kept it quiet at school for fear of "being pummelled", saying "I just enjoyed going off and having these adventures."
Coping with attention
If a child comments on Warwick's height, he says the worst thing that can happen is that the child is reprimanded and dragged away, as it gives the child a negative experience of dwarfism. He tries to talk to the child, briefly, and say "don't worry, it's OK". "Children are curious, it's natural," he says.
Behind the camera
He loves making home videos, and has done since childhood, and uses Jean Michel Jarre as his soundtrack, which slightly worried Jarre when Warwick met him.
Famous friends
Carrie Fisher, with whom he got on very well, would remove his Ewok head during Star Wars filming and feed him chocolate milk and cookies to revive him in filming breaks. He also worked with David Bowie on Labyrinth, Val Kilmer on Willow, and is close friends with Eric Idle, picking "Always Look on the Bright Side of Life" as one of his discs.
Family life
He has been married to Sam for 25 years and has two children. The couple's first child, Lloyd, unfortunately inherited both his parents genetic conditions and died nine days after his birth. "It was the hardest thing I've ever had to deal with."
Fame
People used to take his photograph when he was out and about because he was a short person, he says; now he knows they are taking the picture because of what he's achieved.
Other castaways who also appeared in Star Wars