Main content
Inside UK's first 'commercially-viable' vertical farm — is this the future of the industry or just a science fiction fantasy?
An unassuming building beside some fields in Invergowrie near Dundee is home to the UK's first large-scale vertical farm.
The self-contained, purpose-built factory, houses towers of vertically stacked layers of crops, cultivated under LED lights, which scientist Dr Robert Hancock describes as 'the future of farming'.
His team of experts and company CEO David Farquhar are among the key players in the development of vertical farming in the UK.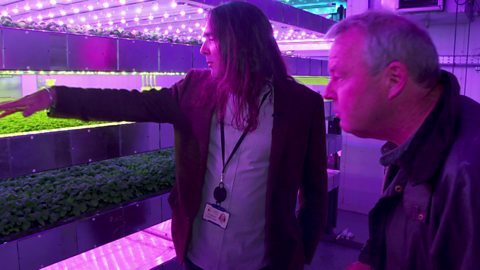 Euan meets Dr Robert Hancock, who talks about how UV lights are used to grow indoor crops.
When agriculture meets science
The technology involved in vertical farms mean scientists can control temperature, humidity, light and CO₂ — a combination other growing systems cannot achieve. This means the crops can be tailored to the exact specification of the grower.
One downside of the system is that crops like potatoes become harder to grow cost-effectively. The energy required to power UV lights costs money; outside, the sunlight is free.
The Invergowrie vertical farm grows basil, a high-value herb that can grow in just 20 days. Dr Hancock was able to manipulate the flavour to produce what Euan described as a 'very basil-y' basil.
Through interbreeding, the ability to grow a lot of different crosses – or genotypes – means the crop scientists can see which perform best. So, rather than one crop per year, they can produce several and get the genetics they want much more quickly.
Scotland's countryside magazine. Anne meets the schoolchildren with green fingers. Dougie sets out to catch mackerel for Nick Nairn to cook in the Landward food van.
'It can be run entirely by robots'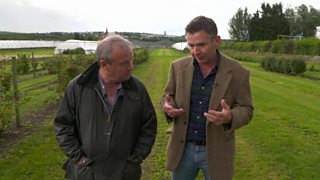 David Farquhar is the CEO behind the company funding the vertical farm at Invergowrie. He sees the adaptability of the technology as the key to vertical farming's potential success.

"The vertical farm can be placed anywhere around the world. Think of it as a box with its own weather system inside it."

David suggested the vertical farm could run entirely using robots, which would reduce the need for human labour.

But such a move is not appealing to everyone: one interested party from Botswana said they could only adopt vertical farm technology if it created some lower-skilled jobs for the area.

David's main goal is to have vertical farms shorten food miles.

"You could stick it right next to a bunch of high-class restaurants. Put one in Edinburgh, grow the micro greens and salads for every decent restaurant in the city and the food miles reduce dramatically."
How vertical farming is changing modern agriculture
Latest features from BBC Scotland