Main content
What is Get Playing?
Playing music is life-enhancing, community building, and above all, fun. Get Playing aims to inspire amateur musicians across the UK and bring them together in a celebration like you've never seen before.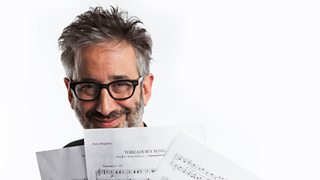 Join David Baddiel, learn Bizet's Toreador Song and play in the Virtual Orchestra.
Whether you currently play an instrument, or haven't played for years, we want you to get involved and experience the joy of music making!

How you can get involved:
Play in our Virtual Orchestra with David Baddiel and Marin Alsop.
Be part of our Virtual Orchestra film, screening at Proms in the Parks across the UK.
Brush up your skills with musician-led Masterclasses.
Play at an event near you.
Follow the action across TV and Radio as we shine a light on amateur music making.
Wherever you are, whatever your level, Get Playing and join our nationwide community of music makers.
Join our Virtual Orchestra
Join David Baddiel and play along with our first ever Virtual Orchestra - a nationwide orchestra built entirely from audience videos.
Whatever your level, it's really easy to take part. Simply choose your instrument and follow our Masterclasses to help you learn this year's track - Bizet's Toreador Song.
Then record yourself playing along and upload your video to the Virtual Orchestra for a chance to be part of the celebrations for Last Night of the Proms 2016.
Learn new skills
If you're feeling a bit rusty, why not brush up your skills with our musical Masterclasses featuring James Rhodes, Nitin Sawhney, Thomas Gould, Alison Balsom, Evelyn Glennie and Courtney Pine.
Check out the Toreador Tips, provided by our partners ABRSM.
You can also watch out for Get Playing events near you, hosted by our partners Making Music and Music for All.
Get inspired
As you get playing, you'll be joined along the way by our team of Champions across the radio networks. Clara Amfo is learning to play the piano, Matt Everitt is teaching Shaun Keaveny the drums and discover what Craig Charles is up to.
Over on TV, Get Playing includes two prime time shows for BBC Two and BBC Four - the UK's Best Part Time Band and a series showcasing a contest of the nation's most inspiring amateur orchestras.
Watch our weekly video masterclasses featuring James Rhodes, Nitin Sawhney, Thomas Gould, Evelyn Glennie Alison Balsom and Courtney Pine.