Main content
Virgil Abloh co-hosted his own show with Benji B – here's what happened
Virgil Abloh has been responsible for many of this century's most iconic designs. From his menswear collections for Louis Vuitton to album covers like Kanye West and Jay-Z's Watch the Throne, through to a number of collabs with Nike, not to mention pioneering work through his label Off-White.
He's also always busy and travelling the world, but he still found time to co-host a very special Radio 1 show with Benji B this week.
Featuring in-depth conversation and tracks from Tyler, the Creator, Skepta and Kanye West.
Virgil is a longtime listener of Benji's show. "I never quite understand how [he] has time to listen to a two-hour radio show every week, but it's so legit, says Benji, whose friendship with the fashion pioneer goes way back. "This guy will text me about a track that came 1 hour, 48 minutes into the show."
Starting with one of his own tracks, Virgil played Benji his favourite music and shared his views on art, fashion and culture in an in-depth conversation. Here are some of the most inspiring quotes from the co-host.
On the art of DJ'ing:
"DJ'ing is the fertile soil where all the cultural ideas, relevance and understanding what's happening come from. The idea of playing a two hour set is just as difficult as, if not more, than designing a whole collection for a Parisian runway."
"Just like an athlete might train to run a marathon, I look at DJing as an exercise for the brain. Three minutes to find the next song to weave together a whole crowd of people from different backgrounds and musical tastes to have a good two hour night - that to me is a vital component to how my brain works and how I think."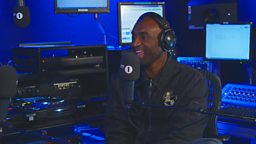 On the power of a simple conversation:
"The essence of culture exists in conversing. I was born in Rockford Illinois outside of Chicago, and everything that I loved was coming out of these major cities, from these major people, and I thought there must have been something that I was missing. As I've gotten older I've just realised you're ability to have a conversation is the only thing standing in the way of anything you want to do."
On his new exhibition, "Figures of Speech" at Museum of Contemporary Art at Chicago:
"It serves two purposes - on one hand it's a retrospective of the work I have done. I've been doing this work for 15 years – most people know of it since some Nike shoes in the last three years, or one year since Louis Vuttion, but in actuality it has been 15 years."
"So the museum exhibit, instead of showcasing my passion for collaborating, is sort of cross-pollinating. I want a young kid who is 17 to know who these greats are, as well as I want a young kid who is coming up to be able to make something that is the new Haçienda."
On the importance of context:
"When I started design and looking at the tall mountain that all my idols were living on, and how I could contribute, it was the moment I realised that the greats with their talent made their own context... That was the quintessential moment that allowed me to think free, to design across boundaries, and actually focus on what I had control over with the context."
On growing up in Chicago, 'the spiritual home of the DJ':
"Chicago is the backdrop. I was born in 1980's, so I missed a golden era, so to speak, but it's in the air, it's in the water. On the radio they would have an hour throwback of classic house tunes, so I knew them just because [it] was in the atmosphere."
"As I got older and into DJing, of course, you go to the record store. Gramophone Records in Chicago was my hometown spot, but you see different sections and different genres and you couldn't help but pick out records. For me it was being about being a proper DJ, which is mixing different genres and presenting music in different contexts."
Virgil's work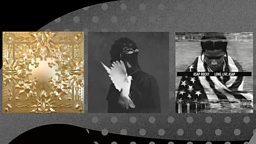 Some of Virgil's most iconic album covers (L-R): Kanye West and Jay-Z's Watch The Throne (2011), Pusha T's Darkest Before Dawn: The Prelude (2015), A$AP Rocky's Long. Live. ASAP (2013)
Shout-outs
Here are some of the many songs that namecheck Virgil Abloh and his work:
Kanye West – I Am A God
"Nobody had swag, man, we the Rat Pack
Virgil, Pyrex, Don C snapback"
Dave – Location
"Money moves, Off-White shoes
Came straight from Virgil Abloh
I've been down, I've been low"
Octavian – Bet
"Whatchu mean, why am I wearing Louis?
Can't you see Virgil's in the office?"
Lil Baby, Gunna & Drake – Never Recover
"I might just YSL my s**t, the Thugger way
Ain't no real sense in me goin' the other way
Cannot be seen in that s**t from the other day
Virgil just chef'd me a whole different colorway"