Main content
Who are Tara and George?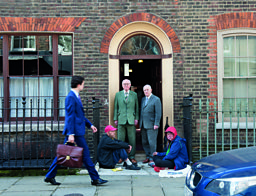 Tara and George are rough sleepers in Spitalfields. It's a historic, fashionable area lying in the shadow of the City of London, the capital's financial centre.
To all appearances a couple, Tara and George are happiest when they have a big bottle of cider, a packet of cigarettes and are sitting cross-legged on the doorstep of the early Georgian house belonging to iconoclastic art duo Gilbert & George – sometimes they listen to the radio or sing songs, sometimes they sit in silent communion.
Journalist Audrey Gillan lives around the corner from this doorstep and has known Tara and George, in passing, for years. But nearly two years ago now she started recording chats with them, amid the noise of the streets – bin lorries, motorcycle couriers, skateboarders. Audrey was interested in trying to tease out what has led them to a life on the streets. That is the question at the heart of this six-part series – along with a desire to understand why the pair remain there.
With time to talk, and someone to listen, Tara and George share sometimes confused glimpses of their pasts – happy and sad memories slowly reveal chaotic upbringings and troubled teenage years. Difficult family relationships emerge. The narratives are complex and often contradictory. Time can be fragmentary for them and memory, at times, unreliable.
Audrey tries to fix a timeline for each of them – a sequence of events that leads from George's childhood in County Durham and Tara's in east London to this moment now - in an effort to discover the key turning points that resulted in them being numbered among the many thousands of rough sleepers living in London today. (According to government statistics from the autumn of 2017 there are about 5000 people sleeping rough each night on the streets of England alone.)
Time can be fragmentary for them and memory, at times, unreliable.
Both hard drinkers, Tara is 48, George is 47, and their health is ailing. Life exposed to the elements – temperatures of more than 30 degrees in summer and the bitter cold and sometimes snow of winter – is harsh, but these two prefer to be outside. As George says, indoors "has never been my cup of tea".
'Tara and George' is a love story, of sorts. One that's hard to pin down. Each provides for the other an anchor, something to hold onto. Together they seem more resilient, better able to deal with the vagaries of street life, than they might on their own. But Tara and George have their own individual stories that deserve to be heard.