Main content
Voices 16 people
The characters behind the voices
Voices 16 tells the story of a momentous year in the history of Ireland through the eyes of those who experienced it.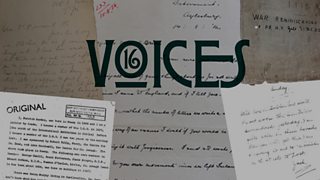 First hand accounts let us know what everyday life was like across the country, as well as on the front lines of both the Rising and the Somme.
Discover more about some of the people whose experiences provide the voices of Ireland in 1916 with the character biographies below.
Uncover incredible stories from the Catholic priest in the trenches at Thiepval to the Bangor woman at James Connolly's side in the GPO, from the Newry man who got on his bike to reach the Rising to the sniper at the Somme.
These pages reflect what happened to each character in 1916 as the centenary year unfolds.
These pages are based on personal testimonies and contemporaneous accounts. They reflect how people saw things at that time and are not meant to be a definitive history of the period.