Main content
Six writers that have done deep dives into the lives of other animals
1. The Peregrine by J. A. Baker
Although we associate peregrine falcons with the wild, far-flung realms of the British Isles, some spend the winter months hunting pigeons and wading birds on the marshes of Essex. It was here that, in 1954, an office worker named J. A. Baker began tracking and writing about the visiting birds of prey. Winter after winter, for a whole decade, he followed the falcons on bicycle and on foot, marking the location of every sighting on a trusty Ordnance Survey map. Through his binoculars he observed and recorded their every soar, swoop and roost. In the mid 1960s, Baker turned these comprehensive journals into a beautiful book. First published in 1967, The Peregrine was greeted with critical acclaim and went on to win the Duff Cooper Prize. It is now cited as one of the most important examples of 20th century nature writing.
2. Gorillas in the Mist by Dian Fossey
We've all heard of the Hollywood movie starring Sigourney Weaver, but the real-life heroine of the Gorillas in the Mist story is American primatologist and conservationist Dian Fossey. For over a decade Fossey lived amongst four gorilla families in the rainforest shrouded Virunga Mountains in East Africa, developing an unprecedented relationship with this band of gentle giants. Fossey's mission to protect the remaining mountain gorillas from the constant threat of poachers, and from the loss of their natural habitat, sadly ended in tragedy. The scientist was murdered in her cabin in a remote Rwandan camp in 1985, two years after her book was published. Fossey's was one of the longest-running studies of primates in the wild, and Gorillas in the Mist remains an invaluable glimpse into the lives of the greatest of the great apes.
3. Being A Beast by Charles Foster
For one writer, studying animals in the wild wasn't enough – he wanted to actually live like them. Passionate naturalist Charles Foster went into the woods, dug an underground lair, and lived like a badger for six weeks – sleeping in his "sett" during the day and scavenging for earthworms by night. Not content with entering the mind-set of just one animal, he also tried out life as an otter, a stag, a swift and an urban fox – curling up in an East End garden and rifling through bins. In his New York Times bestselling book – part memoir, part nature writing and part psychology experiment – he attempts to describe life through the eyes of the beasts he inhabited.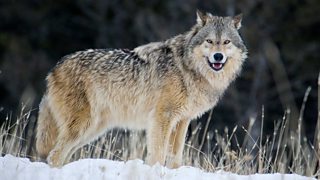 Male Gray Wolf (Canis lupus)
4. The Hidden Life of Wolves by Jim and Jamie Dutcher
For six years, Jim and Jamie Dutcher lived in a camp on the edge of Idaho's Sawtooth Wilderness. From here, they closely studied a pack of grey wolves – known as the Sawtooth Pack – becoming familiar with their behaviour, the intricacies of their social hierarchy and their many, disparate personalities. The Dutcher's record of their experience, The Hidden Life of Wolves, aims to change our perception of the animals from that of violent predators to more social creatures. Photos taken by Jim capture snapshots of cooperation and affection amongst the pack – as well as moments where the writers themselves connected with the wild wolves.
5. Swifts in a Tower by David Lack
British evolutionary biologist and ornithologist David Lack dedicated years of his life to studying the colony of European swifts nesting in an Oxford tower. He and his colleagues spent weeks cooped up in the darkness during the bird's breeding season and in 1956 Swifts in a Tower was published, offering a detailed record of Lack's observations and astonishing insights into the private lives of this fascinating bird. The research begun by Lack in 1947 has carried on, making it one of the longest continuous studies of a single bird species in the world. These days, however, nest box cameras do most of the hard work.
6. Goatman by Thomas Thwaites
Perhaps surprisingly, Foster isn't the only author to have attempted to live like an animal. Thomas Thwaites decided to become a goat. He built an intricate exoskeleton that allowed him to walk on all fours, a prosthetic stomach that enabled him to eat grass, and a helmet that helped him see the world around him as a goat would. He then headed to the steep cliffs of the Alps to roam with a herd of mountain goats for three days, grazing alongside them and sleeping outside. (It was tough going, but his fellow goats eventually came to tolerate him and he even found a caprine companion in a goat branded "18"). His book describes his journey to becoming "Goatman", his conversations with shamans, geneticists, goat psychologists and farmers, and explores what it means to be human.