Main content
Things we learnt from Tom Hanks' Desert Island Discs
Forrest Gump, Philadelphia, Toy Story, Saving Private Ryan – few Hollywood actors have played such varied roles as Tom Hanks, the man with the least enemies in Hollywood, who appeared on Desert Island Discs on Sunday. And what a gent he was…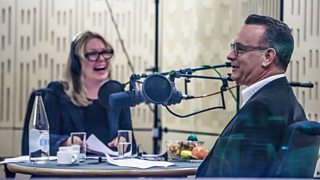 He feels like a fake
He says that as a child the family moved often: he had a "blended" family, and had to be adaptable. But he felt he was "imitating the way he was supposed to be".
Mr Nice Guy
He learned a lesson very early on – know your stuff, fit into a team and remember that anyone can be replaced. It's clearly stood him in good stead.
He had a huge crush on Dusty Springfield
"She was an older woman who stirred my loins in a way I didn't understand…"
Freedom breeds creativity
He puts his creativity down to the fact that he had a nomadic life with his father, and had to learn to negotiate and share space with lots of different people – living lives he was too young to understand.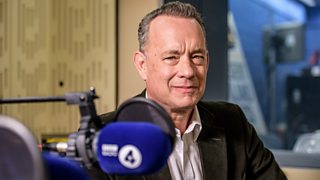 Kirsty made him cry
He turned to the theatre because he needed to work out how to express his feelings of loneliness. "There's a difference between loneliness and solitude. Loneliness is to be avoided."
Tom made us cry
He's been happily married for 28 years to Rita Wilson; "I'm not a cheater. I met her and I thought I'm not going to be lonely any more."
Early nights
Having a child at the age of 21 meant he was a clean-living young actor: "I was in bed at ten minutes past ten every night."
Sleepless in Seattle
In the scene when Tom's son was having a tantrum about him going away for a dirty weekend, Nora and Delia Ephron had written Tom's character as being "flummoxed" by this. Tom questioned this, saying, "You know what a dad would say? A dad would say 'Son, I am going to get laid!" They changed the script.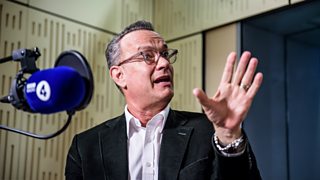 Righteous rapping
He finds a moral message in LL Cool J's "Mama Said Knock You Out". But he laughed at Kirsty's efforts to pronounce it.
On the desert island
'The Bible and Shakespeare? Good! I'll take those…' His luxury was a Hermes 3000 manual typewriter and paper. You know what? We'll take Tom Hanks.
Find out what music Tom Hanks would take to a Desert Island.