Main content
About Series 3
Everything you need to know about EastEnders: E20 Series 3.
Round 3...
Following the huge success of series 1 and 2, the hit online spin-off drama EastEnders: E20 is back for round 3. We hope you're ready, because the new cast really do pack a punch.
Crashing into Walford...
The series follows Ava and Donnie, who escape onto The Square after their bus crashes outside Walford. The two runaways quickly bump into Faith, who has been kicked out of her house by Grandma Grace after she finds her granddaughter under the sheets with a Walford favourite.
Ava, Donnie and Faith form an unlikely gang and search for a place to hide and food to eat. Things soon turn sour, however, when the law catches up with them.
Along the way, you'll also meet Donnie's younger sister, Riley and care worker Richard.
"We have a brilliant new cast, some cracking storylines and our new E20 gang really give Walford a run for their money," reveals Producer Deborah Sathe."
I know that face...
The new cast will be joined by some familiar faces from the main show, such as Fatboy, Dot, Phil and Zainab, as well as E20 favourites Naz and Sol from series 2!
The write stuff...
Series 3 sees original EastEnders: E20 star and writer Emer Kenny (Zsa Zsa), along with EastEnders actors Charlie G Hawkins (Darren), Himesh Patel (Tamwar), Arinze Kene (Connor) and a host of fresh writing talent, script the 15 episodes of the show.
Extra, extra
Just as with series 1 and 2, the E20 Series 3 website will be packed with exciting bonus content, including an additional 'whodunit' drama, exclusive interviews, photos and more. Sounds good, no?
Where to watch
As before, Series 3 of E20 will premiere online here and on the EastEnders website on Tuesdays, Thursdays and Friday evenings, followed by weekly omnibus editions on BBC Three.
Keep it locked!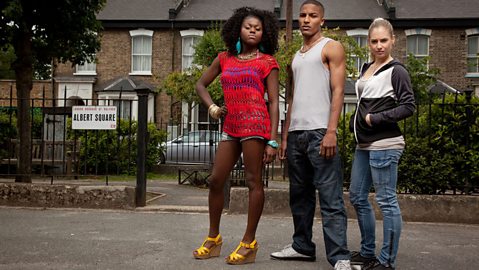 E20 is back for a third series in September 2011. Meet the new cast of Faith, Ava and Donnie...