Main content
10 essential albums from 2019 so far - as recommended by 6 Music
To mark the halfway point of 2019, 6 Music is celebrating the best music of the year so far all this week (Mon 17 to Fri 21 Jun).
Lauren Laverne, Steve Lamacq, Mary Anne Hobbs and Tom Ravenscroft are all curating an hour of the finest songs from 2019 to have featured in their Recommends shows (available in BBC Sounds after midnight each night)
And from Sunday 23 June, 2am, the 6 Music Recommends' New Music Playlist will round up our presenters' picks of their favourite tracks from the first six months of the year.
To celebrate 6 Music Recommends Week, below we present a selection of essential albums from the year so far, in no particular order. How many will make the cut for our end-of-year rundown? (See 2018's list here).
Vampire Weekend – Father Of The Bride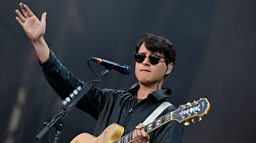 Six years between albums might seem like a long time, but not in Vampire Weekend frontman Ezra Koenig's books. As he told 6 Music's Steve Lamacq earlier this year, he spent two years touring previous record Modern Vampires in the City, two years going "back to being a normal person", and the final two recording Father of the Bride.
The end result is an 18-track "double album", split between fully-fledged, direct pop songs and more experimental, short-lived vignettes. With former member Rostam Batmanglij departing the group in 2016 (he still contributes to the record), in his place is a wide cast of collaborators including Danielle Haim and The Internet's Steve Lacy. Most guest contributors don't lend themselves to a single verse however, they appear on several tracks.
Koenig has said Vampire Weekend's previous three records represented their own separate trilogy. And if Father of the Bride is the beginning of a new chapter, it represents the band being more adventurous and comfortable in their own skin.
Fontaines D.C. – Dogrel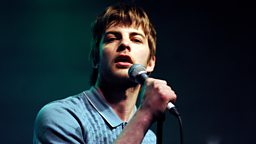 The heritage of Dublin's Fontaines D.C. is immediately easy to trace on debut album Dogrel. The lyric "Dublin in the rain is mine / A pregnant city with a catholic mind" commences opening track Big. From there, the band paint a vivid picture of a flawed hometown, poetically arcing their narrative around the characters and fabled stories of the Irish capital.
Commanding all of this is frontman Grian Chatten, whose vocals are as identifiably Irish as Dublin's tourist traps. On the racing Hurricane Laughter, he brings an unstoppable urgency to the record. But he can also lend his voice to something more tender, like on Roy's Tune's parting lyric: "Hey love, are you hanging on?"
"We were encouraging each other to be who we believed ourselves to be all the time," says Chatten about making the record. And this is why Dogrel stands out; for such a young band, Fontaines D.C. are remarkably clear about who they are.
Lizzo – Cuz I Love You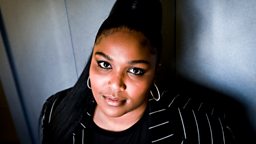 She may be three albums in, but Lizzo says it took a long time for her to feel confident as a solo star. "I believed in myself in rock bands, RnB groups and rap duos," she recently told Rolling Stone of her early career. "But I never believed in myself as a solo artist. I didn't think anyone wanted to look at me or hear what I had to say."
But Cuz I Love You, a bold and bright collection fusing funk and retro synth-pop and full of self-love anthems and motivational bangers, definitely sounds like an artist who knows what they want to say and knows that the world needs to hear it.
"When I have to make decisions, I always choose honesty and I always stay true to myself, because I know at the end of the day that is what's going to remain," Lizzo adds. "That is what's going to be the legend: That I was true to myself and that I honoured every person by staying truthful to them."
James Blake - Assume Form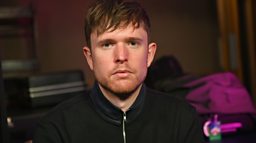 A sense of solitude has always been present in James Blake's music: sparse production, lyrical themes of loneliness and, of course, the singer's own yearnful vocals. But with contributions from the likes of rapper Travis Scott, Spanish singer Rosalia, producer Metro Boomin and even a cameo from OutKast's Andre 3000, Assume Form sees the star open his music up to external forces more than ever before, resulting in his most vibrant and dynamic album to date.
On Can't Believe the Way We Flow, one of the album's standout tracks, Blake sings: "I'm finding I'm a smaller piece than I once thought", and it's pretty indicative of his newfound collaborative ethos. "It's hard to let go of control with certain things - knowing that the end result won't only be your effort," he told Fader. "I'm just a piece of this record and without [my collaborators], this record wouldn't have been what it was."
"There was a moment of realisation about how people have flattered me into thinking that I'm more important than I am. It's a lovely realisation to be part of a team, not just the king of the castle. It's a lonely spot. For me, my antidote was taking care of someone else and being part of something bigger."
Slowthai – Nothing Great About Britain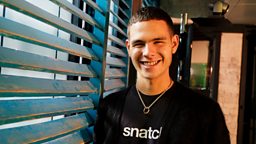 It's no surprise Slowthai's debut album has earned comparisons to Dizzee Rascal's Mercury Prize-winning 2003 debut Boy in da Corner. Both records share a sense of joy from struggle, and a determination to escape from social and economic strife through any means necessary – underpinned by urgent beats and truthful lyricism.
In Slowthai's case, he vividly recalls the hard truths of his upbringing (Northampton's Child), as well as underlining his staunch political views (before releasing the record, he put up billboards around the UK, each with its own statistic about modern day inequality).
Despite its title, artwork and those billboards, Nothing Great About Britain isn't one-dimensionally provocative. It's a debut of serious depth, made by a 24-year-old who had clearly been itching to tell his story.
Little Simz – Grey Area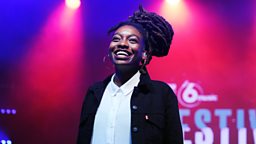 Grey Area, the third album from 25-year-old Londoner Little Simz, was titled as such to describe the limbo-like state that the rapper felt herself stuck in. "At the time I was writing, I was in a very confusing headspace," she explains. "Everything was in this weird area, and it was all a shade of grey."
"Being in your mid-twenties feels like a strange place to be. I'm still discovering myself and things are a lot more complex than they were five years ago. Nothing's straightforward. I'm peeling off layers as I'm getting older, and finding more and more about myself."
It may have been born from a place of confusion, but Grey Area sounds anything but confused. Over the course of its 10 tracks, Simz has never sounded more confident or self-assured, and exhibits the sheer breadth of her talents, switching between rapidfire raps, soul-searching introspection and dipping into genres like jazz and RnB.
Karen O & Danger Mouse – Lux Prima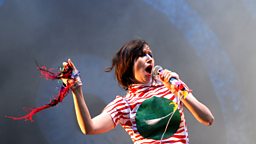 There's no such thing as an unlikely collaboration for Brian Burton, aka Danger Mouse, whose production CV spans between New York garage rockers Parquet Courts to Queen of pop Adele. So when Burton announced a full-length with Yeah Yeah Yeahs ringleader Karen O, the only surprise was why it hadn't happened until 2019.
On Lux Prima, Burton's lush cinematic arrangements are the perfect pairing with Karen Orzolek's free-spirited vocal. Particularly on the mammoth, vast nine-minute title-track, which ought to soundtrack its own short film.
While we still wait for a follow-up to Yeah Yeah Yeahs' 2013 album Mosquito, this expertly-crafted meeting of minds is the perfect tonic.
Sharon Van Etten – Remind Me Tomorrow
A lot has changed for Sharon Van Etten since her previous album, 2014's Are We There. She headed back to school, became a parent for the first time and ventured into acting with roles in Twin Peaks and Netflix supernatural drama The OA. Remind Me Tomorrow reflects a life in flux, but the singer-songwriter says its synth-aided sonic shift came totally by accident.
"Whenever I got to a frustrating point in the writing process where I felt like I was banging my head against the wall, I would just put down the guitar and play anything else to clear my head, like a palate cleanse," she told The Guardian.
"And that's how I started a lot of these songs, with a drone and a beat and I would sing over it. Just so I could clear my head." The atmospheric backdrop may be different, but Remind Me Tomorrow sees Van Etten's poignant lyrics and devastating delivery remain in tack.
Ezra Collective – You Can't Steal My Joy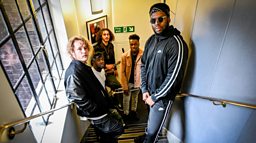 The UK's current wave of young jazz acts has been hailed as an underground phenomenon for some time, but 2019 appears to be the year it truly bubbles up.
Thanks in part to collaborations with RnB award-winner Jorja Smith and alternative hip-hop star Loyle Carner, You Can't Steal My Joy is a modern showcase of contemporary jazz, and the various other genres it helps subtly evolve.
Underlying the record is a defiant spirit. "Growing up as young people in London has challenges but, rather than focus on all the negativity surrounding us, we've decided to focus on the positives," says drummer and band-leader Femi Koleoso. And from the title through to the core of these free-flowing, fun and vibrant tracks, this is a record that can't be contained.
Flying Lotus – Flamagra
Flamagra, the sixth album from experimental producer Flying Lotus, is the product of five painstaking years in the making, a time in which even its maker himself didn't know how the end result would turn out. "I'd been working on stuff for the past five years, but it was always all over the place," the Los Angeles native, real name Steven Ellison, has explained.
While his previous record, 2014's You're Dead, was centred around morality as a whole, the symbolism that shrouds its follow-up was inspired by none other than David Lynch, who delivers a spoken-word monologue on the track Fire Is Coming. "I went to this party and heard David Lynch saying the words that he wound up saying on the record. And I was like, 'that's it, we're just going to go in that direction."
"I'd always had this thematic idea in mind - a lingering concept about fire, an eternal flame sitting on a hill. Some people love it, some people hate it. Some people would go on dates there and some people would burn love letters in the fire."
But Lynch wasn't the only big name to inspire Flamagra's unwieldy jazz-funk: its 27 tracks manage to cram in guest spots from the likes of Anderson Paak, George Clinton, Thundercat, Toro y Moi, Solange and more. It's a maximalist mind-bending affair that rewards with each and every listen.